We're living in a time of remarkable change. The COVID-19 pandemic has led to dramatic upheaval in the way we live our lives, impacting on how we work, how we shop, and even how we spend. As social distancing looks set to continue in the coming months, consumer habits during COVID-19 are rapidly shifting.
This has wide ranging implications for businesses in every sector. Some of these behavioral changes will be temporary and will revert once the pandemic passes. Conversely, some changes will be here to stay. Businesses must adapt to this shifting landscape or risk being left behind as we navigate this "new normal" together.
Here are some of the key areas in which consumer behavior has shifted during COVID-19.
Customers are Moving Online Rapidly
Since March 11th, the day the World Health Organization declared COVID-19 a global pandemic, Canadian eCommerce sales have doubled. While certain sectors of the economy, such as tourism, entertainment and events have been gutted, many people are still working as normal and receiving their usual paycheck. Customers are still out there, they have just transitioned their spend to the online sphere.
Key Takeaway: Businesses should look to increase their online presence, bolster delivery options and make it easier for customers to shop online.
People are Saving More Money
As many individuals work from home, they are spending less on daily treats such as a morning coffee, pastry, or dining out at lunchtime. These savings also extend to essentials such as transit passes, gas and even childcare costs. While some are undoubtedly tightening their belt out of necessity, more are embracing frugality as a choice. How this impacts your business will very much depend on the product you sell.
Key Takeaway: More effort, in the form of discounts, deals and payment plans, should be made to entice customers to do business. A pandemic naturally lends itself to cautious consumer behavior. Innovative businesses will still do well.
Higher Standards are Expected
You've likely noticed a shift in how businesses are advertising throughout the pandemic. This is not the time to deliver the hard sell, nor display a lack of empathy for the struggles many are experiencing. Instead, consumers are expecting more from companies. This can manifest itself in empathetic messaging, a willingness to donate to good causes, or tangible steps to help our frontline medical staff. Since March, the messaging has been that we are "all in this together" – this includes businesses.
Key Takeaway: Profit still remains key, but businesses are increasingly expected to play a supporting role in their communities. This doesn't need to cost the earth, but consumers will remember actions taken now when it's time to spend tomorrow.
Consumer Entertainment Habits are Shifting
In lieu of bars, nightclubs and trips to the movie theater, consumers are turning their attention to new forms of entertainment. In fact, 43% of consumers said they are now paying for a subscription service they didn't have prior to COVID-19. Other platforms are also seeing a huge bump in users, with YouTube and social media all seeing a significant uptick in usage. This change is largely being driven by millennials and Gen Z consumers, representing invaluable food for thought for marketers.
Key Takeaways: Savvy businesses should look at how they're allocating their marketing spend going forward, especially if they want to reach younger audiences. Consider what platforms your target audience mostly frequents and get imaginative with your messaging.
Find Out More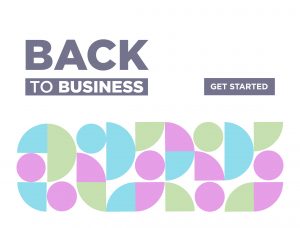 At Small Business BC, we're committed to helping business owners reopen in a safe and successful way. Our Back to Business campaign features specific advice and guidance in the following areas:
Operational Health & Safety
Restart Strategy
Marketing & Communications
Alternatively, visit our BC Business COVID-19 Support Service and connect with our Business Advisors to get answers to your specific questions on reopening.