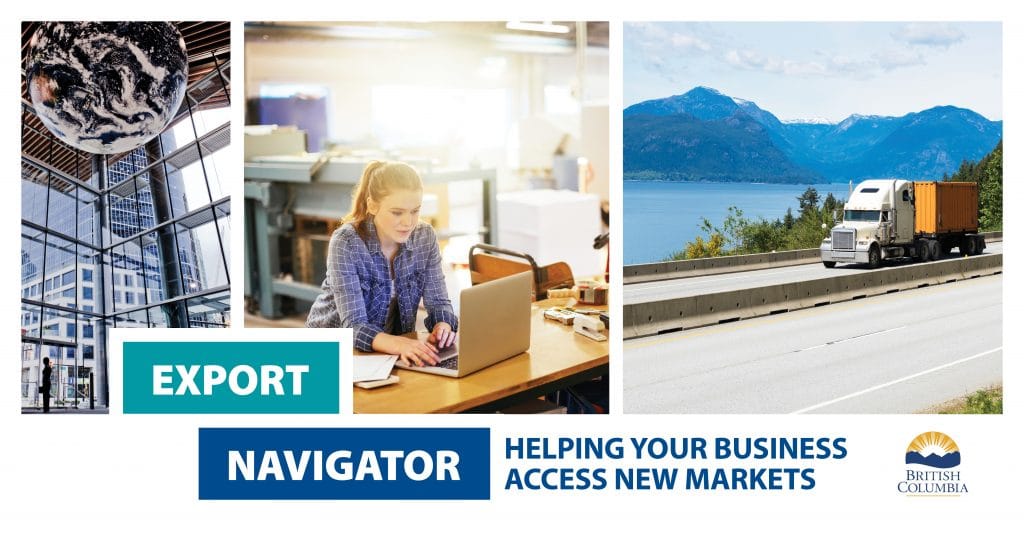 What is the Export Navigator Pilot?
The Export Navigator pilot offers businesses access to community-based export specialists who can provide a personalized, step-by-step approach to exporting and help connect your business to the market information, export programs, financial services, and business development experts it needs at every stage of the process.
Who is Eligible?
Small and medium-sized businesses operating in the following six regions:
Central & North Vancouver Island (Based in Port Alberni)
Central Vancouver Island (Based in Comox)
Cariboo (Based in Prince George)
North Okanagan (Based in Vernon)
Pacific Northwest (Based in Prince Rupert)
Kootenay Boundary (Based in Nelson)
For businesses in the Lower Mainland and those outside of the service areas, there are resources to assist you with exporting. For more information please email: info@exportnavigator.ca
Export Navigator Services
Expert advice and guidance throughout the entire process
An export readiness assessment
A business needs assessment
Market entry strategy support
Market tools and information
Streamlined service connections to support services
Benefits of Expanding Your Markets
Diversifies Your Customer Base
Expanding to new markets increases the size of your target market, may broaden your product offering and offset seasonal fluctuations in sales.
Increases Profitability
Increased production generally leads to economies of scale and decreased cost per unit, which increases your profit margins.
Fosters Innovation
Expanding to new markets fosters innovation in your goods and services, which enhances your competitiveness.
Upcoming Seminars Hosted by Export Navigator
Check back soon!
Questions and Answers