Careers at Small Business BC
At Small Business BC, we provide the building blocks that help entrepreneurs grow successful businesses. We believe that no matter what stage of business or what skill level, there is a need to learn and grow. Our staff's role is to provide the knowledge and resources to fill those gaps. When an entrepreneur finds themselves asking "How do I…?" we're the ones to call.
In British Columbia, small business makes up around 98 percent of all businesses in the province. We know that by helping entrepreneurs to start and grow their businesses, we are playing a vital role in continuing to make this province the best place in the world to live, work, and play.
Small Business BC is committed to maintaining a supportive work environment where every member of staff can grow and achieve their potential. Our team is encouraged to harness their unique skills and expertise to help the business community throughout British Columbia. We partner with Jooble for our staff recruitment.
At Small Business BC, we're proud to be a diverse and accessible employer. Through our partnership with the Presidents Group (Accessible Employers), learn how SBBC encourages and uplifts our team through the inspiring stories of Roop Johal, Business Development & Sponsorship Manager and Tom Conway, our CEO.
Health & Wellbeing
Full benefits package after the completion of 3 months, including 100% Employer paid Extended Health Benefits, and more.
Investing in Your Future
Kick your retirement planning up a notch with our generous group RRSP Matching Plus plan.
Relax & Recharge
Competitive paid time off allowance and additional paid 'Flex Days' every three weeks.
Remuneration
Competitive salary based on the BCGEU pay scale.
Shape the Community
Be a part of a young, talented, driven, and fun team working hard to make a difference within the small business community.
More Flexibility
Our Hybrid work model lets you split your time between home and the office.
Family Matters
We're proud to offer generous leave allowance to new parents.
Learning & Development
Realize your potential with opportunities for continued learning and development.
Current Opportunities at SBBC
---
Location: Vancouver
Reports to: Chief Operating Officer
Status: Full-time, 1 year contract
ABOUT SMALL BUSINESS BC
Small Business BC (SBBC) is a non-profit organization that is here to help British Columbia's entrepreneurs grow successful and sustainable businesses. Supported by PacifiCan and the BC Ministry of Jobs, Economic Recovery and Innovation, we celebrate and champion the thriving small business community within BC.
PRIMARY FUNCTION
Reporting to the Chief Operating Officer, this role will serve as a leader in applying digital strategies and solutions to create a functional and robust digital infrastructure for SBBC's products, services and operations. You will collaborate with all departments to understand diverse team needs and ensure adoption and maintenance of new technologies/systems to further our organization's mission. You will also partner with the Marketing Manager to develop and execute marketing plans for all SBBC's products and services. As an influential leader, you will provide direction to SBBC's marketing and communication staff for all projects and initiatives.
DUTIES AND TASKS
Leads the direction, oversight, development and execution of strategic internal and external marketing and communications plans, projects and all SBBC initiatives.
Works cross-functionally to plan, manage and execute projects with the Marketing & Communications team, with a specific focus on digital infrastructure, systems and ecom web stack development.
Develops project roadmaps, workflows and processes to lead the modernization of SBBC's digital infrastructure in partnership with agencies and consultants. This includes a Salesforce Customer Relation Management (CRM) Implementation and headless multisite WordPress site with BigCommerce and supporting E-commerce software.
In collaboration with the leadership team, strategically lead SBBC's brand refresh to strengthen and differentiate the brand in the digital space.
Liaise with internal stakeholders to identify and lead the preparation of RFPs.
Lead the implementation and adoption of modern internal digital systems and customer-facing tools that enhance service delivery to improve operational efficiency and further SBBC's business goals.
Standardizes departmental policies, SOPs, and internal processes as new systems and workflows are adopted.
Participates in development of the annual Marketing & Communications Department operating budget and ensures financial integrity.
Establishes clear performance objectives and monitors marketing metrics; analyzes marketing campaigns and makes recommendations for enhancing effectiveness.
Manages and oversees the hiring, training, performance management and professional development of staff within the department.
Responsible for service agreements and contracts, ensuring compliance and financial integrity.
Develops and oversees product branding and advertising strategies to increase SBBC product/service awareness and clientele.
Develops, builds and maintains strong working relationships with SBBC community partners and various external stakeholders, including but not limited to local or regional media.
Performs other job-related duties as required.
QUALIFICATIONS
A degree in Marketing, Communications, Business Management, or an equivalent blend of education and business-related experience. Master's degree in a communications/marketing-related field is preferred.
A minimum 6 years' related work experience leading a team of staff and complex marketing and e-commerce software implementation roadmaps.
PMP certification or experience with Agile Project Management is considered a strong asset.
Demonstrated ability to communicate business needs to vendors and technology solutions to teams.
Experience with functional UX/UI strategies, web development sprint planning for front and back-end projects.
Experience leading and implementing multiple, complex, digital projects in cross-functional teams.
Experience implementing successful adoption of new technologies and business processes/systems.
Advanced working knowledge of MS Office applications, GSuite, CRM, CMS, LMS, and supporting E-commerce Software solutions.
Demonstrated ability to manage cross-organizational teams and projects in a fast-paced, highly dynamic environment
Exceptional communication skills and ability to influence stakeholders
Up-to-date with traditional and digital marketing tools, insights, trends and best practice industry standards.
An eye for detail, storytelling and appreciation of branding consistency.
Experience working with multi-stakeholder initiatives and demonstrated experience working in diverse, dynamic teams.
Experience creating RFPs, liaising and negotiating with contractors, consultants, and SaaS vendors.
Experience with public speaking and delivering training to internal and/or external stakeholders.
Excellent analytical, problem solving, risk management, and critical thinking skills.
Ability to handle large multiple projects, priorities and meet tight deadlines.
Excellent writing skills and proven ability to develop clear, concise, and comprehensive written reports.
WHAT WE CAN OFFER YOU
Remuneration: Competitive compensation based on education and experience.
Strengthening Health & Wellbeing: Full benefits package after the completion of 3 months, including 100% Employer paid Extended Health Benefits, Vision Care, Dental coverage, and Employee and Family Assistance Program.
Investing in YOUR  future: We have a generous group RRSP Matching Plus plan.
Relax & Recharge: Paid time off and additional paid 'Flex Days' every three weeks.
Shape the Community: Be a part of a young, talented, driven, and fun team working hard to make a difference within the small business community.
More Flexibility: Our Hybrid work model lets you split your time between home and the office.
No phone inquiries please. We thank all applicants in advance for their interest; however, only qualified candidates will be contacted for an interview.
Small Business BC is an inclusive employer. We encourage applications from all qualified candidates and will accommodate applicants' needs under the respective provincial human rights codes throughout all stages of the recruitment and selection process. Please email
[email protected]
to discuss your accessibility needs.
---
What's it Like to Work at Small Business BC?
Learn more about the culture at Small Business BC, and how we make a difference in our community each day.
Learn More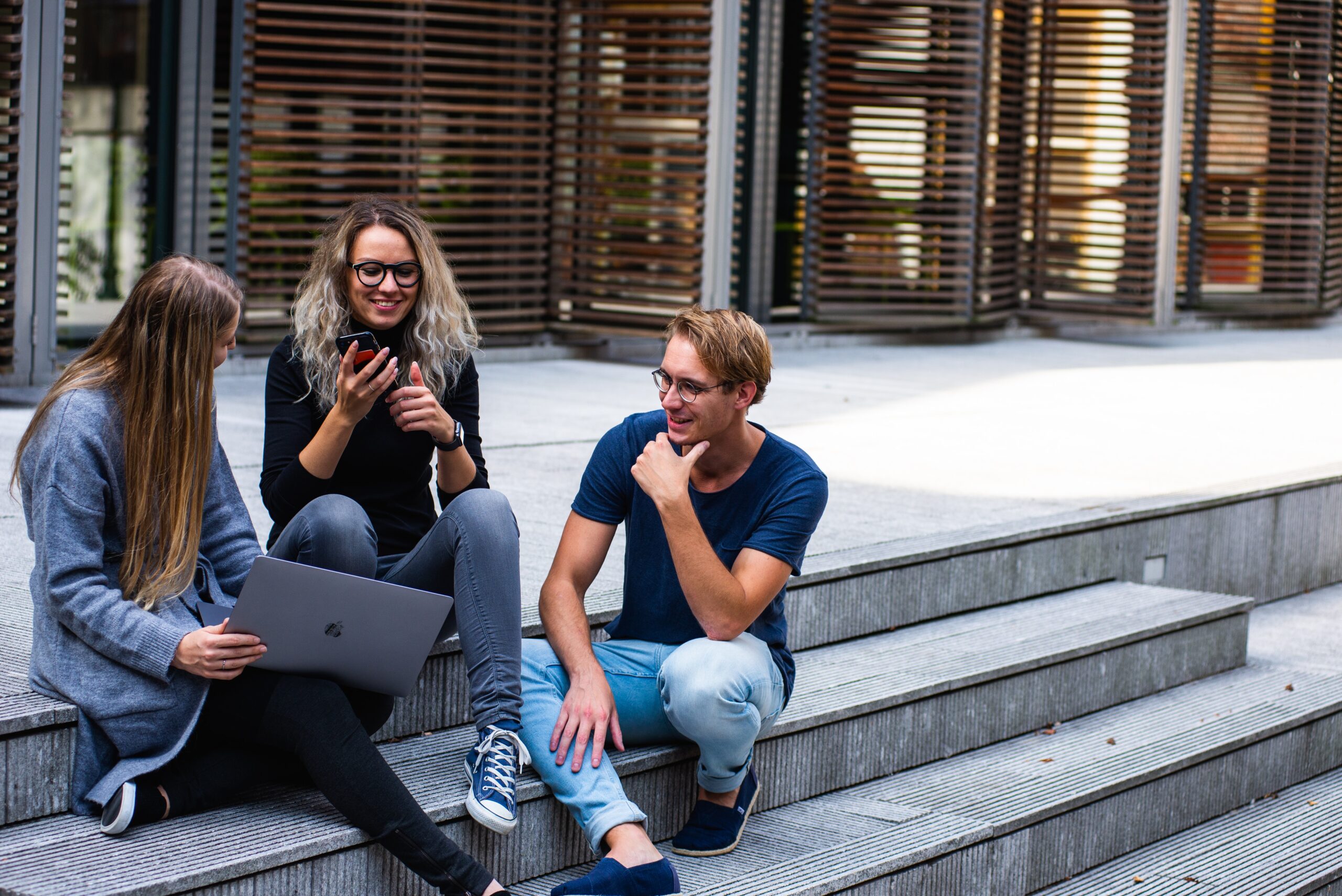 Maximize Your Potential, Co-Op Placement at SBBC
Discover the benefits of spending your co-op placement at Small Business BC and hear from some of our former co-op students on their experiences.
Learn More