Meeting Room Rentals
Please Note:  We are not currently offering room rentals as our office is closed to the public until further notice. We will provide updates when the current public health situation changes.
Throughout this time, we remain dedicated to providing the highest service levels. Should you have any questions about our services, please call us at 604-775-5525 or email askus@smallbusinessbc.ca.
Small Business BC offers room rentals in Downtown Vancouver directly connected to multiple transit lines. We have a variety of spaces to rent, from meeting rooms, to seminar rooms, to a lobby area that can act as a flex-space.
Location
We are located in a historic landmark known as The Station, which is directly connected to Waterfront Station, where all the major transit lines in Vancouver converge. Our convenient location is perfect for guests transiting from Vancouver International Airport (YVR) as well as those arriving at the nearby Vancouver Harbour Flight Centre Seaplane Terminal (CXH). Below, you'll find our available room rentals.
Our Rooms
---
Size: 35 x 21
Open Space Setup: 50 people
Theatre Setup: 35 seats
---
Size: 20 x 28
Theatre Setup: 38 seats
Classroom Setup: 24 seats
---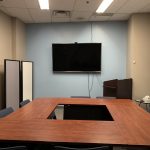 Size: 15 x 16
Theatre Setup: 12 seats
Classroom Setup: 8 seats
---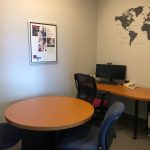 Size: 8×11
Boardroom Setup: 4 seats
---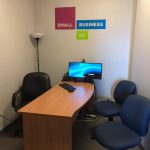 Size: 7×11
Boardroom Setup: 3 seats
---
Room Inclusions
Setup of space, layout of material
WiFi access
Computer connected to monitor, screen, or projector
Telephone (available upon request)
Flip charts, white boards, and markers (available upon request)
Webinar and teleconference technology (additional charges apply)
DOWNLOAD: Conference and Meeting Room Rental Sheet

VIEW: Our Cancellation and Refund Policy
Take the Next Step
Contact our Education Centre team today at 604-775-5086 to find out more about our availability and pricing.