As the B.C. economy started opening up in mid-May, the mantra from the Provincial Health Officer has been "smaller groups, fewer faces, shorter time together, bigger spaces." That advice is not just aimed at how people should behave in social and recreational situations as things open up. It also applies to how businesses should operate in the "new normal."
If you are reopening during Phases 2 and 3 of the BC Restart Plan, a major part of your COVID-19 Safety Plan should be how to create a safe space for your customers. Here's a quick guide to rearranging your office, store, or other workplace for a safe reopening.
Know How COVID-19 Spreads
COVID-19 is transmitted via liquid droplets when someone coughs or sneezes. If you are near that person, the virus can enter your body through your eyes, nose, or throat. It can also be spread by touch—between people or between people and contaminated surfaces.
Droplets are thought to only be able to travel one to two metres before they fall to the ground. That's where physical distancing comes in to make it harder for the virus to spread from person to person. Physical distancing is still the best way to reduce transmission of COVID-19, and it could be in place for months to come. Your customers, employees, and visitors need to be able to stay at least two meters apart—think hockey stick or pool noodle—at all times in your workplace.
Assess the Risks
The first step in planning for a safe reopening is to identify riskiest parts of your operations and workplace. WorkSafeBC has produced a guide to returning to safe operation, including a six-step process for developing a COVID-19 Safety Plan. To assess your workplace risk, consider the following in the context of how COVID-19 spreads:
Where do employees and customers gather in groups? Examples include waiting rooms and other seating areas.
What tasks or processes bring employees close to each other, or to customers, such as checkout areas?
How does the traffic flow of people around your workplace contribute to bringing them close to each other, such as shopping aisles?
Rearrange Your Space
Start by reading the WorkSafeBC guidelines for your industry, as well as any guidelines from your industry association. Every workplace is different, but here are some general best practices from WorkSafeBC for various types of business:
Set occupancy limits
Rearrange reception or waiting areas, including removing seating and installing plexiglass barriers
Remove communal objects such as water coolers and magazines
Provide hand sanitizer stations
Manage the flow of traffic, including designated entrances and exits and one-way staircases and walkways
Prop doors open to reduce person-to-surface contact
Limit the number of employees allowed in communal areas at any one time
Install signage at appropriate places, including directional signage on floors, physical distancing floor stickers, posters stating occupancy limits and other important information, and checkout signage with any necessary instructions
Here are some other WorkSafeBC resources for rearranging your workplace:
Guidelines for Offices
Offices can present particular challenges. The dense, open plan style that has become the norm in many offices is unlikely to meet physical distancing requirements. Remote working and/or rotating shifts are encouraged to reduce the number of people in your office at one time. Other considerations include:
Remove meeting rooms to create more space, and hold meetings virtually instead
Create pods of workers who can work in self-contained groups
Stagger start, end, and break times to reduce bottlenecks at elevators
Install barriers between workstations if they can't be spaced out to meet distancing requirements
Minimize shared work spaces and desks
Install plexiglass barriers in lunchrooms if tables can't be spaced out enough
Guidelines for Retailers
Retailers typically experience more traffic than any other type of business. Changing your store layout will help reduce interactions between customers and other customers and employees. Specific guidelines include:
Work out the occupancy limit for your store
Create a one-way directional system
Rearrange the store layout to enable physical distancing, including reducing shelving and product displays if needed
Create a line-up area outside the store that enables physical distancing
Close any seated, dine-in areas
Ensure fitting rooms are spaced out appropriately
Install plexiglass or other barriers at checkout areas where it's difficult to maintain a 2m distance
Provide and encourage contactless pay options
Guidelines for Restaurants, Cafes, and Pubs
Restaurants and other food and beverage businesses need to work hard at reassuring customers they will be safe. They also face unique challenges around table service in small areas and tight kitchen spaces. Guidelines include:
Remove buffets and other self-service areas
Install plexiglass barriers between workstations in kitchens
Install directional signage in kitchens for staff
Create cohorts of workers who can work in self-contained groups
Limit the number of tables and the size of groups at tables
Remove one chair per table to provide space for the server
Consider converting the bar into a service counter where kitchen staff can leave dishes for servers to collect
Get more tips for restaurants, cafes, and pubs
Although we're getting a little closer together, we still have to stay a bit apart. Rearranging your workplace before reopening is a vital part of both reassuring customers and employees—and keeping them safe.
Find Out More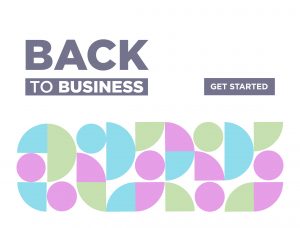 At Small Business BC, we're committed to helping business owners reopen in a safe and successful way. Our Back to Business campaign features specific advice and guidance in the following areas:
Operational Health & Safety
Restart Strategy
Marketing & Communications
Alternatively, visit our BC Business COVID-19 Support Service and connect with our Business Advisors to get answers to your specific questions on reopening.