The last few months have taken their toll on our collective mental health. COVID-19 has proven a great disruptor, laying waste to carefully laid plans and causing us to adjust to stark new realities. Not only do we have a public health emergency to contend with, there's also the usual job stresses, economic anxiety and the removal of our usual in-person social interactions.
As employers across British Columbia roll out their reopening plans, one area that must be emphasized is ongoing support of employees' mental health. Sure, we're striving to get back to as close of an approximation of "normal" as we can, but certain concessions must be made to help team members navigate the individual challenges they continue to face.
There are plenty of positive actions business owners and managers can take to protect and nurture their own mental health, and the mental health of their team. Here are some key points to consider.
Empathy is Key
We're living in unprecedented times. People cope with this reality in different ways, and it's likely some team members simply cannot reach the level of productivity they could before the pandemic. This doesn't mean they aren't trying, nor is it grounds for discipline. Instead, let team members know you are there for them and provide helpful resources and links to mental health supports. The BC Mental Health Support Line can be reached at 310-6789, any time.
Offer Flexible Hours
Traditionally, many workplaces have operated on a set schedule, with staff expected to be present for the same times each day. Given the realities of the COVID-19 pandemic, this way of working may not be feasible for many team members. For example, those with young children likely don't have access to traditional childcare facilities. Rather than focusing on hours, consider focusing on output. Gather staff once per week and go through the priorities for the week ahead, ensure every staff member understands their key tasks, and let them decide on how and when they're best positioned to work on them.
Keep the Community Together
At Small Business BC, we've been working remotely since March. Keeping our team members connected during this time has involved innovative solutions like a virtual break room over Zoom, regular team catch ups, and Friday team activities like trivia or Pictionary. This idea can be amended and extended to fit any business. Options could include a virtual 'happy hour,' book club or even a movie watch party helping to keep teams bonded together. While we are being asked to remain physically distant from one another, this doesn't mean we have to remain socially distant too.
Keep Staff Informed
Every business has been impacted by COVID-19 in some way. Whether it's been a loss of business, or a change in operations, ensure team members are fully informed of what's going on, and what's likely to come. There's so much uncertainty surrounding the future. If staff feel they are up to date and informed of what's happening in their professional lives, it represents one less major worry in their lives. If you don't have the answers, that's ok. Be up front about it. When staff can contribute to creating future plans, give them the opportunity to do so.
Find Out More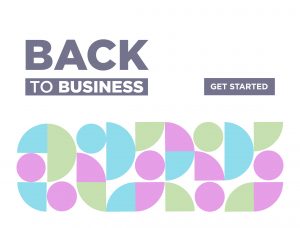 At Small Business BC, we're committed to helping business owners reopen in a safe and successful way. Our Back to Business campaign features specific advice and guidance in the following areas:
Operational Health & Safety
Restart Strategy
Marketing & Communications
Alternatively, visit our BC Business COVID-19 Support Service and connect with our Business Advisors to get answers to your specific questions on reopening.