"We went from running classes each day to suddenly not being able to do anything. Our business revenue essentially went to zero"
Just five months into their entrepreneurial career, Roman Magbanua and Saschie MacLean-Magbanua faced a nightmare prospect. The Formation Studio was less than six months old, but was faced with a sudden closure due to the COVID-19 pandemic.
Rather than take the decision lying down, the duo got to work, transitioning their programs online and working hard to keep their community engaged.
"We had been really wrapped up in writing our classes to suddenly having to make tough decisions," Roman said.
"We got together and decided to figure out how we could keep going in some form or another. We started by providing free classes on Instagram and Facebook Live for people to follow along with.
"A lot of our audience are on Instagram and they're very active on there. It enabled us to put something out that was easily accessible and it had really strong viewership. It really helped to notify people what we were doing. We hope we can retain some of these people when things hopefully get back to normal later in the year."
The Form-Nation Community
In tough times people need an escape. While people can't be physically present together, they can still move together as one. Roman and Saschie hoped that by keeping the community together they could help distract people – even if only for a short time.
"A lot of people are in a bad place right now. For us, the decision to keep going was more about providing something for our community as opposed to even thinking about business. Our mantra for this business is to help people cope with debilitating thoughts, thoughts that affect themselves and their situation.
"We weren't comfortable charging for that service. Helping to strengthen that community has been our goal and we want to get people's mind off things, get them sweating and into a positive mindset."
"Our messaging has always been, that no matter what you're going through, you've got this. Now, more than ever, that message is strengthened."
Pivoting to Survive
Saschie and Roman had set aside a rainy-day fund to enable them to weather challenging periods. While they may not have envisaged using it after a few short months, it did give them the breathing room to pivot to a new source of revenue, an online streaming platform for dance classes. Each week, users can stream classes with different training goals, all delivered instantly to their device.
"For us, good businesses are built on weathering times that aren't favourable for them. We were lucky enough to have some money set aside for something unforeseen. We took that money and purchased equipment and software that would enable us to create an online service, not just stream content.
"This has the double advantage of letting us generate revenue and conceptualize dance programs people can enjoy around the world, not just in Vancouver. Digital is only going to get stronger and bigger in our industry so we're happy to have our platform up and running.
"People are also having a hard time sourcing equipment right now, so we created packages of equipment for sale to our community so they had a way to work out. We had seen people using wine bottles, canned goods and even textbooks as weights, so it was great for us to be able to provide help to these people."
Navigating the New Normal
Like many other businesses, The Formation Studio has been given the go-ahead to reopen in limited fashion. They have published a robust set of guidelines on their website, and have decreased class capacity by 65 per cent. While reopening does bring a sense of relief, it also brings new challenges to navigate.
"The way we've built our business, we built it to scale," Roman explains.
"We've had to reduce class times and reduce class sizes. It's fair to say this doesn't allow for businesses to thrive. I'd compare it to opening a bakery and needing to sell 200 loaves of bread each day to pay rent. Suddenly, we can only sell 100 each day.
"We understand why these restrictions have been put in place and it's forced us to become really creative to find ways to supplement for the missing revenue.
"As much as we've hit these roadblocks, we like to approach them in terms of what opportunities does it present for us. How can we pivot, how can we move, and how can we find creative ways to deliver what we deliver in the best possible way?"
Staying Positive in Tough Times
It would be easy to understand if Saschie and Roman were mad. It would be easy to sympathize if they felt bitterness at their circumstances. Instead, the duo have stayed remarkably upbeat, viewing the pandemic, and resulting closure, as a learning experience.
"This year has definitely kicked our butts and forced us to step up a gear. We had always imagined launching the digital platform eventually but our ideal would have been a slow rollout over the summer. Instead, it became condensed into a two/three-day process in March.
"We had to learn so much, from equipment, to software, to getting the team in sync and learning together. We went from teaching classes of 20 people, to teaching into a camera. It's a very different experience!
"This situation has really helped us nail down our processes, how to get better, and how to work as a team in the most fluid way. Another thing I'm thankful for is that it really brought us closer as a community and helped us build different avenues in terms of community building."
Find Out More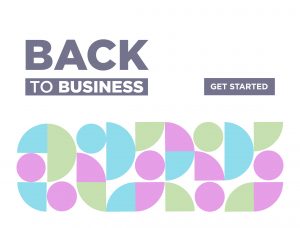 At Small Business BC, we're committed to helping business owners reopen in a safe and successful way. Our Back to Business campaign features specific advice and guidance in the following areas:
Operational Health & Safety
Restart Strategy
Marketing & Communications
Alternatively, visit our BC Business COVID-19 Support Service and connect with our Business Advisors to get answers to your specific questions on reopening.