Restaurants around B.C. are welcoming dine-in customers again after the Provincial Health Officer lifted the temporary order on in-person dining on May 19th, 2020. Here's a guide for restaurant owners and operators on how to protect your employees and provide a safe and enjoyable dining experience for customers.
Decide Your Capacity
People catch COVID-19 when someone with the virus coughs or sneezes near them, or if they touch a contaminated surface and then touch their face. This makes physical distancing within restaurants a crucial part of operating safely. To meet Provincial Health physical distancing requirements, restaurants in B.C. must:
Ensure there is 2m between workers and other workers and customers
Cap the number of people seated at a table at six
Cap the number of people in total at 50
"You must determine the maximum number of patrons and staff that your premises can accommodate if they are standing or sitting two metres apart and must document this maximum number in your safety plan."
 – Public Health Order, June 11, 2020
A patio is a great way to offset interior capacity limits. If you don't have a patio and are based in Vancouver, you can apply for a City of Vancouver temporary expedited patio permit to create a curbside or sidewalk patio right next to your restaurant.
Create Your COVID-19 Safety Plan
All restaurants must create a COVID-19 Safety Plan that details their safety measures to prevent the spread of the virus. Here are some resources and templates to help you put together a plan:
Your safety plan must be posted in your restaurant for workers. You should also communicate your safety measures on your website or somewhere else your customers can read them. If you are paid a visit by a WorkSafeBC inspector, they will ask to see your safety plan.
WorkSafeBC's priorities for restaurants are:
Reducing capacity and implementing physical distancing
Adding barriers where physical distancing isn't possible
Changing processes and introducing enhanced cleaning and safety protocols
Adding PPE as required
Your safety plan should cover the following key areas of restaurant operations:
Physical Distancing Best Practices
Your physical distancing measures should be at the core of your safety plan. Key WorkSafeBC and BCRFA guidelines include:
How to best position tables and seating for both physical distancing and ease of cleaning between seatings
How to make sure customers don't gather too closely together
Effective signage to maintain distancing and control the flow of traffic
How to use barriers to provide protection between parties of diners
Download the BCRFA Physical Distancing Primer.
Front of House Best Practices
BCRFA guidelines include best practices that protect workers and both protect and reassure customers. They include:
How and where servers should stand when taking orders and serving
Hand washing, cleaning, and other hygiene protocols for staff
Hand sanitizing stations for patrons and staff
Reduced touch protocols for staff
How to best work in teams
Orientation and training for staff in the safety protocols
Table service, menu, and payment protocols to reduce contacts
Download the BCRFA Front of House Best Practices.
Back of House Best Practices
The BCRFA created detailed guidelines for open and closed kitchens, focused on good hygiene and maintaining distance between staff. Guidelines include:
How to ensure only healthy staff are working
Hand washing and other hygiene protocols
Protocols around kitchen deliveries
Safety training for kitchen staff
Guidelines for food prep and cooking
Advice on masks and other PPE
Download the BCRFA Back of House Best Practices.
Beverage Best Practices
BCRFA guidelines in this area include:
Water service protocols
Beverage list presentation and display ideas
Protocols around retrieving bottles from the cellar/fridge and presenting them to patrons
Wine, beer, and cocktail serving protocols
Glass polishing protocols
Download the BCRFA Beverage Best Practices.
Let People Know You're Open
After finalizing your safety plan and ensuring staff know what's expected of them, it's time to get the word out that you're open again.
Your reopening marketing plan needs to do two jobs:
Reassure customers they will be safe in your restaurant and earn their trust
Tell them about your services and give them an idea of what to expect
BCRFA recommendations and ideas for marketing include:
Making full use of social media to update customers and communicate your safety plan
Updating your website to put your safety plan front and centre
Give customers an idea of what to expect at your restaurant
Highlight services like meal kits and takeout options
Use signage, including chalkboards, window writing, and sandwich boards to advertise you are open and communicate hours, specials, and services
Get to know your customers individually
Download the BCRFA marketing guide.
A great example of a restaurant safety plan was made freely available to the industry by the Hong Kong restaurant group, Blacksheep Restaurants. Download their handbook for inspiration: Blacksheep Restaurants COVID-19 Handbook.
If all goes well, we can hopefully look forward to restaurants expanding from 50 to 75 to 100 per cent capacity as we move through the phases of the BC Restart Plan.
Find Out More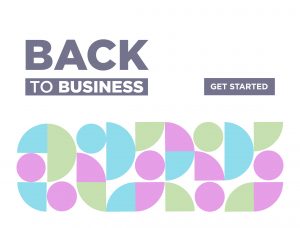 At Small Business BC, we're committed to helping business owners reopen in a safe and successful way. Our Back to Business campaign features specific advice and guidance in the following areas:
Operational Health & Safety
Restart Strategy
Marketing & Communications
Alternatively, visit our BC Business COVID-19 Support Service and connect with our Business Advisors to get answers to your specific questions on reopening.