British Columbia is now in Phase 2 of our Provincial Restart Plan. As business owners devise their blueprints to safely reopen their business, they are faced with a huge opportunity to take an objective look at every aspect of their operations. Businesses who take a thorough approach to this task will emerge from this acutely challenging period with renewed optimism. They'll also build a strong foundation for future success.
Reopening Your Business Under the New Normal
The reality is, we're likely to be living alongside COVID-19 for the foreseeable future. How businesses adapt this "new normal" will make all the difference to their long-term viability. Unfortunately, there's no guide book for success. This is an unprecedented situation and we don't have a set of cliffs notes to fall back upon.
The onus is on individual businesses to devise their own plan for safe operations. This plan should be based on their unique business circumstances and space. As we move into this critical phase, here are five key considerations every business owner should address before reopening their business.
How Can You Operate Safely?
According to the Retail Council of Canada, 85 per cent of consumers are going to need to see evidence of enhanced safety measures prior to resuming their normal shopping habits. Investing time and effort into ensuring customers are safe isn't just common sense, it's good for business. In this regard, resources and collateral exists to help business owners. WorkSafeBC have published extensive guidelines for businesses on how they can return to operations in as safe a manner as possible.
Share your plan with customers. Ask for their feedback. They are your most important stakeholders and including them in this process shows you care. It also highlights you are taking the appropriate steps to keep them safe.
Involve Your Team Members
If your business has been shuttered during the pandemic, it's worth virtually gathering team members to involve them in the reopening plan. You will likely encounter some staff who aren't ready to come back. This is totally normal. We are living through a pandemic and some individuals may not feel comfortable being around others. Ask their opinions on how to safely operate. Consider how your space could be maximized to ensure the safe flow of customers. What protective measures staff would like to see, etc. If you envisage changes to opening hours, or some redefining of individual job roles, communicate these prospective changes now. Where possible, delegate roles and responsibilities and empower your team members. It's an opportunity to help them up skill and will pay off in other operational ways down the road.
Revisit Your Business Plan
A business plan should be viewed as an organic document that grows with your business. Update your business plan to account for the new normal. Consider the best and worst-case scenarios for the months ahead and plan accordingly. How will you cope if business is 20 per cent below your projections? Your goals are just wishes without a concrete plan. Lean on Small Business BC's Strategy Planning for Growth During COVID-19 and the New Normal advisory service for guidance.
Check-In with Suppliers
The COVID-19 pandemic has touched every industry and disrupted global supply chains. Before re-opening, check with your suppliers and assess their ability to provide your products. Consider devising a back-up plan for sourcing goods if your usual suppliers are limited. For many businesses, COVID-19 has highlighted the advantages of sourcing goods from local suppliers. Take this opportunity to assess your own logistics chain and involve more local suppliers where possible. Not only will you receive goods quicker, it's also easier to communicate and assess what conditions may be like at their location.
Don't Be Afraid to Lean on Supports
This has been a tremendously difficult time for businesses. Every level of government has introduced supports to lean on. Before scaling back up, take a look at the government programs currently available. For starters, there are programs relating to commercial rent assistance, staff wage subsidies, and even financing. Entrepreneurs are understandably proud of their self-reliance but these are unprecedented times. These government supports have been created to reflect that fact. If you qualify for these supports, consider applying. Every little helps during this period.
Find Out More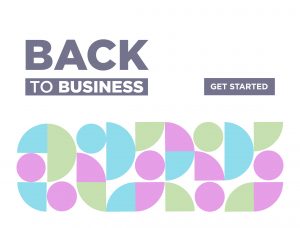 At Small Business BC, we're committed to helping business owners reopen in a safe and successful way. Our Back to Business campaign features specific advice and guidance in the following areas:
Operational Health & Safety
Restart Strategy
Marketing & Communications
Alternatively, visit our BC Business COVID-19 Support Service and connect with our Business Advisors to get answers to your specific questions on reopening.