Keyword research is a research technique that marketers use to understand keyword phrases consumers enter in search engines to look for information or shop for products or services. Once marketers identify these keywords, they can incorporate the keyword phrases in website content so their websites can appear on search results for related search terms.
Search engines such as Google and Bing use keywords in website content to gain textual understanding of a webpage. Then, these engines display the webpage on search results in relation to the keywords in the website content and search query. For example, if a webpage includes keywords such as "Men's Running Shoes" in the content, a search engine such as Google understands that the webpage is related to "Men's Running Shoes" and displays the webpage for search queries related to that keyword phrase.
How does a marketer know which keywords consumers use to find information or products or services that a brand offers? There are several free Google-powered tools available that collect and organize millions or billions of search queries each day, that marketers can use to learn about trendy keyword phrases. In this article, we will explore five SEO keyword research tools you can use to learn about popular keywords consumers use in your industry!
1.   Rising Retail Categories
This interactive tool shows popular keywords for various retail categories in select countries. You can select a top trendy category such as 'Vehicle Performance Additives' or 'Heavy Machinery' and see which keywords are gaining popularity for these categories.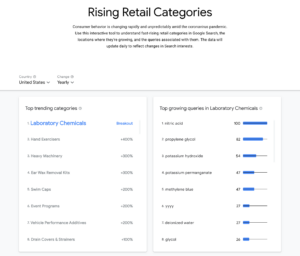 For example, search queries related to 'Heavy Machinery' have grown significantly year-over-year at the time of writing this article. Within the 'Heavy Machinery' category, 'mini excavator', 'skid steer' and 'backhoe' are gaining major popularity.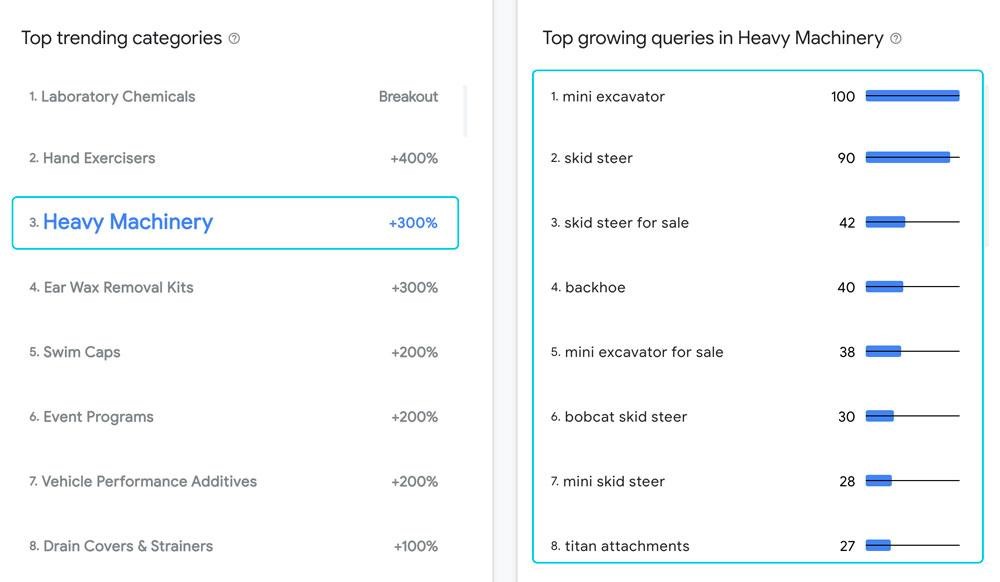 Use this data to incorporate trendy keyword phrases in your website content. For example, you can include these keywords in product names or product descriptions to help your product pages rank for search queries that contain these keywords!
2.   Market Finder
Market Finder lets you identify new potential markets, discover helpful operational information and start selling to customers at home and around the world.
To use this tool, first click on 'Get Started' on the homepage.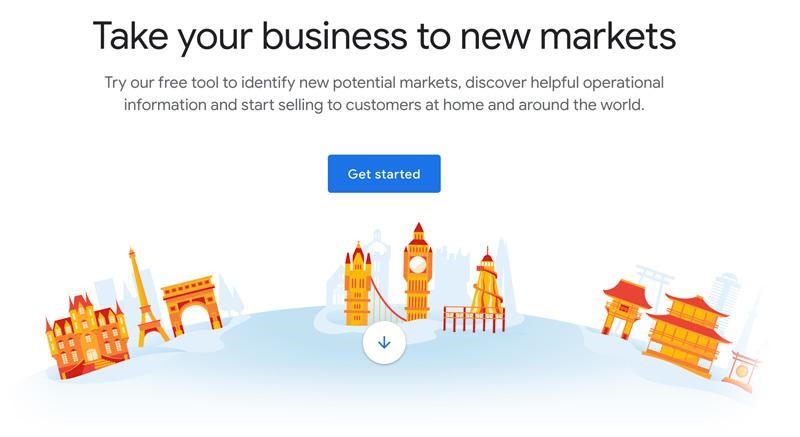 Then, enter a website URL such as your website domain.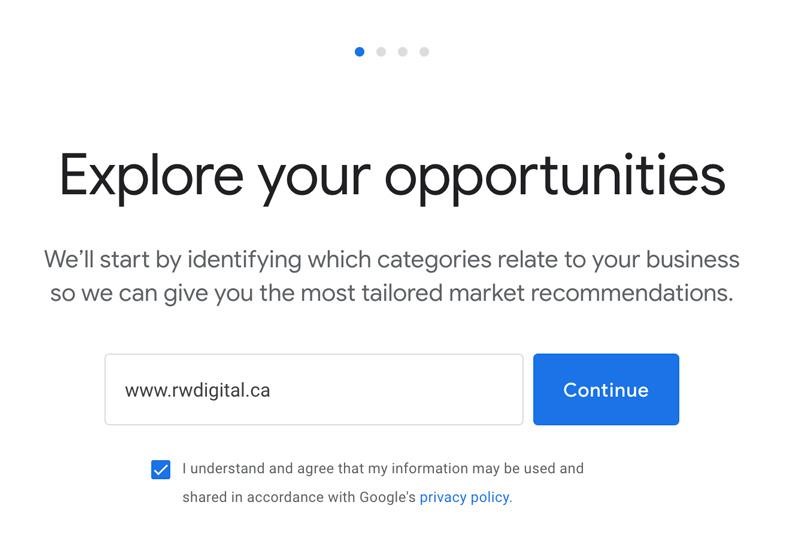 Once you have entered a URL, Google will suggest some business categories related to your company. You can remove the categories if they do not fit your company, and you can also add categories that you find more relevant to your business.
Select whether you want to sell in the US or globally.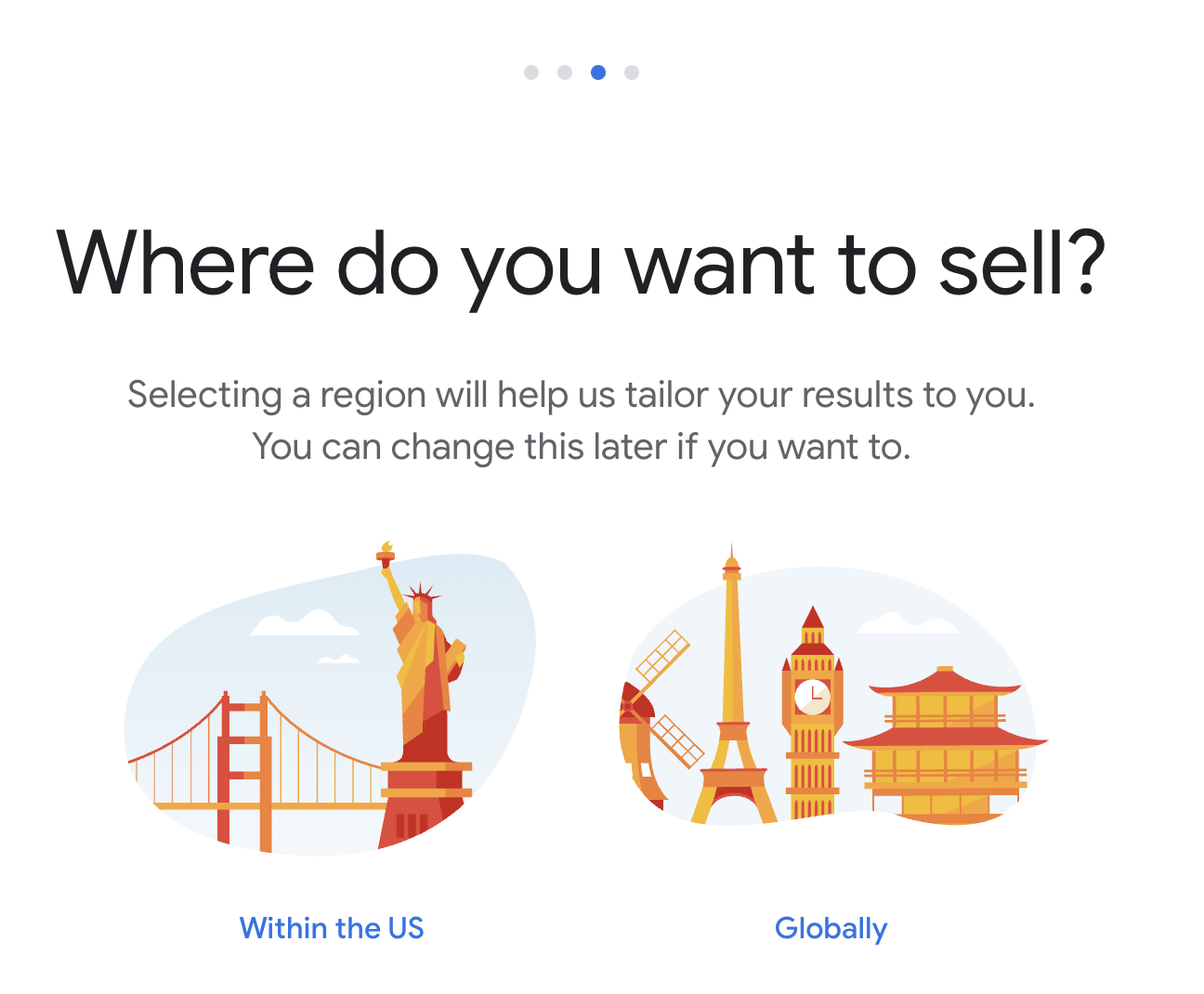 Once you have selected 'US' or 'Globally', Market Insider will recommend geographic areas that have the most potential based on your business.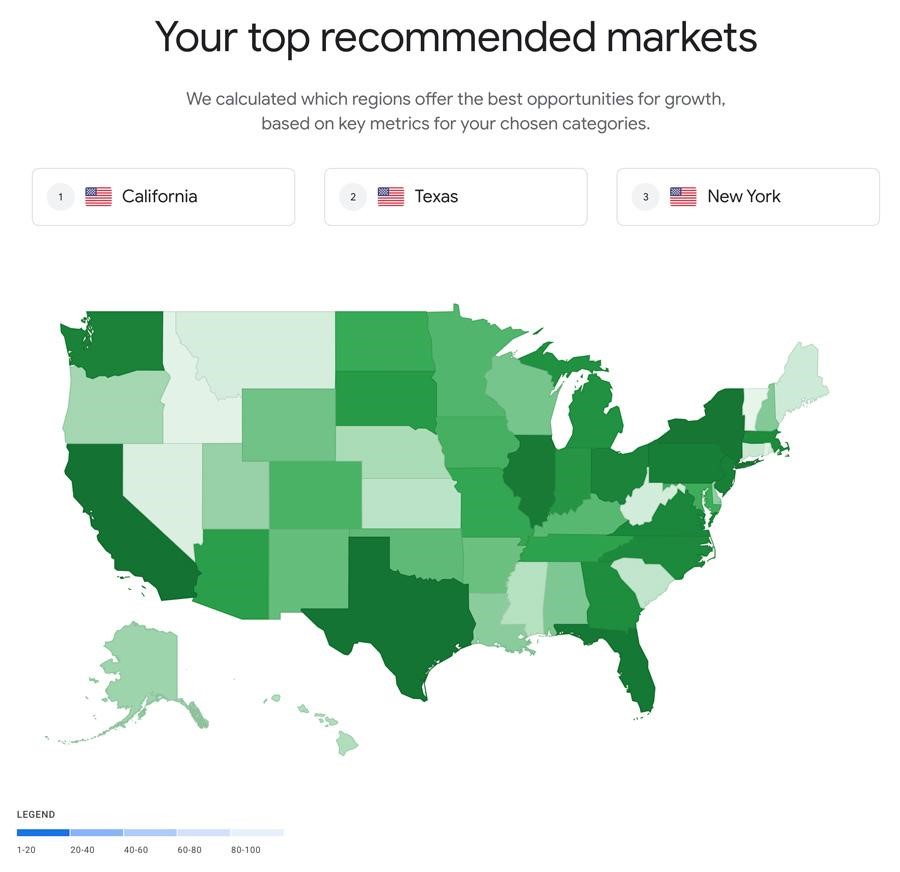 You can hover your cursor over a region to gain information about that particular region.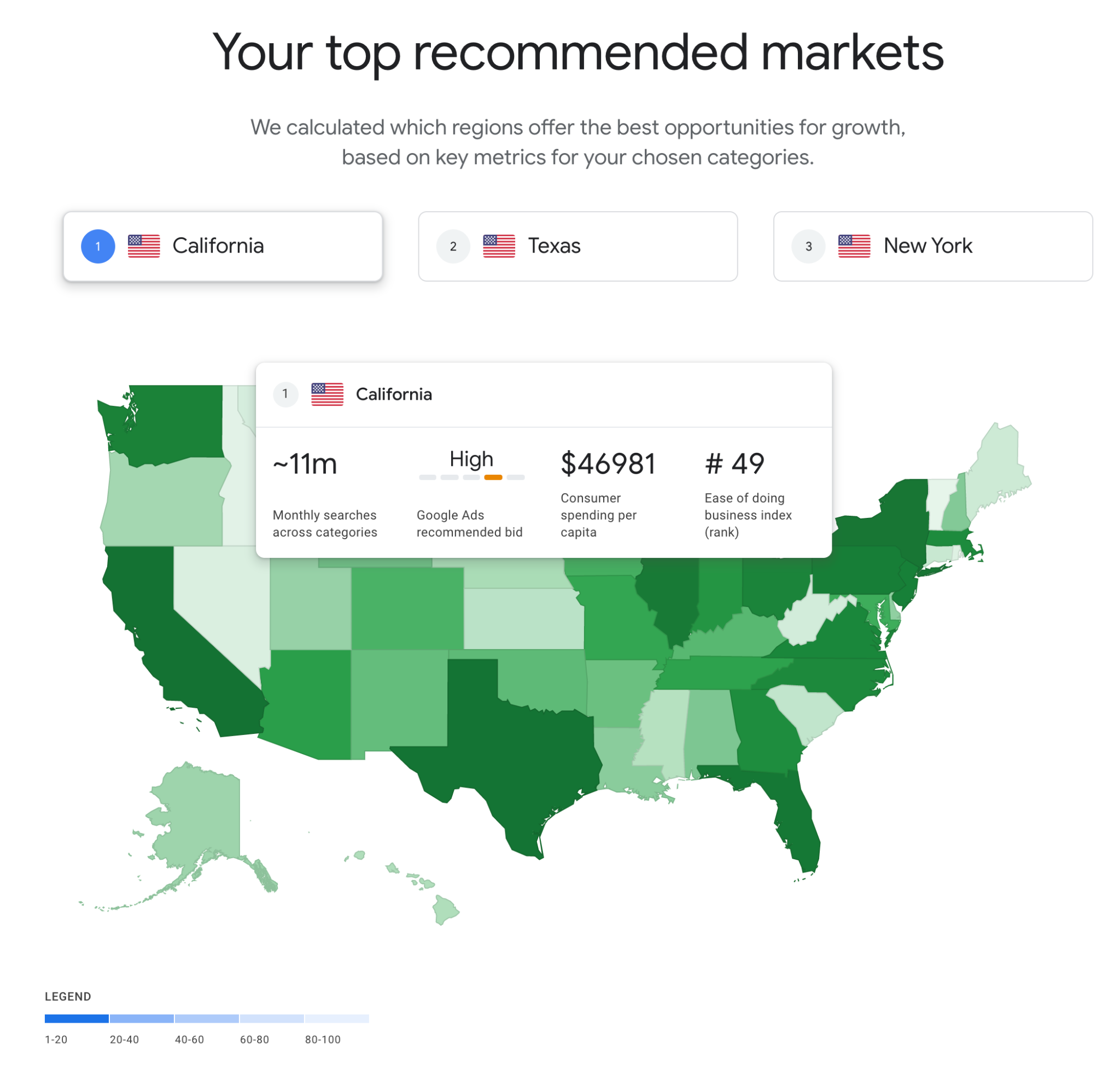 3.   Coronavirus Search Trends
Google has added a section in Google Trends to specifically provide information about COVID-19. This section is called Coronavirus Search Trends and it displays data such as trendy keywords and topics related to the Coronavirus.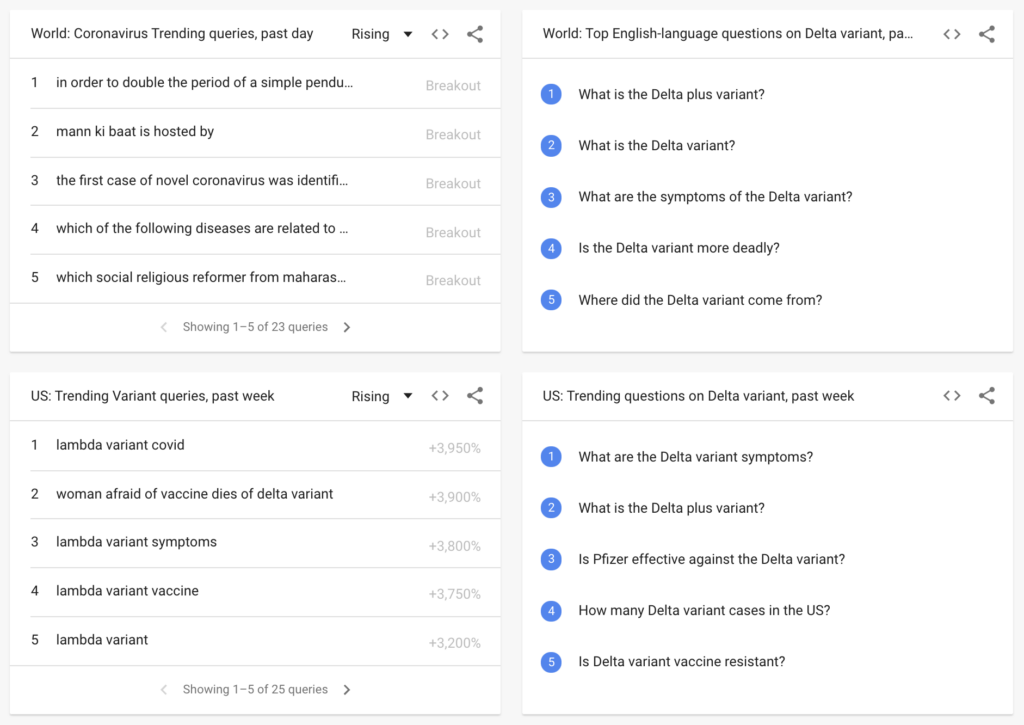 Companies in the healthcare or medical industries can see in which topics users are interested online, and then they can create blog posts or FAQs pages to address these topics and generate website traffic to their websites.
Google has developed robust and useful market research tools that businesses can use to learn more details about their consumer markets, such as their income levels and population sizes. Businesses can also use these market research tools to gain a better understanding of topics, products or services in which their target audiences are interested. That way, these businesses can create quality and informative web content that provides useful information to their audiences, and generate quality website traffic to the company websites.
Tools such as Rising Retail Categories, Market Finder and Coronavirus Search Trends are all effective market research tools that help brands narrow the gap in understanding their customers.