Canadians love pets. It's estimated that 38 per cent of Canadian households own a cat, while 35 per cent of us own a dog. We also love to buy clothing, toys and accessories for our four-legged friends, with each pet owner spending an estimated $2,500 on their furry family members.
Clavia Castilhos is a Brazilian entrepreneur that's created an upcycled, sustainable and eco-friendly Canadian brand for pet lovers. Up Pet uses fabrics that otherwise would have ended up in a landfill, repurposing them to create her range of pet clothing and accessories. Her business has carved out a successful and sustainable niche in a rapidly growing market, catering to the growing number of consumers who choose to spend their dollars with green-friendly businesses.
We caught up with Clavia to hear the story behind this fast-growing business.
What were you doing before you founded Up Pet?
I graduated as an industrial designer in my home country of Brazil and I soon started working in the fashion industry. In my time there, I got to work on every area of the business, covering everything from social media, to digital marketing and much more. It gave me a really good knowledge base, and the confidence to start my own business.
I was making clothing for women, mostly fashionable shirts for business women. As I worked on my business, I became aware of the waste that happens every day in fashion. I started looking for ways I could be more sustainable in my practices and how to eliminate issues like the exploitation of workers.
It's eye opening for people when they find out how much waste there is in fashion. People treat clothing like it's disposable and so much ends up tossed in the garbage. I didn't want to be part of the problem any longer. Instead, I wanted to be part of the solution.
It led to me studying a post-graduate in sustainable fashion production. During the course I saw so many opportunities to work in a more sustainable way and that's where the idea for Up Pet came from.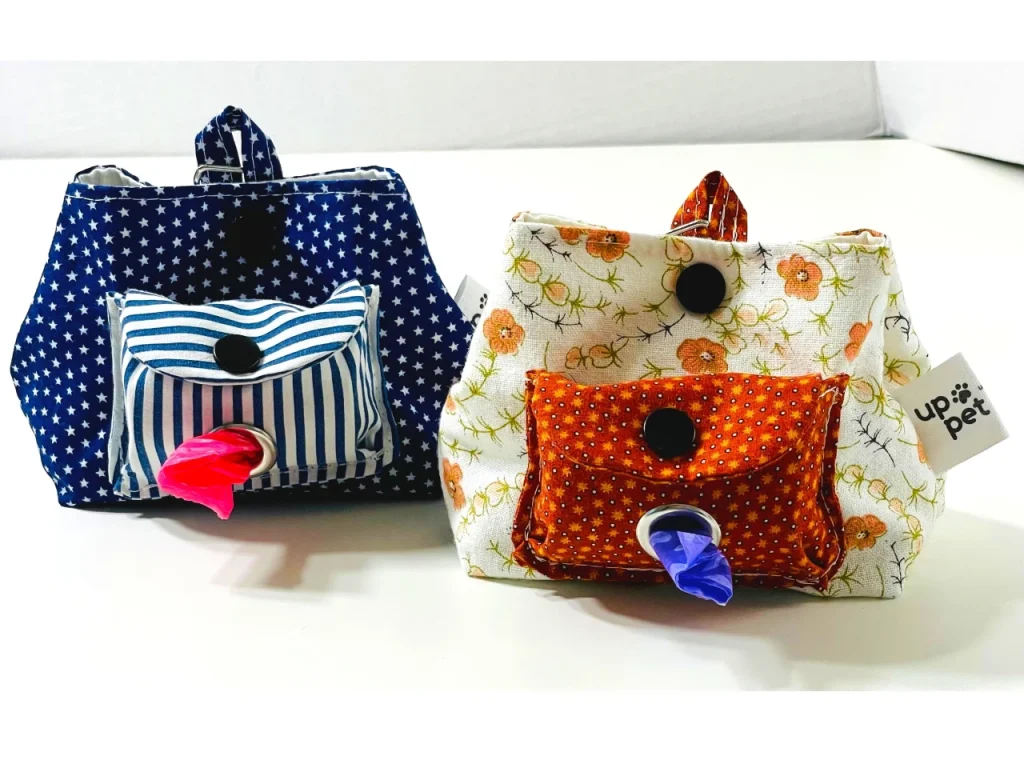 How did Up Pet get started?
I attended George Brown University in Toronto, and that's where I saw a challenge put out by the The Salvation Army to try and find new ideas to reuse their unsold fabrics.
I love pets, and I've had a lot of pets in my life. I know that pet owners spend a lot of money on their pets – they see them as members of their family and want to buy them nice things. It inspired me to combine this love for pets with sustainability.
I saw this future where the pet industry could be more sustainable and I got so excited. I had conversations with The Salvation Army; they loved my idea and I got a partnership with them. It meant I needed to move to Vancouver and start over because my entire support network was in Toronto.
It was a big challenge because I needed to sew the products, start the business, and handle all the marketing side of things. I was lucky that my husband could help, but I did most of the things I needed to do all by myself.
My idea for the business is that we will be the sustainable alternative for pet owners who love taking care of their furry loved ones, while also caring for the planet. Together, we can make a paw-sitive impact!
What type of products do you sell, and where can people buy them?
We sell lots of fun clothes and accessories for pets and people who love pets. One of our most popular products is our reversible pet bandanas; we also sell pet beds made from organic fibers, and we sell our unique shirt collars. The collars became super popular during the pandemic thanks to Zoom. People would have work meetings over Zoom and dress their dogs or cats up with a shirt collar for the meeting! We also sell pet backpacks, tote bags, key chain and mugs for pet parents.
All of these products can be found on our Up Pet website, and I attend a lot of craft markets around Vancouver, so keep an eye out for Up Pet there too.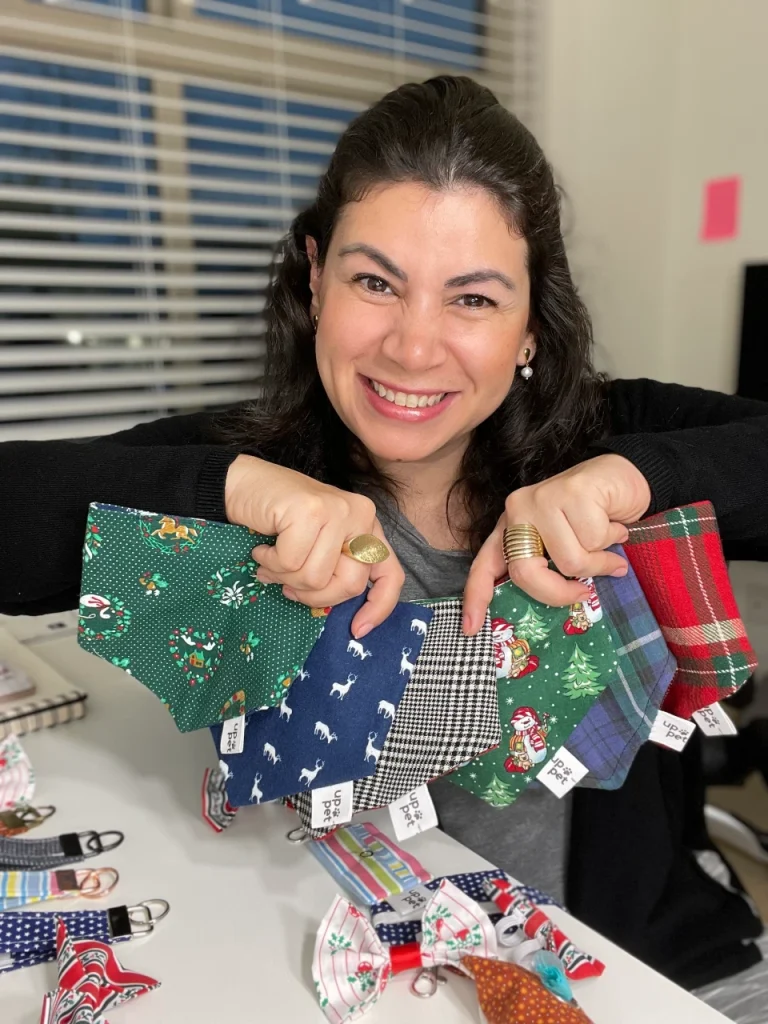 Why is it important for people to support small businesses like yours?
This is a very important question for me to answer. When people shop with a small business, they validate your idea. It gives you direct feedback on what customers want, and small businesses can react to that so much quicker than big businesses can. Entrepreneurs need this validation because we need to know whether our ideas are good ones.
I try to do everything locally. I source my fabric in Canada and I produce my products in Canada, so every dollar spent with my business stays in the local economy. I'm also a big believer in the circular economy and the potential it has for sustainability.
A final amazing reason to support local businesses is the connections you make. I've met so many amazing customers that have shared the stories of their pets with me. It's so emotional because their pets are family to them. I don't think this level of connection is possible with big businesses.
With the holiday season coming up, how do you prepare your business for busy times?
The most important thing to work on is your organization. Running a business in Canada has been a massive learning experience for me but I've learned that the earlier you start preparing, the more chance you have of success.
Last year, I started my preparation in November. I was making products and booking places at craft markets for December. I found that wasn't enough time. This year, I started that process in August and it has continued since then.
Try to get organized, find small things you can do now that will help you, and plan to start earlier next year.
What advice would you give to business owners still preparing for the holidays?
One of the best things you can do is to chat with other business owners with different backgrounds and knowledge. They understand the challenges you are going through, and they have experience you can lean on.
You can share your knowledge with them and lean on each other for support. You'll probably discover a couple of quick things you can include in your business and really help each other through busy times.
Small Business BC is Here to Help
SBBC is a non-profit resource centre for BC-based small businesses. Whatever your idea of success is, we're here to provide holistic support and resources at every step of the journey. Check out our range of business webinars, on-demand E-Learning Education, our Talk to an Expert Advisories, or browse our selection of business articles.