Unsure of how to allocate your marketing spend? Social Media Advertising presents a cost effective and targeted way to reach your desired audience. And, with a million new users "born" every year, it's time to start using this powerful platform to grow your small business.
Social Media Advertising by the Numbers
At the start of 2018, approximately 23 million Canadians had a social media account. This figure has grown every year since Mark Zuckerberg opened Facebook to the public a decade ago. Of these 23 million, more than two-thirds use their accounts every day. Noticing this fast-growing audience, marketers are quickly moving to re-allocate traditional media budgets toward social media advertising.
In fact, social media ad spends rose by over 70 per cent in the last year. Revenue in this realm is forecast at $67 million USD for 2018. What has caused this massive increase? Well, social media advertising is ad-blocker-proof and highly sophisticated targeting tools have made it easier than ever to customize, execute and measure your digital marketing strategy. All that's needed is a little imagination.
"What's incredibly important about paid social media advertising is that you make sure that it's right for your business," says Gabby Dickert, Founder and Owner of ecommerce experts GD Commerce.
"If you have a new product that makes people's lives easier, the best way to spread that message is through paid social media advertising. Make sure you pay close attention to your analytics and always, always, always optimize. If you're not looking at your data and changing ads regularly as a result, you're not optimizing your ads and thus, you're wasting money. Paid social media marketing can definitely pay off when done well, but if you're not willing to put in the time, it can also just be a total waste."
Finding the Right Social Media Platform for Your Business
Facebook (Instagram), LinkedIn and Twitter all offer robust advertising options but not all of them are a good fit for your business. At this point it's important to step back and consider your target demographic and what social media platform they're prominent within. The below helpful graphic from Pew Research Center highlights the key social demographics today: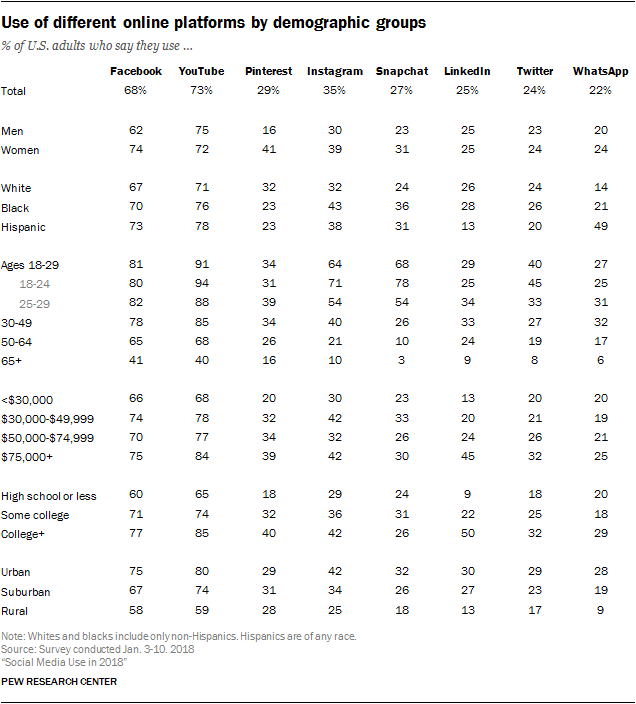 Let's take a look at the benefits of using the main social media advertising platforms.
Facebook
With ownership of Instagram and a swathe of customization options, Facebook is the king of social advertising. You can target users with Facebook Ads based on location, gender, age, interests, behaviour and even their connections. Like Google, Facebook also allows you to remarket to users who have already visited your website, used your mobile app or given you their email address. Facebook also splits your ad across their platform and Instagram, depending on where most of your targeted demographic reside. It's the perfect venue for a first foray into social media advertising and offers a lot of bang for your buck.
Twitter
While not enjoying the reach of Facebook, Twitter offers some valuable ways to market for the price sensitive marketer. Ads can be set to run on a performance basis. What this means is that you'll only pay when you've achieved your marketing campaign's objective. This could be based on number of page impressions, number of follows or even app installs. There's also an option to target users who have used a specific word or hashtag on Twitter, or who have interacted with tweets containing those words. Advertising on Twitter is also cheap, with the ability to pay pennies for clicks. It all depends on how popular the area is you're looking to advertise within.
LinkedIn
Focusing more on the B2B world (Business to Business), LinkedIn is the perfect place to build professional relationships. Ads can be targeted on users with certain professional qualifications, job titles or levels of seniority. Options to advertise are varied, ranging from sponsored content, to sponsored mail delivered directly to user's inboxes, or plain old text ads. If your business is a B2B enterprise, it's worth examining LinkedIn ads to reach your desired audience.
Here to Help
No matter what stage of business, or what problem you face, Small Business BC offers a range of seminars and one-on-one advisory sessions to suit any business.