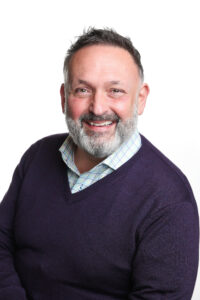 Tom Conway is the Chief Executive Officer for Small Business BC (SBBC). As an experienced business owner himself, he understands how having access to education, support and resources can make all the difference when starting and growing a company.
Tom brings with him more than 25 years of senior leadership experience including advocacy, fundraising and governance. He ventured into small business when he started a partnership with his husband and launched a food service company in Chicago, Illinois. Later they moved to California where Tom became the president and CEO of Easter Seals Central California. He then served as the Pacific U.S. Regional Director of YPO, part of a global network of over 25,000 CEOs where he managed two Boards, 60+ local chapters and a global management team. After moving to Vancouver in 2016, Conway served as the Executive Director for the British Columbia Schizophrenia Society before joining SBBC.
When he isn't supporting entrepreneurs, Tom can be found whale watching or hiking in any number of BC parks or waterways.