Michelle Ng is the founder of Vancouver Foodie Tours and the Granville Island Delivery Co. She's on a mission to bring people together and uncover the common ground that unites us all through food.
Michelle's business story is one of resilience and creativity. Rather than letting the pandemic destroy the business she'd worked so hard to build, she executed a thoughtful and community-focused pivot that helped countless small business owners survive those hard first months of the COVID crisis.
With our public health situation improving, and Vancouver Foodie Tours returning this spring, we caught up with Michelle to learn more about her two amazing businesses.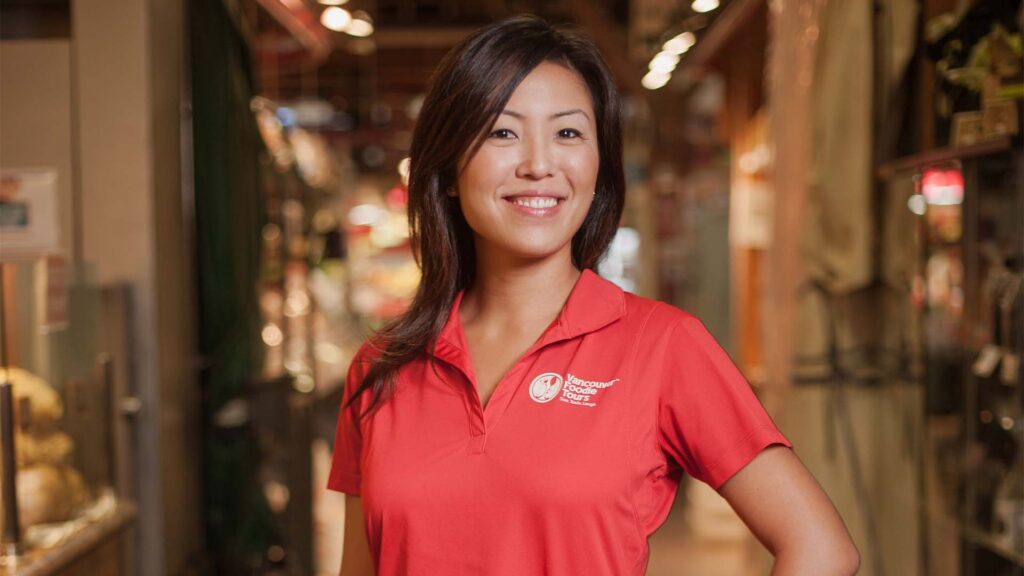 How did you start Vancouver Foodie Tours?
I started Vancouver Foodie Tours in 2010 because I wanted to engage with my community. I love food and I wanted to share this love with others and really highlight some of Vancouver's best places to eat. I knew that most chefs have dishes that they're super proud of, their go-to dishes, and I wanted people to know when they go to a specific restaurant what that dish is, and why the chef is so proud of it. There's always a story behind that love, that passion, and bringing groups together to hear those stories is so much fun.
What I love most about Foodie Tours is how we uncover the common ground between people through food. Oftentimes, we have strangers together in a group on the tour. Through food, we discover we have more in common than we realize. I just love the joy that we're able to bring out in that process. To me, that's the magic. The simple joy of sharing food, discovering new places – it doesn't need to be more complicated than that, and that's really what got me started in business.
How did you pivot from Foodie Tours to Granville Island Delivery Co?
I'd been running the Foodie Tours for ten years and we were going strong. Unfortunately, that fateful day of March 13, 2020, when the government announced a national emergency, was the day we were supposed to come together and celebrate our 10-year anniversary. That meeting took on an entirely different feel. We had some big questions to find answers to – do we need to pause our business? How long should we wait, and how would we do it?
At the end of that meeting a decision was made to pause the business that very day. Unfortunately, it resulted in me having to lay off all of my team members and refunding any tickets we had sold. I took a day or two for myself, to really digest everything that had happened, before I decided to begin a pivot into the business that would ultimately become Granville Island Delivery Co. How I came to that decision and that idea was by asking myself these questions:
What are my unique strengths and skillsets?
What does my community need right now?
How could I use my skills in a way that is most helpful to the community right now?
From those questions, Granville Island Delivery was born. I could see how the merchants and partners I had worked with on our Granville Island Market Tour were hurting. All my team were also out of work. I wanted to start a business that would create an additional revenue stream for these businesses, while bringing back jobs for some of my team members. While people could not come to join our Foodie Tours in person, I wanted to find a way to bring our experiences to them.
We created a one-stop eCommerce shop where the community could browse and purchase all of their favourite Granville Island products from home, supporting those businesses and really giving them a lifeline, all while staying home and social distancing.
How have you grown and developed this business in the two years since?
There's been a lot of learning, that's for sure! We've made so many iterations over the past two years because this was a brand-new business. It's completely different than a food tour business. A big lesson we learned happened in our first holiday season. We saw how important the corporate market was to the success and sustainability of the business going forward, so we decided to focus our energy on building local gift baskets for businesses in our community.
What that meant in practice was we stopped offering a lot of fresh produce, and stopped offering a lot of items a la carte. We hadn't really been strong in areas like grocery delivery so making that tweak was the correct move for us. The experience has shown me you need that flexibility and that willingness to rethink your current approach and make adjustments based on market demands.
As COVID-19 restrictions lift, will Vancouver Foodie Tours come back?
We are building towards this spring as the return of Vancouver Foodie Tours. In fact, I've already started the prep work. If not now, when? Things look so much different now than a year ago. Most of us are vaccinated if we'd like to be, the borders are reopened and tourism is starting up. You can sense that people are wanting to travel again, to have experiences and to bring excitement back to their life. I think the timing is right for us and it will hopefully be an exciting few months ahead!
The way I look at it is, during the pandemic people couldn't come and join us for the Foodie Tours in person, so we brought the experience to them via our beautiful illustrated Granville Island gift boxes. It was a way for us to continue delivering the experience in a safe and accessible way. Now that the public health situation has changed for the better, I'm glad we can continue to offer those same experiences to people at home, and in-person, within local gift baskets.
How can people learn more about the Foodie Tours and Granville Island Gift Baskets?
Great question! You can visit the Foodie Tours website, where you'll find our tour calendar and other details. I'll be updating the site as soon as I have our firm launch details. We've also got a separate website for Granville Island Delivery Co. where you can learn more about our Vancouver gift baskets, our vendors, and how to get involved.
What's your favourite part of owning your own business?
What really appeals to me as a business owner is the ability to actualize my values and what's meaningful to me and turn it into a business that impacts people's lives in a positive way. I get to stay true to my own personal core values and use my companies as a vehicle to live out what's most important to me and the change I want to make in the world.
What advice would you give to any entrepreneurs out there looking to follow your lead?
One of the best things you can do whenever you're embarking on something new is to study, talk to the people who have already done it and those who are currently doing it successfully. Those are the people who can help you avoid going down unsuccessful pathways. You want to study them, and do your research in advance so you can really pick their brain with the right questions.
As International Women's Day is approaching, what more can be done to encourage women to start their own businesses?
For me, it all begins with empowering girls to believe in themselves, to have a dream and to know they can do whatever they put their mind to. I was lucky to have this instilled in me from a young age. We had two girls in the family, I don't have any brothers, so my parents always told us you can have anything you want as long as you're willing to work for it.
That being said, you can have all the interest and drive in the world but there are still hurdles placed in front of women you'll need to get over. Some of it is self-inflicted, but others are just part of being a woman, such as having children. If we get pregnant, it still hurts our careers a lot of the time. I started Foodie Tours around the same time as I had my son and it was difficult. This isn't something men have to contend with. I wish there was more government support available in this area.
Another aspect is how intimidating it is for women to reach out and to get support. Generally, confidence levels aren't as high as men and that sets us back. I was so lucky to be a part of an amazing group of Mompreneurs and they gave me a platform to grow my business, and grow my network with my baby in tow. I would sign up to go and practice my business pitch and they would have a babysitting area for me to drop my baby off. Little things like that are so unbelievably helpful and appreciated, it would be great to see more support like that for moms trying to grow their business.