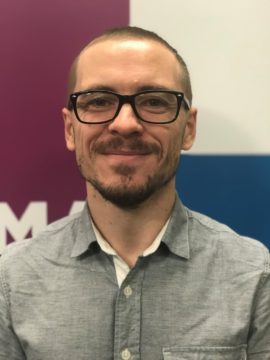 Biography
A native of Dublin, Ireland, Darren has an extensive background in journalism and content creation that stretches back over a decade. After graduating from college, his career started at Irish sports website Setanta Sports, where he covered British Premier League soccer, something he had dreamed of from a young age.
When the opportunity arose to move to Canada, Vancouver proved an irresistible choice. It was late 2009, the city was on the cusp of hosting the 2010 Winter Olympics, and the buzz around the city was palpable. Like many before him, the city proved irresistible to Darren, and he decided to stay, earning Permanent Resident status in 2013.
Darren began his career at Small Business BC in August 2017. In his position as Content Coordinator he oversees the upkeep of the SBBC and SBBC Awards website, writing articles, developing relationships with external bloggers, and collaborating with industry experts on articles of interest to the SBBC community. If you have a content idea you think would be of interest to the Small Business BC community, please get in touch with Darren via email.
What People Think
No reviews yet
Getting To Know You
Where did you grow up?
Dublin, Ireland
What's your favourite place in BC?
I love the small town charm and beautiful scenery in Pemberton
What's your favourite small business in BC? 
The guys at Nada are doing great things!
What's your favourite pastime? 
Playing soccer and catching up on the latest video games
What's the best thing about working at SBBC?
It's inspirational being around so many entrepreneurs with big ideas
Articles by darren
Seminars
No seminars available at the moment
Services
No services available at the moment