It's estimated North America's cannabis producers account for one per cent of all energy use across the continent. This unspoken and unnecessary drain on resources is something that hasn't yet received mainstream attention, but innovative growers like Tantalus Labs are already taking steps to foster change.
Founded by Dan Sutton in 2012, Tantalus Labs believe world-class cannabis, that meets Canada's high production standards, can be produced in more sustainable fashion. There's a reason they've been referred to as the "Tesla of Cannabis" in certain quarters.
"As a young entrepreneur, sustainability is really baked into the thesis and is kind of essential for us, for my generation, and for everybody on our team," Dan explains.
"With our dedication to growing in greenhouses, using only natural light, we use 90 per cent less electricity than a traditional indoor cultivation facility. We also irrigate our plants with recaptured and filtered rainwater. It's sustainably 'clean' and also pesticide free. As you know, quality is not a fad and will never go out of fashion.
"It also has other advantages for us too. People put their hand up to work for us, and they say – 'I believe in what you do, I believe in your mission, and I believe in the future of this business that you guys have imagined' – it really helps us attract the right calibre of people to the team. We're looking for people who are committed to more than just a paycheck.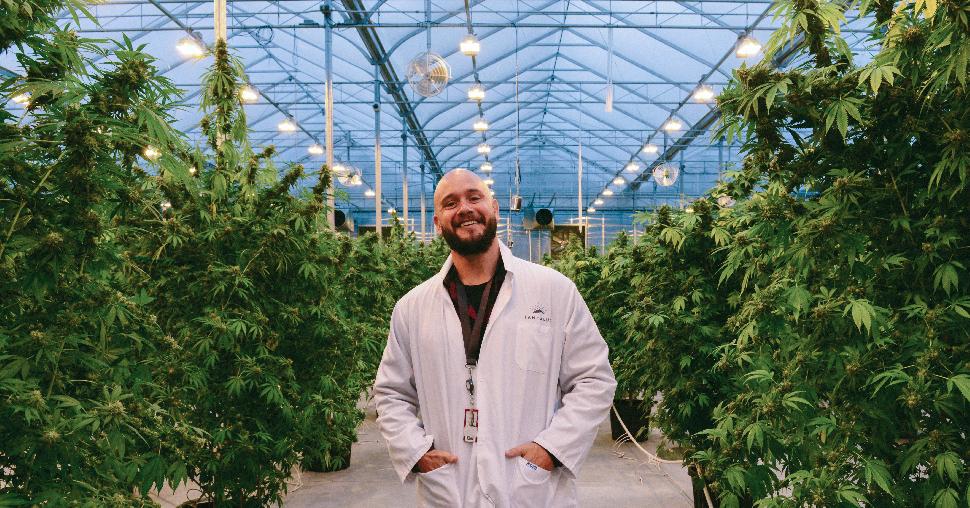 Taking the First Steps
Formerly the preserve of dimly lit basements and clandestine grow-ops, cannabis cultivation has become mainstream across Canada in recent years. Spotting the unique potential afforded by British Columbia's climate, Dan leveraged his business savvy – and a lot of expertise – to not only launch Tantalus Labs, but to launch it in his vision.
"This is my eight year in the Cannabis industry. I didn't participate in the illicit market. Instead, my background was in finance, energy and technology companies where I would do corporate development work. I came into the business in a lucky position, with a bit of a corporate toolkit already to hand.
"In 2012, I was 26 years old. I had noticed a change in how medical cannabis was going to be cultivated in Canada, essentially allowing for large commercial firms, with security standards and quality assurance standards, to cultivate cannabis to scale. This was intriguing to me. I didn't really know what kind of companies would be in this space who knew farming or agriculture. I knew a few experts in the greenhouse business here in BC, so I thought I'd check in with them to see what they thought.
"Slowly but surely, everybody I spoke to just kind of fell in love with the idea of cultivating cannabis to a premium standard in a greenhouse environment, which is what we do today. We saw a chance to marry our great agricultural sector in British Columbia to this plant and produce it within a more traditional plant cultivation infrastructure. This is what we set out to do.
"We designed and built a 75,000 square foot greenhouse in Maple Ridge. While doing this, we were also going through an arduous and tumultuous license application process with Health Canada. During that time, Justin Trudeau and the Liberals came to power and set out to legalize the recreational use of cannabis. I'd estimate this expanded our market about a hundredfold. It's been a wild ride so far and I'm lucky I've built a team with a diversity of different specializations. I think the best for the cannabis industry has yet to come."
The Impact of Legalization
Viewed from the outside as a boon for anyone involved in the industry, cannabis legalization has posed as many challenges as victories. While the market is undoubtedly bigger, the process hasn't been without teething problems and casualties. How businesses like Tantalus Labs navigate these first few years will no doubt be studied in future.
"What we've seen in the broader cannabis industry, especially for larger companies, is rapid scaling. In some cases, it's outpaced the growth of the market," Dan explains.
"While Canada has legalized cannabis, it's estimated only 20 per cent of the product consumed in Canada today is purchased from the legal market. The illicit market still owns a majority. I think that's partly to do with the slow and heavily regulated rollout of this new economy.
"What this means practically for us is that Tantalus Labs will have to grow incrementally. We have to grow slowly, steadily and profitably, so that we can take advantage of what will be a gradual approach to market equilibrium over the course of two or three years. We've found there's no more 'get rich quick' schemes in this business. Instead, it's a long, slow build that benefits entrepreneurs with patience and staying power."
Impressions of How Legalization was Handled
Under Canada's legalization model, the federal government is responsible for licensing production, while the provinces and territories handle retail sales and distribution. Each has established its own unique model of private, government or hybrid sales, and some have moved more quickly than others.
Entrepreneurs involved in the industry aren't shy of providing feedback on how things have progressed so far, and Dan is no exception.
"Canada has really prioritized, in both messaging and regulation, a public health and safety approach, which is totally defensible from a political standpoint.
"We appreciate that we work within one of the most sophisticated cannabis regulatory environments in the world. This is a model many other nations will look to in the future, tweaking, toggling and improving where necessary.
"That being said, I think that 20 per cent market penetration figure I mentioned earlier really tells the whole story. We need to unleash this industry; we need to empower it and we need to foster its growth. It's very much an industry in an infant stage and it might get to be a gangly adolescent in the next few years, but it's not going to be fully formed for some time.
"I say, from a regulatory bankability perspective, it's easily a nine and a half out of ten. From an economic development perspective, it's probably about a three out of ten."
Advice for Those Looking to Follow
Opportunities abound in Canada's legalized cannabis industry. New entrepreneurs are joining each week, and Dan believes the field is still wide open for those looking to get involved.
"There's so much opportunity out there right now. Not every business looking to get involved needs to be as complex as Tantalus Labs. Each entrepreneur is going to bring their own mindset and skillset to the table. If they stick to what they're good at and really emphasize their strengths, the field is still wide open. There's so much competition yet to come, and so many businesses who will have more competitive pressure on them in the coming years.
"Don't be intimidated by the regulations. They are workable. You'll probably have to learn new things but you'll get smarter because of it. Truthfully, the next ten years of the cannabis industry in Canada are going to enrich a lot of people. This will in turn enrich a lot of communities who embrace the industry. I think now is the perfect time to get involved as Canada's cannabis industry will never be this small and open again."
Find Cannabis Business Resources
Interested in learning how to break into Canada's growing Cannabis Industry? Check out Small Business BC's dedicated Cannabiz Resource Page that features more inspirational stories, resources and checklists.