Andrea Dobbs is the co-owner and operator of Village Bloomery, a cannabis retail store located near Vancouver's Granville Island. Since opening in 2015, the store has navigated the unique challenges posed by legalization, all while offering a retail experience unique in the cannabis industry.
"The Bloomery is what happens when two people with very different skillsets share a common vision. It's our answer to the question 'what would a dispensary look like if cannabis were completely normalized?'
"When I first took an interest in cannabis, I found the environment in many of the available dispensaries kind of daunting. For me, The Bloomery represents the kind of place we'd enjoy shopping for cannabis."
First Steps into Cannabis
Like most of the trailblazers involved in British Columbia's nascent cannabis business, Andrea wasn't lured to the industry by the promise of riches. Instead, she experienced first-hand the positive impact of cannabis and wanted to share it with the wider community.
"If you had asked me when I was 30 would I ever own a cannabis retailer I'd have laughed. There was just no way! I had tried cannabis as a teenager and had one really fun time and a couple of not so great times. I had even decided cannabis wasn't for me.
"Fast forward a number of years and I found myself having a hard time sleeping, my libido was lacking, and my skin was itchy. I was kind of depressed and went to the doctor. They decided it was probably pre-menopause and prescribed me hormones and bottles of pills and antibiotics. I was like, 'wow, this is not something I want to even consider.'
"I started to do some research and realized many people had success using cannabis for PMS symptoms. I even found out Queen Victoria used it back in the day. I went to a dispensary in Vancouver, and it felt like it wasn't set up to cater to people like me. I described my symptoms to the 21-year-old guy behind the counter, he understandably didn't want to talk about it much. He did his best, though, and slipped me a chocolate.
"Unfortunately, he didn't ask me my experience with cannabis, how strong the chocolate was, or how to prepare myself. I ate the chocolate and went home. At first, I felt like it wasn't working and was getting ready to go back out. Then I realized, 'whoa, something very different is happening to me here' and I basically spent the next eight hours on my couch.
"When I woke up, I knew I didn't want that particular experience again, but I began to research other ways to introduce cannabis into my routine. Over the next while, I began to feel the positive effects. I loved what cannabis did for me and I wanted to share that with others."
Opening Village Bloomery
Andrea and Jeremy began formulating plans to enter the cannabis industry. The last decade was a boom time for dispensaries in Metro Vancouver, with the number of outlets larger than Tim Hortons locations in the area.
Leaning on both of their expertise, their original vision for the Bloomery remained true, despite the rapidly shifting landscape.
"You know what's funny? When we started looking at the industry in 2013, there were only nine or ten shops. By the time we had finished writing our business plan for the Bloomery there were 29. By the time we opened our shop, there were about 90.
"All along, the two of us knew we had something to bring to the market. My whole professional career has been in retail, specifically display for the retail environment. I worked with businesses like IKEA and the Body Shop. Jeremy is a mechanical engineer and brings an analytical mind. We knew we could design a better experience, a better cannabis store, and we brought that know-how to the creation of Village Bloomery.
"From day one, we were very open and transparent with the City of Vancouver about what we wanted to do. That put us in a good position because they took quite an interest in the conversation surrounding what cannabis retail might be in the future.
"We weren't just running the store, either. We were making connections, doing research outside of hours, participating politically and advocating for cannabis through networking with other business people. It's been a really interesting ride so far!"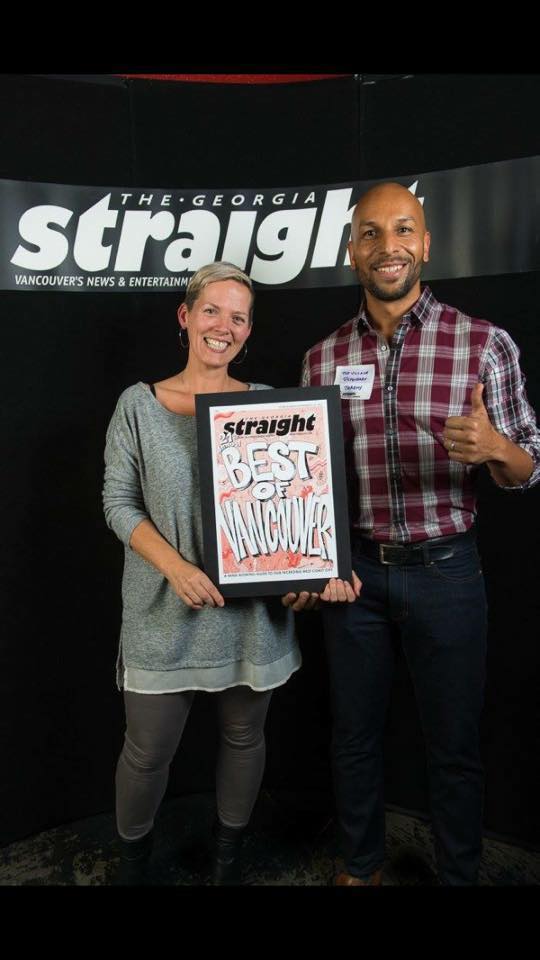 Navigating Legalization
On October 17, 2018, cannabis was officially legalized across Canada. In British Columbia, many outlets, who were already operating without federal approval, were faced with a choice: Apply for a legitimate license or shut up shop. For the Village Bloomery, the journey toward full legalized operation was just the latest step in the journey.
"Gosh, when I look back to those days, I realize we were participating in the glory days for unregulated cannabis retail," Andrea says.
"At least in Vancouver, transitioning to a more 'legal' footing was something we were all eager to do and we were participating politically in what that could look like. To be honest, though, after taking part in the legalization process I felt like I had been punched in the gut. I couldn't catch my breath those first few months.
"I was overwhelmed by the pricing, the packaging, the distribution system, the quality of the product and the age of the product – all of it was lacking. It was a really bare bones system that probably launched earlier than it was ready to launch.
"The producers, the distributors and the politicians needed to say, 'we're not ready to do this well, so let's wait until we can transition a little more easily,' now that might just be a BC and Vancouver-centric outlook, but I don't know what it's like anywhere else.
"When you see how much business still goes to the illicit market it's frustrating. Cannabis could be a game changer; it could really benefit society. I want the taxation from it to go into harm reduction, into creating an amazing medical and education system."
Creating a Community
Despite these early challenges, Andrea and Jeremy persisted. The Bloomery continues to go from strength to strength, focusing on their key pillars of healthy living and mindful integration of cannabis. They hope to expand to further outlets in future, while remaining true to their vision.
"What's funny for me about owning a store is that I hate to sell things, but I love to be part of creating a solution for someone who has a need. I also love people and want to build a place where we can make connections, come and say hello to each other and really feel grounded.
"We are working on expanding but it's not something we're going to rush with. We want to make sure we have deep roots as it's challenging financially and it's challenging in terms of licensing. You have to hold property, which means holding a lease for your entire vetting period. This can be up to eight or nine months, sometimes longer.
"It's a very interesting time and we have to make sure we're sharp, lean and innovative while making connections with people who can really get a benefit from cannabis."
Following in their Footsteps
British Columbia's cannabis industry remains very much in its infancy. To those hoping to follow in the footsteps of The Village Bloomery, what advice would Andrea give?
"I would say to have a very authentic reason for wanting to get in, not just a financially driven one, because that's not going to get you very far in the next couple of years.
"You must have the long game in mind because we are shifting a whole culture here, it's a huge cultural shift for Canada that isn't all the way there yet. Know that it's a highly regulated industry, so you are limited in how you may advertise and how you can talk in your store, set up your store and so on.
"Lastly, be kind. At the end of the day, cannabis to me is about being open hearted and kind and being the best person you can be. It's not about getting blotto, it's about being my most generous authentic and loving self. If we can all get on that page, wow. Things will change!"
Find Cannabis Business Resources
Interested in learning how to break into Canada's growing Cannabis Industry? Check out Small Business BC's dedicated Cannabiz Resource Page that features more inspirational stories, resources and checklists.