British Columbians are known for our love of outdoor exploration. Whether it's adventure, beauty, or tranquility you seek, our province contains some of the world's most idyllic and exciting outdoor playgrounds. Usually, we welcome the world to share in those sights, with millions of visitors spending time in our communities each year. Unfortunately, this is no normal year.
In 2018, BC's tourism industry produced $20.5 billion in revenue, contributing 161,000 jobs to our economy. With borders closed, cruise ships absent, and no international tourists, it's up to each of us to help fill this gap. We're being invited to take our vacations a little closer to home this year, as long as we do so in a safe and responsible manner.
Do Your Research Before You Go
As we collectively plan our summer trips, it's important to remember we aren't leaving COVID-19 behind. We must be respectful of the communities we plan to visit and be mindful of the fact some Indigenous communities in B.C. are not welcoming visitors at this time. Individuals are encouraged to research their destination before travelling. Visit Indigenous Tourism BC for a list of Indigenous experiences in the province that are currently open and welcoming visitors.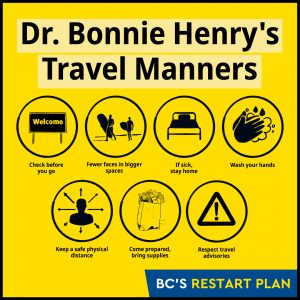 Here are some best practices to be aware of before you depart:
Plan ahead and make sure the community you want to visit is accepting visitors
Be respectful of locals. We are their guests after all.
Contact the local visitor centre, tourism association or Chamber of Commerce to learn what services are available
If the community you plan on visiting doesn't have resources to support you, bring your own essential supplies
Read the Province of B.C.'s Travel Guide
Supporting Small Business When You Travel
Many small businesses in our province rely on income from tourism during the busy summer months. While they may have reduced capacity, they are still open for business and depending on support. Here are some tips to help them navigate this challenging period.
See What's Open
Our tourism businesses are eager to welcome you this summer. See what's open in BC by community with this easy to reference list from Hello BC. This will allow you to plan what to bring with you, and what you can pick up at your destination.
Watch Out for Local Initiatives
In an effort to attract visitors this summer, many communities are coming together on joint marketing initiatives and attractive deals. The #VancouverComeback campaign is one example, highlighting restaurants that are open, as well as promoting cut price deals on hotel accommodation. Elsewhere, the Island COMEBACK campaign allows individuals to support their favourite island destinations by purchasing a gift card that can be redeemed in future. The Taste Comox Valley program allows people to earn points by supporting local businesses. These points can be converted for discounts and other cool perks.
Do Some Gift Shopping
While the world can't visit BC temporarily, we can send a little piece of BC abroad. If you need to buy a gift for a friend or family member abroad, consider purchasing from a small business when you travel. This small gesture will help support these businesses during COVID, while also sharing a little piece of our province with the world.
Shop Local
When possible, favour small businesses over big chains. Not only will you get an authentic local experience, you'll also support local entrepreneurs and help their community to thrive.
Travel Resources