William Jarvis had no idea that a journey up the Sunshine Coast in a camper van would lead him to a whole new career path.
A few years ago, Jarvis – then a digital marketer by trade – embarked on the road trip with his then-five-year-old son. "It was full of so many memories – pulling up the side of the road and making lunch, wearing headlamps and telling stories all night," says the founder of Honest Camper.
"I thought about what a great experience it was, and I wanted more people to have the opportunity to do this."
At the time, Jarvis felt "a little stagnant" in his career; he'd put in 10 years at Electronic Arts as a producer, followed by a stint at the head of a digital marketing firm in Vancouver.
"I was really looking to get out of the 'desk' experience – which is perfectly fine, but I just wanted something different."
Upon returning home, Jarvis noticed a growing trend of tiny homes and minimalism – allowing people to get back to nature in a simple, stylish way. "I thought about combining these ideas and making simple and minimal style campers" – and Honest Camper was born.
Putting the Wheels in Motion
Jarvis sprang into action putting his burgeoning concept to life, working with a business plan expert from Small Business BC to expand and refine his 15-page plan into a 45-page finished product (which he calls "definitely some of the best $300 I've ever spent").
He also performed a competitive analysis of the industry: "I quickly realized there was a gap in the market for small camper vans of premium price," he says. He made a personalized, "boutique experience" part of the customer appeal, offering a more premium product than your average rental while offering plenty of suggestions on stops and routes based on customers' individual tastes.
His digital marketing background came in handy, allowing him to create a clean, professional website and making ample use of Facebook and Google ads, referrals, and even influencer marketing. He also created an automated booking system that freed up his time for more personalized customer service.
Teaching himself maintenance – like fixing the damage wrought by a renter who smashed in the back of the van – also helped him keep costs low. "While I'm not a certified mechanic, I've learned from incidents like these how to do repair work. That really has been a competitive advantage for me."
"There's a lot going on but it's still manageable," he adds. "I'm still my own boss, I get to create my own schedule …  There are days that have been super long and I'm definitely guilty of working on the weekends. But it's not because I have to – it's more because I love doing it. I want to be able to do better for myself."
Fueled by Futurpreneur
Like many entrepreneurs, Jarvis faced a bit of a bumpy road getting started – particularly when it came to financing.
"It was a tough year for me starting off. I was going through a divorce at the time and had two kids to take care of," he says. Jarvis adds he wasn't able to leverage his assets due to the legal proceedings, and since the business had been in operation for such a short time, he found himself being turned down by even small-business-friendly lenders.
"When I wasn't able to walk into a bank and secure financing as homeowner with a vehicle and good credit, that was a big shock for me."
During the business plan review, Small Business BC referred Jarvis to Futurpreneur, and he was ultimately able to secure financing. "My business would not have started without this support and I'm incredibly grateful," he says.
Another facet of the Futurpreneur program that came in clutch was the mentorship – although Jarvis admits he wasn't totally sold at first. He was assigned an experienced entrepreneur, Chris Churnoff, as a mentor – but, Jarvis says, "Chris was in grad photography and I did not see how it could be relevant to me at all."
Jarvis sat down with him anyway. "I very quickly realized not only what an amazing guy Chris is, but he genuinely cares and wants to see me succeed. He was able to tell me the truth very candidly, even things that were hard for me to hear."
Churnoff took the campers out for a test run and gave Jarvis plenty of valuable feedback. He even advised Jarvis to bump up his 10% rental deposit requirement to 50%: "I was worried about people not wanting to pay that but that helped solve a lot of my cash flow problems and allowed me to actually grow the business."
To this day, Jarvis says, they still have meetings (often while hitting golf balls at the driving range). "What started as my hesitation to work with a mentor outside my industry has turned into one of the biggest factors for the success of Honest Camper."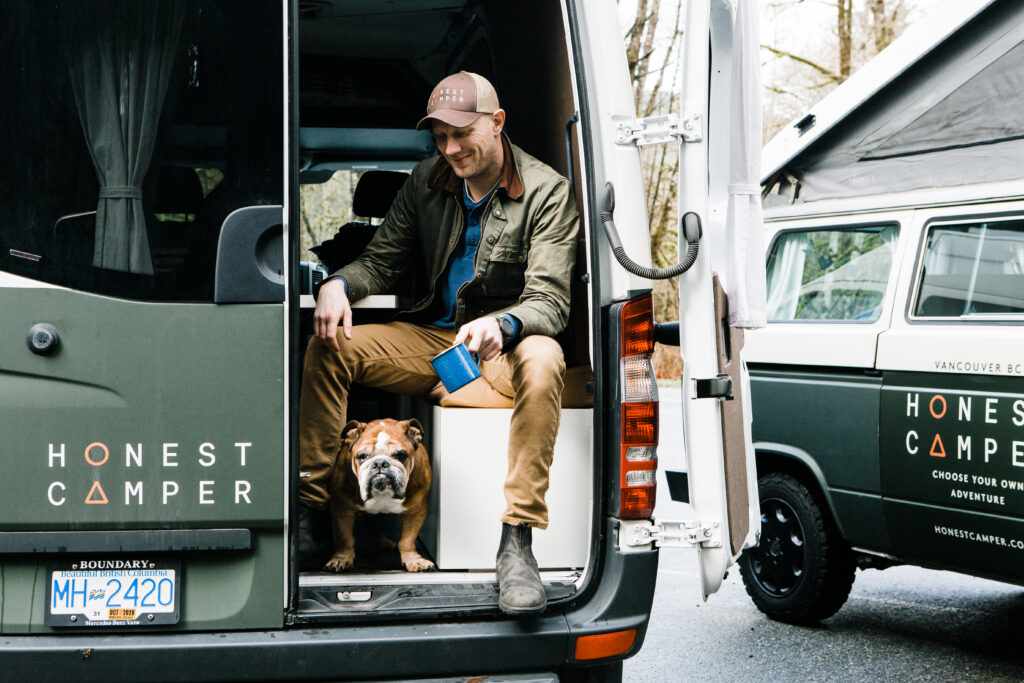 The Road Ahead
With Futurpreneur's support, Honest Camper has seen steady growth.
Jarvis had hoped to expand his fleet to three vans by the end of his first year in business; he wound up with five. "Now, going into year three, I have seven vans and I'm on track with my finances as per my business plan," he says.
He even turned what would typically be a seasonal business (thanks to those harsh Canadian winters) into a year-round enterprise by offering up his campers for rent in the San Francisco area during the off-season.
Positive word of mouth and repeat business has helped position the business for success. "I had a waitlist of 55 people at one point," he says.
"It was a big milestone in that it reassured me that I was doing something right … that there was a market and demand for the thing I created.
"It's been a wild ride but the best and most personally rewarding decision I've made."