In the four years since we last spoke to Reid Hemsing, he's solidified his position as one of Canada's rising business stars. The Vancouver-based entrepreneur flew south of the equator to represent Canada at the 2018 G20 Young Entrepreneurs' Alliance Summit in Buenos Aires, he clinched Best Marketer honours at the Small Business BC Awards, and his Two Wheel Gear business continues to go from strength to strength, expanding their global reach and product line of panniers and bike bags for commuters.
Celebrating a Decade of Entrepreneurship
2020 marks a massive milestone for Reid and Two Wheel Gear – their 10th anniversary. In that time the business has grown from a one-man operation run out of a basement, to a global enterprise supplying product to the likes of MEC and their US equivalent REI. What better place to start than asking Reid to reflect on the journey so far.
"It's crazy to think it's my 10-year anniversary doing Two Wheel Gear. I spent four years building it while working part-time in a corporate role and I've been full-time for six years now. It's been a wild ride and it's really shown me you have to be adaptable as a business owner.
"For example, those first four years were spent as a really small operation, just trying to make a name for the company and get the products out there a little bit. We were slowly growing and eventually I was able to bring in Nancy, who has since moved on to bigger and better things, to assist me.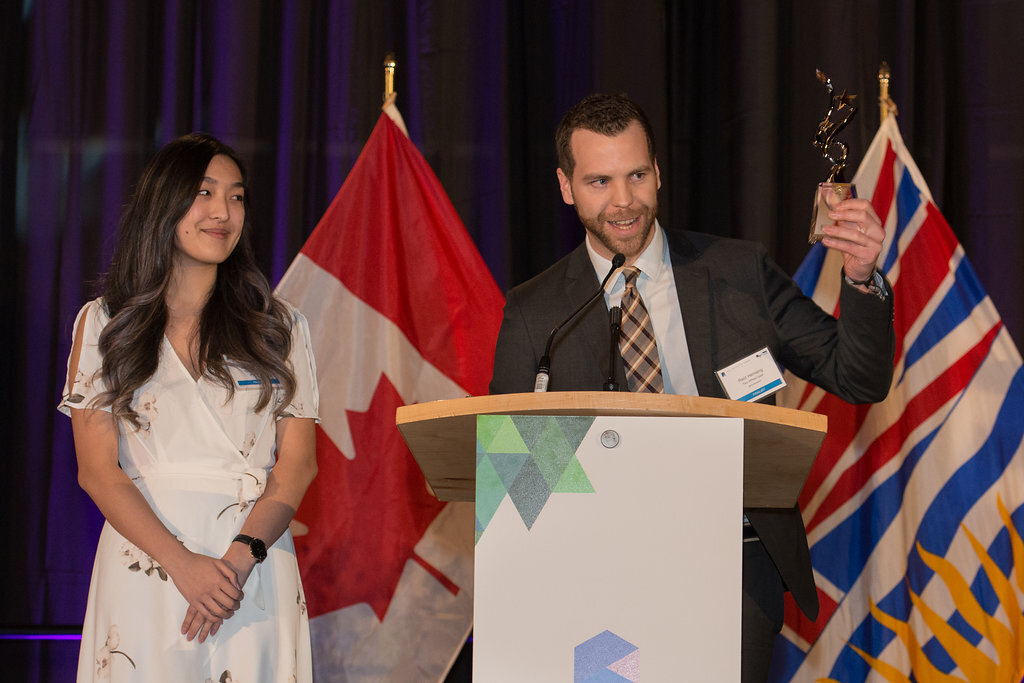 "2018 was a huge year for us, winning the Small Business BC Award, securing big contracts and being able to scale up. Now, my team is about seven people. It's enabled me to switch my mindset from that early stage entrepreneur trying to do everything, to focusing on bigger picture projects while delegating to my team.
"Up until recently, I had been handling all of our design. I was able to invest in bringing in a superstar designer who worked at North Face for 10 years and that's been a massive help with my time and efforts to grow the business."
Pursuing Two Wheel Gear's 'White Whale'
In Herman Melville's classic novel, Moby Dick, Captain Ahab dedicates his life to the all-consuming and elusive pursuit of the titular whale. Reid displays a similar mindset when it comes to chasing his goals, with a US retail giant taking the place of a surly sperm whale.
"When I started this company, my only goal was to get into Mountain Equipment Co-Op. I only had one product but I knew it was high quality and I knew it belonged alongside the other products they sold. Luckily, we hit that goal relatively quickly. The next goal was a much bigger challenge.
"I spend a lot of time in the States and I knew about REI, it's a monster-sized version of MEC. If you think about it, MEC has about 24 stores. REI has about 163 mega stores all across the United States. They're the largest outdoor retailer and I had been trying to get a meeting with them for over five years. I knew the potential growth impact it could have on the business if we could get our foot in the door, meet with them and show them our products.
"After a lot of effort, and a lot of emails, we got our meeting with them in April of 2019. They invited us back in June and I'm delighted to share we're going to be working with them. Basically, they're going to list our products online this year, as well as a limited range in their Seattle flagship store. They usually do this as an audition for new products and businesses they're partnering with. If we do well, they'll start rolling it out to more and more of their stores across the US stage-by-stage. It's super exciting for us and it marks a real big pivot point for the business. I think it's going to be really successful!
Navigating Global Logistics
As we like to tell clients at SBBC, exporting is a tried and true method for achieving business growth. It increases a business' customer base, it diversifies markets, and it can bring about savings through economies of scale.
Reid has been quietly increasing Two Wheel Gear's footprint across the globe, leaning on some expert advice along the way.
"I see the international market as being huge for us in the next few years. We've got some partners in Europe, mostly in the UK and Germany. There's a bicycle company in the UK acting as a fulfillment centre for us. This means we have a Canadian warehouse in Delta, one across the border in Blaine, Washington, and now we've got one in the UK.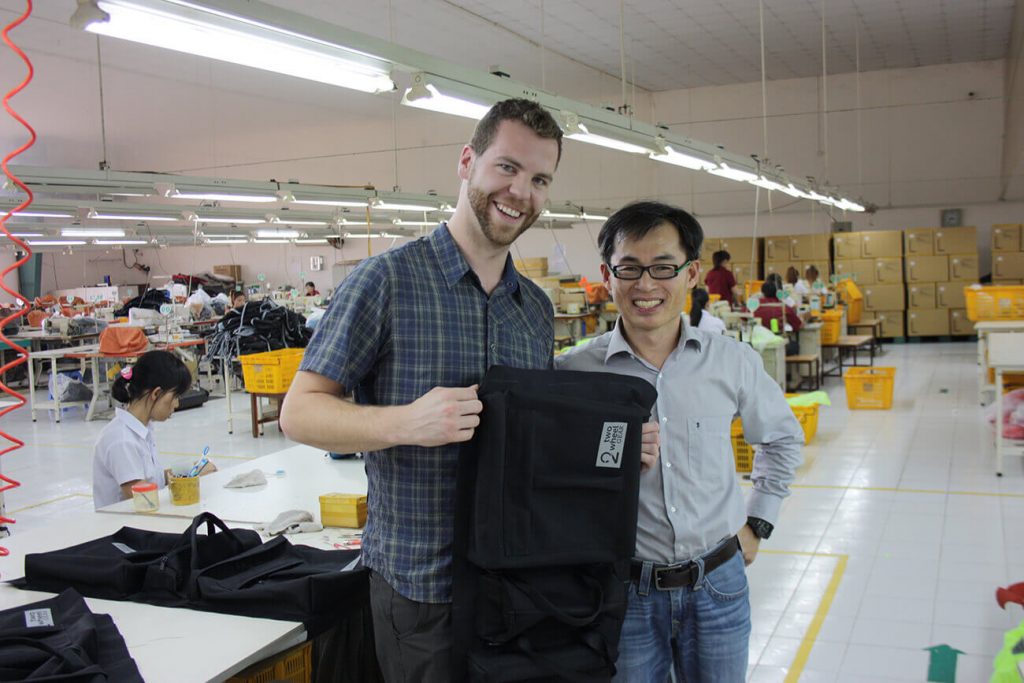 "This last year was the first year we sold in Europe in any real numbers and it was an experiment to see how it would go. It went really well in Germany and in the UK. This year, we're planning to send more stock over there and we're even creating a separate store for Europe, which we can fill out with an expanded product range.
"This has meant we've had to expand our manufacturing capacity. We've got one factory in Vietnam we work with, and now another in Indonesia. Unfortunately, this has complicated our logistics somewhat. I was actually in the SBBC offices recently meeting with the International Trade Advisory  team and they were really helpful. They went over my logistics supply chain with me, we identified areas I could simplify, save on costs and really find efficiencies.
"Small Business BC just keeps on saving me money!"
Retaining the Passion
The life of an entrepreneur represents a marathon. Each mile brings unique challenges and it's rarely easy. That being said, most entrepreneurs still remain committed; still believe it's worth the effort. Ten years into the journey, Reid paints an honest picture of highs and lows he's experienced.
"I would love to sit here and give you nothing but positives. The truth is, I waver sometimes. There's hard times and it can affect you. You have to have the passion for what you do to fall back on in these times. Do I doubt myself sometimes? Of course, I'm only human. Everybody doubts themselves but you need to find a way to cope with those feelings.
"Every once in a while, I find myself thinking back to why I got started doing this and it really helps me push past my doubts. It reconnects me with the passion.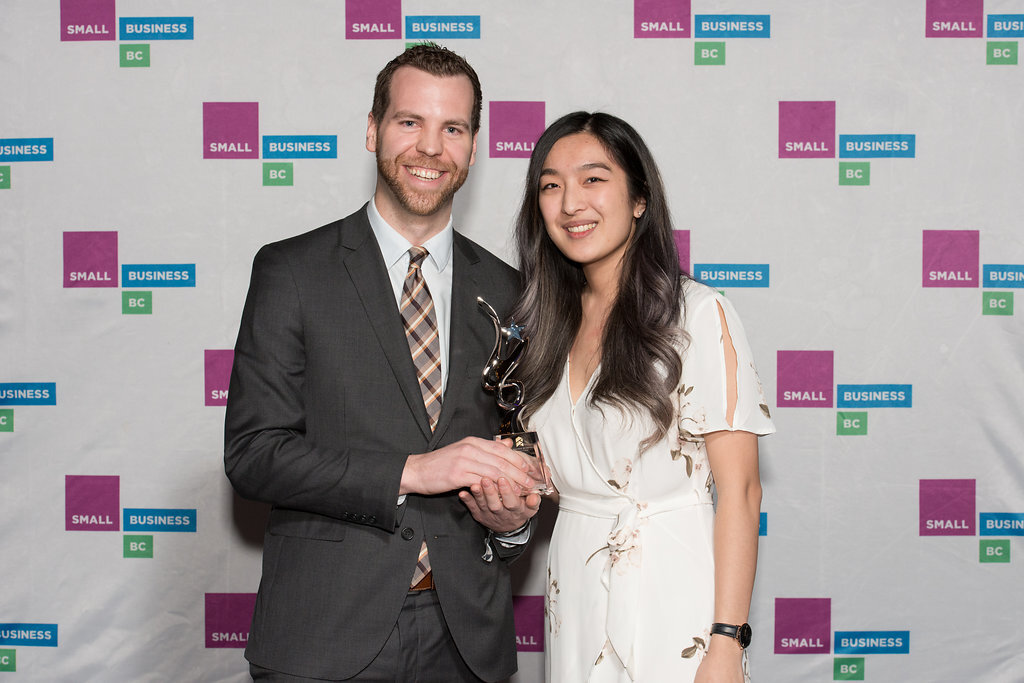 "Growing your business takes a lot of money. If you have a great year, you put more money into inventory. You're always placing your next bet on that next season, or that next product you're doing. You're trying to avoid a wrong colour or a wrong product that doesn't do well. If that happens, all your profit is sitting on a shelf in a warehouse somewhere. Now, imagine you have three warehouses full of unsold product. That's the kind of next level 'Big Boy Problems' as I call them, you have to contend with as you grow.
"Learning and maturing as a business owner is a lot of figuring out problems like these."
Advice for Future Business Owners
With his business further along the journey than many entrepreneurs we speak to, Reid is well positioned to offer some advice. What would he say to those thinking of following in his footsteps and becoming an entrepreneur?
"Starting out, you almost have to have this sense of optimistic naivete to do it. You have to think things will work out well. Otherwise, you'd never even start, right? You really have to find excitement in the little things. For example, each product we come up with is just so exciting to me, I live for it.
"If you're sitting on the fence about starting a business, you really won't know how it will go unless you try; you have to give it a chance. A real key piece of advice is to not take criticism personally. When we first came out with a bike suit bag people thought it was a silly idea. I had people telling me it wouldn't work etc etc.
"What you need to realize sometimes is that person just isn't your target market, it's not your customer. They don't get it. You just have to hope there's more people out there who do get it and it will eventually get into those hands, they share it with their like-minded friends and that's how word of mouth marketing kicks in. You just have to be patient.
"Starting a business isn't some get rich quick scheme. I don't think there's any shortcuts.
"Also, you can't do all of this on your own. Sure, you can build it to a certain point on your own, but after that you're going to burn out. I've definitely been there, and I've learned you can't cover all the bases solo. At a certain point you'll need someone else to come in, with a good head on their shoulders, to help pick up the slack."