In the past few months, British Columbians have risen to meet the challenges posed by the COVID-19 pandemic. Thanks to our collective efforts, we have managed to flatten the curve and allow our frontline medical staff valuable time and space to do their work.
Like most jurisdictions, British Columbia paid a price for this essential effort. Our province's GDP is forecast to shrink 7.8 per cent in 2020, and many businesses are facing into a challenging future landscape. Developed with input from over 100 business, Indigenous, post-secondary and NEXT leaders, Stronger Tomorrow, Starting Today is the BC Business Council's proposed economic recovery plan for British Columbia.
Stronger Tomorrow, Starting Today
The Business Council of BC's plan consists of 24 separate recommendations, grouped under five broad themes. It focuses on getting people back to work quickly, alongside public and private sector investment that creates opportunities for long-term fulfilling careers.
The details are as follows:
Spurring Economic Recovery
Short term reduction in Provincial Sales Tax leading to reform
Accelerate capital spending, infrastructure development, and private sector investment to kick-start economic recovery
Extend tax remittance deferrals for businesses significantly affected by the pandemic and the associated recession to the end of 2020
Institute a pause on all administrative, regulatory and policy changes that add or raise costs for the private sector to support the job and business recovery process
Improve Conditions for Hiring and Private Sector Investment
In the next two years, develop a plan for a made in BC, value added tax to replace the PST
Reform municipal government
Protect the industrial land base in Metro Vancouver
Introduce Nexus regulatory approval system for qualified operators
Support the creation of an Indigenous Economic Development Centre for Excellence
Make BC a top-tier location for investment and production in the forest sector
Empower People Talent and Skills
Review the structure, mandates, funding and delivery models in the public post-secondary education system
Support/enable rapid reskilling
Make BC a leader in work-integrated learning
Continue to expand childcare assistance based on those who need the most help
Address uncompetitive personal taxes
Accelerate Homegrown Innovation
Establish and fund the operation of Innovation Precincts
Boost investment in strategic digital infrastructure
Encourage the growth of technology-focused small and medium-sized enterprises
Protecting the Environment
Maximize our low carbon advantage to level the playing field for BC's low-carbon export businesses
Make BC the first fully digital regulator in North America for land use, environment and climate approvals and regulations
Support the development of infrastructure and solutions that speed the adoption of alternative fuels for vehicles, aircraft, vessels and trains as well as land-based business operations
Establish and implement a credible system that enables the creation and purchase of carbon credits (offsets)
Develop a global centre for clean energy/clean technology innovation
Find Out More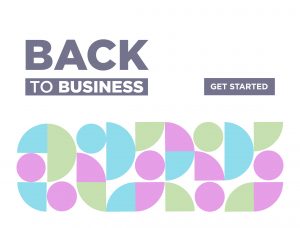 At Small Business BC, we're committed to helping business owners reopen in a safe and successful way. Our Back to Business campaign features specific advice and guidance in the following areas:
Operational Health & Safety
Restart Strategy
Marketing & Communications
Alternatively, visit our BC Business COVID-19 Support Service and connect with our Business Advisors to get answers to your specific questions on reopening.