The pandemic has shone a light on the inequalities that disproportionately hurt Black Canadians, and has underscored the need to restart our economy in a way that allows all Canadians an equal chance to succeed – Justin Trudeau, Prime Minister of Canada.
Across Canada, Black entrepreneurs face barriers to starting and growing their own business. Poor customer service and cultural insensitivity are often cited by those who turn to commercial banks for financing, forcing them to take the harder road of attempting to bootstrap their way to success. This stunts the potential for business growth, leaving many on the outside looking in and unable to avail of the opportunities available to other Canadians.
Nerissa Allen is the President of the Black Business Association of BC. Her organization is on a mission to address this imbalance, providing Black entrepreneurs with the tools and resources they need to achieve entrepreneurial success. By achieving this goal, they'll help to create jobs and boost the broader Canadian economy.
Nerissa was kind enough to chat with us and tell us more about her non-profit, and the issues facing Black entrepreneurs.
What are some of the structural barriers faced by Black entrepreneurs in Canada?
Access to financing is a barrier that our community has faced and continues to persist in present day. As journaled by Statistics Canada, migration to Canada from the Caribbean began in the 1960's, after discriminatory immigration legislation was abolished. As a result, Black people have not had the opportunity of time to accumulate generational wealth, in things like home ownership. So, the option of first round "friends and family" fundraising to start a business is usually not available. Layered on top of this, is the stigma of stereotypes and feeling unwelcomed, and the challenge of navigating the traditional bank lending processes which have been found to handicap Black applicants.
This leads to them seeking out alternate ways to access funding, usually forced to slowly bootstrap their business.
During COVID this problem has snowballed. The Canadian government has rolled out funding supports for small business but the vast majority of them exclude sole proprietors so they're falling through the cracks due to the criteria put in place.
If you look at a program like CEBA (Canada Emergency Business Account), it requires you to have a certain amount of salary dollars paid in the previous business year. Sole proprietors generally do not pay themselves "a salary" so they were left out of that equation altogether. I know the Federal Government has rolled out – and is continuing to roll out – the Black Entrepreneurship program to help address these issues and we hope a business loan within this program can help to address this gap in funding.
What's the history of BBABC?
The Black Business Association of BC is a non-profit association co-founded by Nerissa Allen and Clavia Alleyne, specifically to focus on business. What we found is that the black community here in Western Canada didn't really have a space where we could network with other entrepreneurs, get access to tools and things that are specific to our businesses as well as our communities.
It started as a grassroots initiative in August 2019 where we highlighted black businesses, the services they offered and the types of products they sold around the Lower Mainland. It progressed to 2020, where Clavia and I decided to formally register as a non-profit so we could put a little more structure into what we do.
Our mission is to help to elevate black entrepreneurs and equip them with the tools they need to grow their business. For this, we offer a range of services, networking opportunities, training materials and workshops.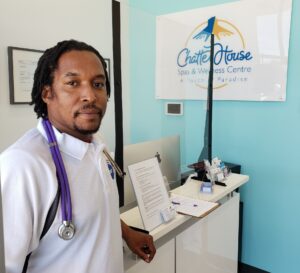 Clavia Alleyne, Co-Founder of BBABC
What kind of resources in particular do you offer?
We have an online learning portal with over 100 mini self-directed courses. We offer live webinars with experts in their fields. We offer a variety of educational skills modules and development tools and we can combine those two sources to cater to anyone, no matter where they are in their business journey. Whether it's leadership skills courses, HR, cybersecurity – we try to cover the gamut of things entrepreneurs would need to grow and scale their businesses.
Now, we are looking for different ways we can help to increase market access for these businesses. Recently, we announced a collaboration with Amazon Canada where we help set up a service with them to help black-owned businesses get themselves set up to sell on Amazon. Or, if they're already selling on Amazon, we can help them scale up their stores.
We also offer some great networking opportunities. Our members have opportunities to feed back into government policymaking. As an organization, we've been invited to round tables at various levels of government, in turn we ensure to offer our members the opportunity to contribute. It ensures our community is represented in these important discussions.
What kind of work do you do in the area of inclusive succession planning?
What we've seen is a lot of Black and Indigenous folks are in a similar boat in terms of our challenges and our demographic groups. If you own a business and you've got Black or Indigenous employees, we want to be able to help you support them in moving from lower or middle tier positions up to management positions.
We offer a program that grants them access to our learning portal where they can take our modules on management development, leadership development, HR skills etc. – we want to prep them for future leadership opportunities and remove the barrier of access to education and training. It's a one-year, structured program through which a company can sponsor their employee to participate.
Another thing I'd love to mention is our really great women in leadership program. We put that in place because women have been shown to be disproportionately impacted by COVID-19. We have virtual meetups and workshops specifically for them. They network together and help one another with their business.
What are some of the ways our community can get involved with BBABC?
As a non-profit, we always say donations really help because we rely on community support to be able to continue to run our programs. Looking to the future, as we negotiate coming out of COVID and start running in-person events we'll really need that extra resource.
Our organization geared up during COVID. While in-person events have always been part of our plan, circumstances have meant we haven't been able to hold any. We've been primarily highlighting businesses on social media but we are looking forward to normality and being able to bring all of the pieces together with in-person events because there's nothing like collaborating and networking in person
Outside of that, if you like to host webinars and you're good with people, we're always on the lookout for people to help us host different events so there's several ways people can support.
What are some of your favourite small businesses you'd like to highlight?
You've really put me on the spot! Here are some of my favourites:
Chattel House Spas: Chattel House Spas & Wellness Centre
Marce Miller Realty: Keller Williams Realty
Maisha Tea:  Maisha Tea | Moringa Leaf Blends
Raphael's Gourmet: Raphael's Gourmet Foods – Perfected in Barbados. Made in Canada.
Tectonic Architecture: Tectonic Architecture (tectonic-arch.com)

Solid Rock Group: Solid Rock Group
David Markwei Productions: David Markwei Productions
Elbo Patties: Home | Elbo Jamaican Patties Inc. (elbopatties.com)