Download BC Vaccine Card Guide for Businesses
Across British Columbia, the fight against COVID-19 continues. Widespread access to safe and effective vaccines have allowed us to enjoy a relatively normal summer, including increased access to our favourite small businesses, bars, fitness centres and entertainment venues. As we approach the annual respiratory virus season in our province, the creation of the B.C. Vaccine Card will ensure the continued safe operation of these businesses through the winter months.
Starting September 13, 2021, British Columbians aged 12 years and older will be required to provide proof of at least one dose of COVID-19 vaccine to enter certain discretionary events and businesses. On October 24, 2021, only fully vaccinated individuals will be permitted entry to these venues.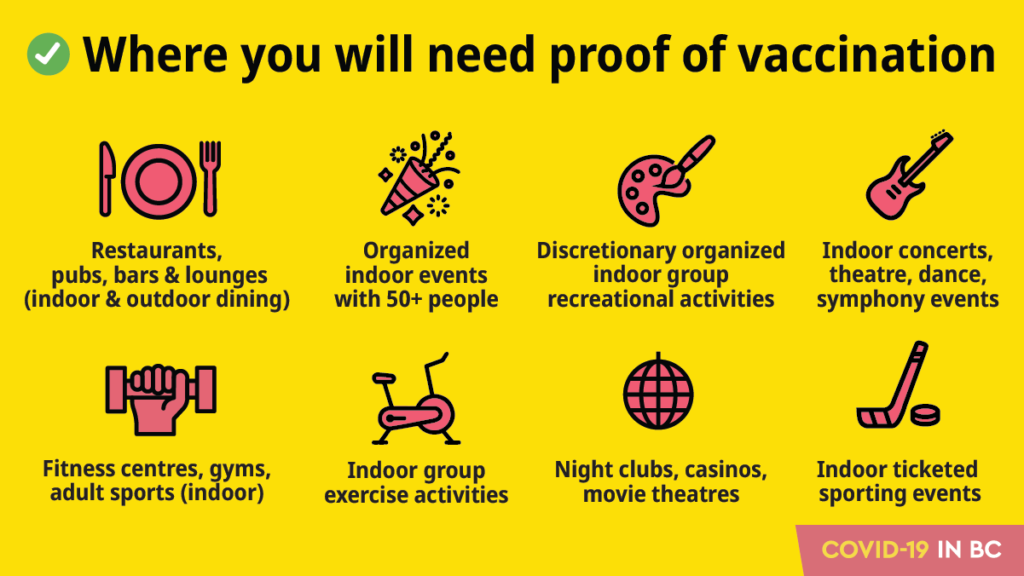 Where is the B.C. Vaccine Card Required?
The B.C. Vaccine Card is required to access the following types of events, services and businesses:
Indoor ticketed concerts, theatre, dance, symphony and sporting events
Indoor and outdoor dining at restaurants, pubs and bars
Nightclubs and casinos
Movie theatres
Gyms, pools and recreation facilities (Does not include youth recreational sport)
Indoor high intensity group exercise
Indoor organized gatherings like weddings, parties, conferences, meetings and workshops
Indoor organized group recreational classes and activities like pottery and art
Post-secondary on-campus student housing. Note: Check with your institution for specific requirements
Events, businesses and services will ask to see your proof of vaccination and valid government ID.
The requirement is in place until January 31, 2022, subject to extension.
Please Note: Private healthcare data will NOT be visible to businesses viewing the QR Code. It will only show name and vaccination status.
Where is the B.C. Vaccine Card Not Required?
Vaccination is not required in B.C. to access essential services, such as:
Grocery, liquor stores and pharmacies
Fast food, coffee shops and takeout
Voting and advance polling stations
Salons, hairdressers, barbers
Hotels, resorts, cabins and campsites
Banks and credit unions
Retail and clothing stores
Worship services
Before and after school programs for K to 12 students
Workplace events (responsibility of the employer)
Food banks and shelters
Indoor youth recreational sport for people 21 years old or younger
Student events and activities in K to 12 public and independent schools
Escape rooms, laser tag, bowling alleys, pool halls, indoor paint ball and arcades (if they are unlicensed or don't offer table service)
Post-secondary on-campus cafeterias
Industrial camp cafeterias (workers are already fully vaccinated)
Private residence weddings and other organized events

How to Get a B.C. Vaccine Card?
The B.C. Vaccine Card is available on the B.C. Government's Health Gateway website. Proof of vaccination can be obtained by entering your personal health number, date of birth and date of vaccination (either Dose 1 or Dose 2).
Upon entering this information, the website will produce a unique QR code, which can be saved to a smartphone to show, along with photo ID, when entering a business or venue on the B.C. Vaccine Card list.
People without access to a computer and printer can get their card by calling 1 833 838-2323 at the Get Vaccinated call centre and get their printed copy mailed to them. They can have a trusted friend, family member or support person print their card for them. Or they can visit a Service BC Centre to get one.
Visitors to BC from other jurisdictions will be required to show equivalent proof of vaccination.
How Can Businesses Prepare for the B.C. Vaccine Card?
Since the start of COVID-19, businesses have played a key role in helping to keep British Columbians safe. The B.C. Vaccine card ensures these businesses can remain open during our respiratory virus season, providing jobs in our communities, while delivering the products and services we love.
Those businesses identified by government as needing verification will be tasked with administering the B.C. Vaccine Card for those looking to enter their space. A staff member will look at the vaccine card, before confirming the individual's identity via another piece of government-issued ID.
The COVID-19 Vaccine Verifier App is now available to download:
This app will be used to scan QR Codes and verify the vaccination status of guests.
Businesses have two options to verify the B.C. Vaccine Card:
Visual Confirmation: The business or event looks at your B.C. Vaccine Card to confirm name and proof of vaccination.
QR Code: The business or event scans the QR code included in the BC Vaccine Card to confirm proof of vaccination.
Please Note: The use of B.C. Vaccine Cards will be phased in initially to allow people time to transition to their new cards. Starting September 27, 2021, only B.C. Vaccine Cards (and other external jurisdictional tools) will be accepted as proof of vaccination status.
Businesses are encouraged to reach out to their industry association if they have specific questions.
Businesses or organizations not covered by the order may choose to adopt their own vaccination policies. That would represent an individual business decision, and they would be responsible for carrying out their own due diligence, including seeking legal advice.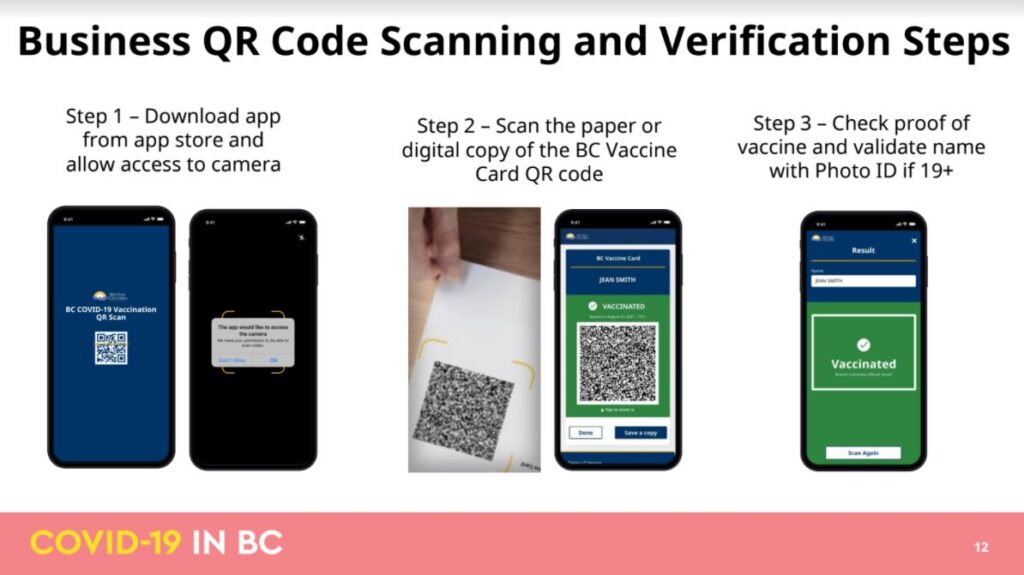 What Supports are Available to Help Businesses Prepare?
A package of information is available to businesses by the BC Government website. This package includes FAQs, posters and visual guides.
A Vaccine Verifier App will be available to businesses to download on September 13, 2021. This app will be used to scan QR Codes and verify the vaccination status of guests.
A general phone line has been created by the Province of BC to answer questions relating to the B.C. Vaccine Card: 1-833-838-2323. Please Note: this is a phone line designed to answer general queries and not business-specific questions.
What Happens if a Visitor is Refusing to Provide B.C. Vaccine Card Information?
A business has the right to refuse service to people who aren't abiding by the Provincial Health Order. If any employee feels threatened, they should immediately retreat and call 911. Abuse toward people trying to enforce this law will not be tolerated.
Businesses found to be in noncompliance will be subject to fines or closures depending on the circumstances. If a business has concerns, they should contact their bylaw officer.
Find Out More
We anticipate more information will be released in the coming days. We will keep this article updated as this information becomes available. For now, refer to the BC Government website for further details.