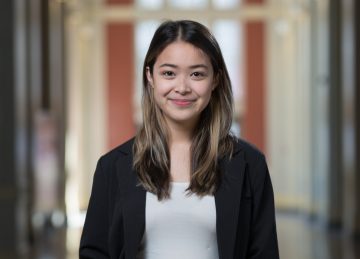 My position at Small Business BC is a Business Services Representative. I am the first point of contact when a client comes into our office. I can explain what our organization does as well as determine if they need to be referred to one of our services or other resources outside of Small Business BC. If they are just starting out, I can also help walk them through the basic processes of starting a business.
At the front desk, I also deal with some daily administrative tasks and have helped plan and facilitate a monthly meetup Mix & Mingle event.
Gaining Valuable Experience
This has been my first co-op experience and I think it has been extremely valuable so far. Being able to leave school with the experience of working in an office, especially one that is so rooted in entrepreneurship and business, has been quite beneficial for me as I am not only able to learn through my position but am also able to learn through the seminars that are offered. It has given me such a holistic view of what goes into a business, and the effort and dedication that is needed to ensure its success.
Achieving Success Together
One of my favourite aspects of working at Small Business BC is the close-knit environment and community among the staff. It was something that I felt immediately upon interviewing and has continued for the duration of my time here. It is great to be surrounded by a team that is constantly rooting for everyone to succeed and can celebrate the little things as well as the greater accomplishments.
Valued Member of the Team
I wasn't sure what to expect being my first co-op term and being the only co-op intern in the office, but not once did I feel like I was excluded during my time here. Whether it is giving updates during the weekly meeting or attending socials and pillar events like the Small Business BC Awards gala and MyBizDay, not only was I treated like I was a part of the team but I felt like I was also trusted to represent it. It is great to be in an environment that is not only supportive but wants you to learn and grow. I think that what showed me I was valued were the responsibilities I was given. It made feel as if I had my own agency within the company and that I was trusted to deliver whatever it was I was asked to do.
A Community of Entrepreneurs
My favourite part about working at Small Business BC has been the people I've been surrounded by, its been to great to not only be apart of such a cohesive team but also be introduced to this Small Business Community. The entrepreneurs that I've met are so eager and willing to invest their time into learning how to make their business as successful as possible and, not only that but they are willing to support each other's endeavors as well. It is refreshing to see.
A Fantastic Place to Work
Yes, I would absolutely recommend this co-op to other students. Especially if you are interested in entrepreneurship or starting up a business of your own. You learn so much about the processes that one must go through when starting up a business and there are so many learning opportunities available to you; whether it is sitting in on consultations or seminars, you can really make the most of what is offered. Even if entrepreneurship isn't necessarily what you are moving towards, it's still a great environment to work in and gain some tangible skills through the role. It has been a pleasure to work here and I am extremely grateful to have had this as my first co-op experience. It is such a great work environment to come into everyday and everyone is so friendly and easy to get along with, it had made the past 8 months go by so quickly!