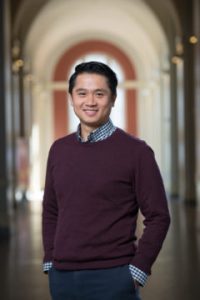 Biography
Tuan Pham is an Education Coordinator at Small Business BC. He studied Business Administration at Capilano University before embarking on an eclectic career in hospitality, travel, sales, and the non-profit sector in Cambodia and the Philippines.
Tuan is a strong believer in empowering people with the knowledge and tools to better themselves, something he brings to his role at Small Business BC. When he's not coaching entrepreneurs, you'll find him performing an admirable impression of Bob Ross while painting watercolours, or enduring the highs and lows involved in being a devoted fan of the Vancouver Canucks.
Testimonials
No reviews yet
Getting To Know You
Where did you grow up?
I was born in Hong Kong and then we immigrated to Canada. I grew up in East Vancouver
What's your favourite place in BC?
7th Heaven Whistler Blackcomb
What's your favourite small business in BC?
Ba-Le Deli & Bakery
What's your favourite pastime?
Hiking Stawamus Chief
What's the best thing about working at SBBC?
I love the people and how passionate everyone is about helping small businesses thrive in BC
Articles by tuan
No articles yet
Seminars
No seminars available at the moment
Services
No services available at the moment