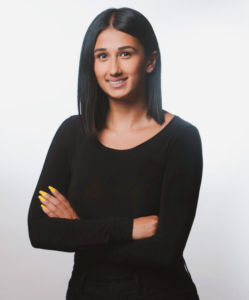 Biography
With several years of experience in community engagement, sponsorship, and stakeholder relationship management, Roop looks to actively improve and provide business excellence in business development and partner relations. She has a deep commitment to serve the community and is passionate about business.
Enamored with the greenery and beautiful mountain views of the west coast, emigrating from London, England to Vancouver, British Columbia was a natural fit. If she's not working on community development, you'll find her spending time with her dog! Roop also volunteers her time as a member of community awareness advisory boards such as BC SPCA and EVA BC.
Roop Johal is the Director of Partnerships at Small Business BC.
Testimonials
"I enjoyed the popup and got a lot of useful information that I plan to follow up with. Great idea to help small business on Vancouver Island. You should consider hosting them in more communities!" Tina Short, Popup Attendee"
Getting To Know You
Where did you grow up? 
Birmingham, England
What's your favourite pastime? 
Playing with my dogs. I am a BIG dog lover.
What's your favourite place in BC? 
Vancouver's seawall is my go-to place for a stroll in beautiful BC.
What's the best thing about working at Small Business BC?
Working in such a vibrant community with strong entrepreneurial spirit is incredible and inspiring.
Articles by roop
Seminars
No seminars available at the moment
Services
No services available at the moment