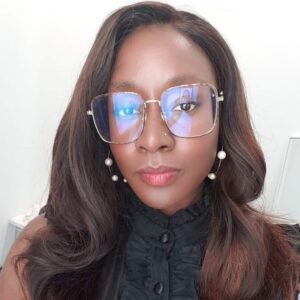 Nerissa is the Co-Founder & President of Black Business Association of BC. BBABC supports black business and entrepreneurship through providing leadership development, collaboration, networking, and mentorship opportunities. This support elevates the basic and advanced skills of entrepreneurs which will enable them to run successful businesses and increase positive community representation.
As a Director of Chattelhouse Health and Beauty Inc, a Registered Massage Therapy clinic and global brand known for distinguished skin and hair care, Nerissa has garnered valuable experience from business start-up to expansion. She is excited to share this wealth of knowledge gained to mentor and support entrepreneurs and leave a legacy of professional excellence.
Nerissa's deep passion for a healthy work life balance led her to embark on world travel which she credits for enhancing her global perspective. This has allowed her to tackle challenges including systemic racism with effective and inclusive solutions. Currently serving as a member of the Vancouver Economic Development Advisory Board, and on the Board of Directors of the Barbados Cultural Association of BC. allows her to stay engaged with the community from a cultural standpoint, allowing her to merge perspectives and drive change that is wholesome.
With unemployment at an all-time high, giving people the tools to create and run a thriving business will not only uplift people and families individually, but also the community, and the Canadian economy.
Articles by Nerissa Allen: