A good blog post isn't just a well put together piece of writing – it's also easily readable for search engines. Now, if you're writing naturally and offering valuable information, certain on-page search engine optimization factors will be met. But there are so many other aspects of SEO that the average business owner either doesn't know or doesn't have the time to learn and apply to their own web presence.
Remember: A well optimized blog post (amongst other factors) can mean your post shows up higher in search engines like this: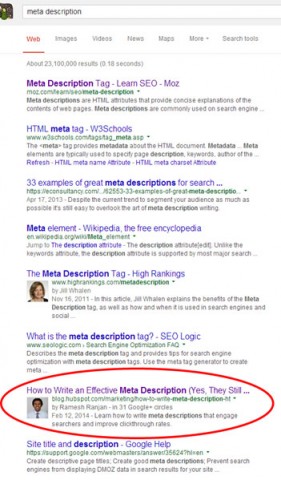 Or this: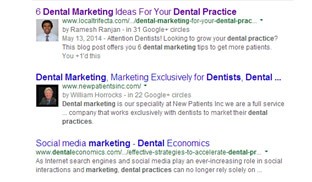 You can conduct a full SEO site audit to examine how your website is doing in terms of search engine rankings, visibility in search engines and competitive analysis. But the goal of this post is to show and explain a simple tool you can use to optimize your blog posts. Most business owners I've encountered and worked with generally have WordPress websites. It's a simple content management system (CMS) and one of the most popular out there.
Last year, a colleague of mine suggested a WordPress plugin called "WordPress SEO Plugin" by Yoast. It's an easy-to-install, easy-to-use plugin that serves as a guide to show you how you can optimize every page and post on your website.
You can start by searching for the WordPress SEO Plugin within the WordPress dashboard, installing it and activating it. Once you've done this, it'll show up at the bottom of the editor in each new post you draft.
How WordPress SEO Plugin Works
The best way to use the WordPress SEO Plugin is to draft your blog post first. After a few posts, assuming you're relatively new to on-page SEO, it'll become pretty clear what you need to do in your blog post to have them be optimized for search engines.
Once you've drafted your blog post, under the "General" tab of the plugin, you'll see 5 things:
A Snippet Preview – What your post will look like in search engine results pages (SERPs).
Focus Keyword – The main keyword you want your post to rank for. Usually this will be a keyword that indicates what your article is about and should come naturally. If your article is "How Healthy Eating Can Help You Live Longer", "healthy eating" will likely be your focus keyword phrase. Another example: "5 Signs You Need New Rain Gutters Now" – "rain gutters" would be your keyword phrase.
SEO Title – Often times referred to by techies as "title tags" , this is what you want your title to be displayed in SERPs as. See below for an image of what this would look like.
Meta Description – What you want your meta description in SERPs to be. What's convenient is that this can be filled in within the WordPress SEO Plugin with the character limits visible to you – more on this later.
Here's what a snippet would look like in SERPs with a few of the above items: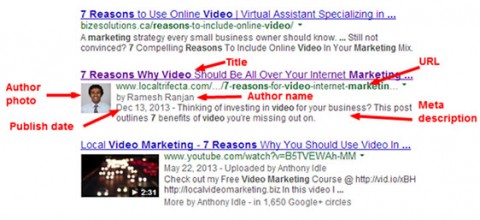 Here's a screenshot of what it looks like in the WordPress SEO Plugin:
You'll want to pick a focus keyword that you want to target throughout the post. This should've come naturally in your writing – and as a result, should already appear in your title and URL after you saved the draft.
WordPress SEO Plugin will show you how many times your focus keyword comes up in your title, URL, content and meta description. By default, it'll display whatever you have entered as your title for your post. However, it's now recommended that you shorten the length of your title tags to 55-60 characters, thanks to Google increasing the size of the title font in its SERPs.
Analyzing Your Blog Post Through WordPress SEO Plugin
Once you've filled out everything under the "General" tab in WordPress SEO Plugin, click on the "Page Analysis" tab and you'll see a long list of optimization factors with a coloured ball next to it. The coloured ball will only display as long as you've saved at least one draft.
If it displays green (as it does below), it means your post has been optimized well for that factor and it'll tell you why. If it displays yellow, orange or red, it means you've got some optimizing to do.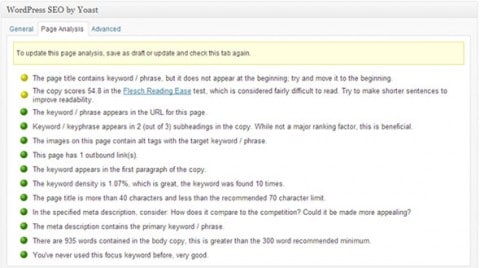 Again, if you're writing naturally about a subject, your focus keyword should come naturally. But making sure that every blog post you publish is readable by search engines is important and the WordPress SEO Plugin provides you with an effective guide to get that done.
Blog Post Optimization Best Practices
Taking from the page analysis tab of the WordPress SEO Plugin, here are some best practices for you to take away and use:
Write quality content. Make sure there's an introduction, body and conclusion to your post
Have a keyword density (how often your keyword or slight variations of it appear on the page) between 1-5%. If it's below 1%, it won't rank. If it's above 5%, Google will consider it keyword stuffing.
Keep your title tags between 50-60 characters and have your keyword in there.
Write an engaging meta description under 150 characters with your focus keyword in the copy.
Try to include your focus keyword in the URL (as long as it makes sense).
Add alt tags for each image in your post. Try to include a keyword in them but make them concise yet, descriptive of what the image is.
Ask the reader questions to encourage feedback in your comments section. While not necessarily a ranking factor, more engagement might lead to more people linking to your post in their own posts (natural, quality backlinks are the key to good off-site SEO).
Don't Forget Google Authorship!
Google introduced Author Rank in 2011. In layman's terms, it's an opportunity to show the author's face for a given post in SERPs. Data has shown that people click these results more than regular results. So there's a genuine benefit to have Google Authorship setup correctly. This isn't an SEO benefit per se (although it's looking like Google prefers posts and authors with authorship setup correctly) but the main benefit is in getting more people to click-through to your website.
Make sure you have a Google+ profile, a bio of yourself in the post and the rel=author tag in your bio. Here's a comprehensive post on how to set this up.
Lastly…
If you're writing a company blog and you're not seeing results, don't worry – content marketing takes time. It's a process. But you do need to master the little things like blog post optimization. This WordPress SEO Plugin is a surefire guide to blogging success – so that your blog content will be found in search engines by your ideal customers!
Got a question? Ask below and I'll respond!