An increasing number of organizations are recognizing the value of establishing relationships with university student talent to support their small business or organization. While not only bringing creativity and innovation, university students can support your short-term needs while contributing to BC's future. Effectively engaging this demographic means getting in front of them, whether virtually or in person, and marketing the value you can bring as they develop ideas about their future career pathways. Doing so involves growing your employer brand in a way that becomes recognizable and desirable to students. Through investing time in building your employer brand online, in addition to on-campus marketing and networking, your organization has an opportunity to make a splash when it comes to recruitment of university students.
What often is a main driver behind success in the initial stages of your recruitment cycle can be reputation or brand awareness. Building this awareness isn't an easy task; it takes time, strategy and effort to develop a brand that potential candidates want to engage in a meaningful way. However, tapping into supports through your local post-secondary institution can assist you in building a foundation for that brand awareness, making connections within the academic ecosystem, and strategizing multiple platforms to engage university students where they show up most.
So where do you start? With over twenty-five colleges and universities in BC it can seem daunting at times. Recently, the University of British Columbia Okanagan, Thompson Rivers University, and the University of Northern British Columbia have come together to assist with accessing student talent and providing supports specifically for small and medium-sized organizations through the Interior and Northern Work Integrated Learning Initiative (INWIL). Below you will find some practical ways you can begin to build your employer brand online, and supports where your local post-secondary institutions can assist your business in engaging students; building a foundation for your brand development on campus.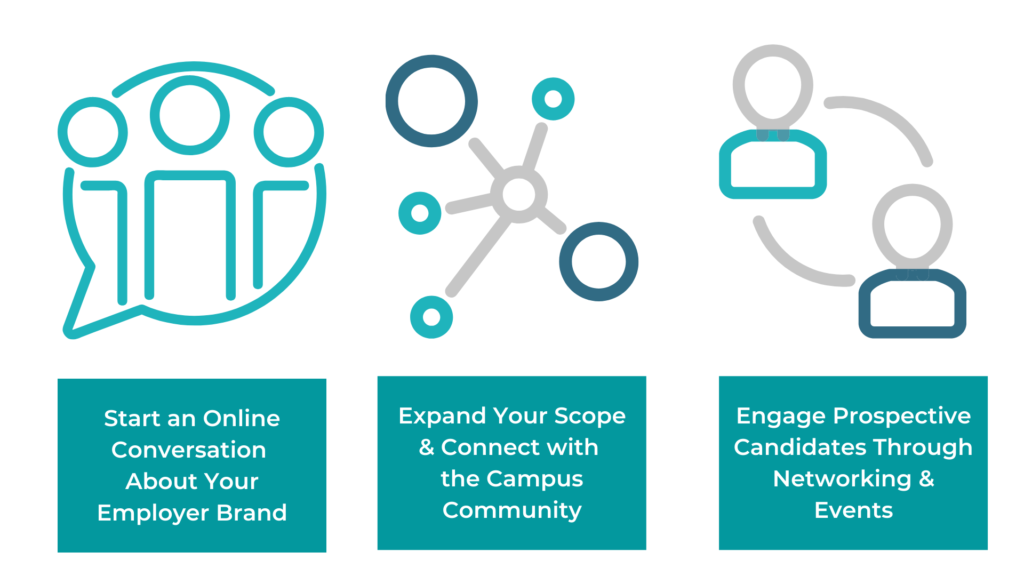 Start an Online Conversation About Your Employer Brand
Many new job seekers hear about new organizations or opportunities through friends and word of mouth. Keep in mind, there are a lot of competitive opportunities in the market for candidates, so employers need to be strategic in their messaging. Telling your story can help build rapport with your entire audience, including prospective employees, and showcase the benefits of working for a small organization – specifically, your company.
Both Millennials and Gen Z make up the new generation workforce, whose demographic finds the majority of their information through digital platforms. You may currently utilize your digital marketing for consumer-facing products or services; however, you may wish to consider marketing your organization as a potential employer to future candidates at the same time. Optimizing your existing digital platforms to actively engage potential candidates will support you in future engagement activities, drive action from potential candidates, and allow the message of your employer brand to spread.
Expand Your Scope and Build Connections with Co-op Programs, Career Centers, and the Campus Community
Over the past few years, the landscape of work and job searching has increased in scope (due to an increase in remote work opportunities) for potential candidates, therefore adding to the challenges for local SMEs to make genuine connections. When it comes to capturing the attention of local university student talent, strategy and utilizing available resources is key.
One easily accessible resource for employers is to connect with local universities and their respective co-op programs and career centers. In doing so, you have the opportunity to take advantage of recruitment expertise and direct connections to potential candidates to fill your short-term talent pipeline. Universities across BC have specific work-integrated learning programs that may align with the positions you are looking to fill, and with a finger on the pulse of the students who are eager to find meaningful work experiences that complement their studies, it's a great place to start.
These offices also often provide complimentary administrative and human resource supports, including designing job postings, providing interview scheduling and tips, while facilitating student networking events. In addition, you will make connections into the ecosystem of internal networks that a post-secondary institution has to support above and beyond your hiring needs. Through these relationships, you will be more informed on opportunities to make direct connections to students and alumni through events, networking opportunities, research partnerships, community development and more.
Engage Prospective Candidates Through Networking & Events
Building your employer brand involves continuing the conversation beyond digital platforms. It is about meeting potential candidates where they already are, to have meaningful conversations and establish yourself as an employer of interest. When building your brand on campus, both your digital presence and new connections will help you to excel in the next stage in your hiring process.
There are many ongoing events and opportunities to engage both current university student talent and recent graduates. Utilizing your existing digital platforms and connections can help you to develop excitement surrounding these events, and can be a great way to encourage potential candidates to learn more about you and develop an interest in your organization prior to meeting you. Here are some networking opportunities to connect with students that you may wish to explore further with your post-secondary partners:
Getting involved in on-campus or virtual recruitment events
Speaking at informational sessions on opportunities in your industry / organization
Involvement in case competitions, hackathons, or capstone learning projects
Establishing yourself in the campus community by speaking to students in the classroom or at student clubs
Partaking in practice rapid resume review or interview preparation with students directly
Attending community networking events
Be sure to think through how you want to follow up and make it simple and straightforward for potential future candidates to connect with you; creating a clear call to action and steps to continue the conversation post-event.
Partnering with your local post-secondary institutions, through initiatives such as INWIL, empowers you to help develop future graduates who will make our community and your organization stronger. Through taking these three steps, you will have the opportunity to build meaningful relationships with students, increase the visibility of your brand, and gain access to talented individuals preparing for the workforce. If you're interested in learning more about how to get more involved on your local campus, connect with us.