Northern Development Initiative Trust works with local governments, First Nations, not-for-profits and independent businesses to build a stronger north by investing in economic development in Central and Northern B.C. The Trust offers a range of business programs suited to a diverse set of economic development priorities.
The following grant programs are only available to qualified businesses in Northern Developments' service region.
This program provides funding for small and medium sized companies engaged in forestry, agriculture, aquaculture, mining, energy, oil and gas, manufacturing and the supply chain activities related to these sectors. The program will support applied research and development, new or improved products and services and testing of innovative equipment or technologies to support capital investment decisions.
Northern Development provides the manufacturing and resource sector supply chain with 50 per cent rebates for management consulting expertise to expand operations and improve profitability.
Northern Development is offering the Forestry Affected Business (FAB) Consulting Rebate program in response to the impact of the 2019 permanent mill closures, curtailments and shift reductions are having on businesses in central and northern B.C. Up to $15,000, or 75 per cent of a project's budget, may be recovered for the cost of hiring a consultant to assist with business efforts.
Love Northern BC is a movement connecting people with the independent locally owned businesses that are the heart and soul of their communities. The program is designed to deliver unique marketing campaigns in communities throughout Northern B.C. that celebrate independent locally owned businesses with an aim to strengthen their competitiveness and keep more dollars in the local economy.
For more information on any of the programs offered by the Northern Development Initiative Trust, please contact Felicia Magee, Director of Business Development.
---
How Northern Development Helped Lo-Bar
In the summer of 2018, Lo-Bar Log Transport Co Ltd successfully applied to Northern Development's Northern Industries Innovation Fund for a $50,000 grant to help with the costs of a $468,209 project. Lo-Bar intended to conduct an eight-month trial period to see if the practice of commercial tree thinning was feasible for their business.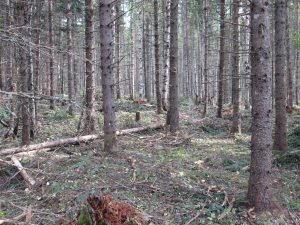 Commercial thinning is a practice that has been proven in many parts of the world and, following Lo-Bar's project, in Northern B.C. The process utilizes specialized equipment that can be easily maneuvered through tight spaces without leaving wide trails to reduce impact on crop trees. The equipment operator selectively harvests trees in strips approximately five metres wide that preserves the best quality trees with appropriate spacing. Each five-metre path is separated by a 20-metre-wide swath of trees. From the trail, the operator can reach into the tree stand on either side and remove stems, or trees, that had quality defects such as scars, broken tops or forks.
"It was a nice change from our standard practice of clear cut," said Marty Hiemstra, business manager at Lo-Bar. "It's a different way of managing and helping the forest for the future. All the merchantable material that was cut during the thinning was removed and delivered to local facilities"
By removing lower quality trees early in the growth process, the remaining trees experience accelerated growth. Trees are able to grow faster because the removal of select trees removes competition for light, water and nutrients in the stand. The trees that are removed would likely lose the competition for growth resources and would die within the stand. By harvesting the live tree, they may be transformed into lumber, pulp or biofuel.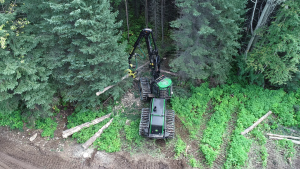 "We were expecting it to work well and it did," stated Hiemstra. "One challenge we overcame was finding stands that were productive to work in. It was tough to get the right age and size combination. The stands we did the trial in were clear cuts that were planted approximately 40 years earlier."
Overall, the success of this project was measured based on three factors: the completion of the eight-month trial period being profitable for Lo-Bar; higher percentage of quality trees without significant defects after thinning than prior to thinning; and additional logs being delivered to local mills that would otherwise be lost to mortality. The completed work met these three goals and Lo-Bar looks forward to continuing this type of harvesting into the future.
The success of Lo-Bar's project aligns closely with the goals of Northern Development's Northern Industries Innovation Fund to support the diversification and expansion of Northern B.C.'s economy through increased business competitiveness, incremental revenue and job creation. Lo-Bar's project fulfills this trio of measurements and also provides information to Northern B.C.'s forestry industry about the successful technique that encourages stronger growth in trees and harvests weaker trees before they die in the stand.
---
Here to Help
No matter what stage of business, or what problem you face, Small Business BC offers a range of seminars and one-on-one advisory sessions to suit any business.