Nicole Ling is the founder of Nima Apparel, a queer-owned small business that manufactures stylish and functional scrubs for healthcare workers.
Inspired by the struggles of her wife (a registered nurse) to find scrubs without compromising on fit or function, Nicole left a career in accountancy behind to start her own business. With several years of business and learning under her belt, we caught up with Nicole ahead of Vancouver Pride 2022 to learn more about this awesome business.
What was your background before you became an entrepreneur?
Before I started Nima Apparel I was working at an accounting firm. I was doing corporate tax and working with a lot of businesses conducting cross-border trade between Canada and the US. I had been working in accounting for a couple of years and I was dragging my heels about pursuing my CPA designation. I knew at this point that I had a choice: I could commit and get it done and that would be my career, or I could follow a different path. I think I knew deep down it wasn't what I wanted to do. I didn't want to spend my whole career in accounting, so I was open to finding new opportunities.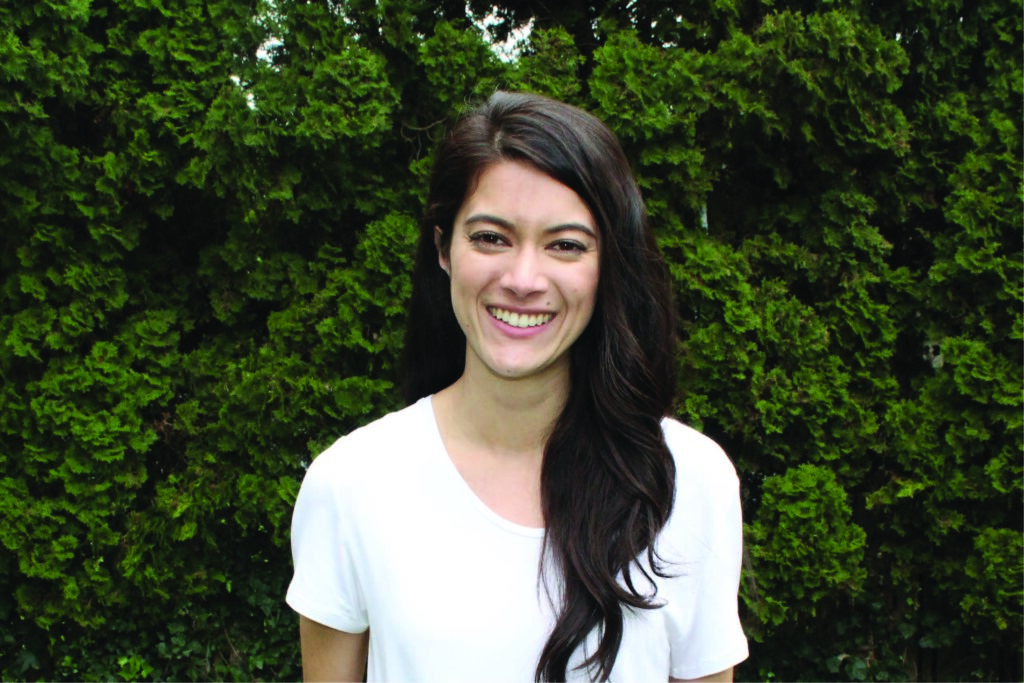 Is this when the idea for Nima Apparel came into your head?
In a way, yes, but it took a while for things to really pick up steam.
The story begins back in 2017, when my then fiancé (now wife) was looking to buy scrubs for her job as a registered nurse. We jumped on the computer one night to look at what was out there, thinking we'd find something within a few minutes of searching. The goal was to find scrubs that were a little more flattering, stylish, and functional than the standard scrubs, but pretty soon we realized the product we were searching for just didn't exist. Everything had a deficiency of some kind, whether it was style, lack of pockets, that kind of thing.
I was completely surprised, and it made no sense. How many tens of thousands of people wear scrubs for work each day in Canada? I couldn't stop thinking about it, but it wasn't until a while later that the idea really began to develop.
Fast forward to May 2018, and I'd planned to take a month off work for our wedding and honeymoon. During this time, I started looking into fabric manufacturing and began to think I could do this. I spoke to Marissa (my wife), and she was so supportive of me. Instead of just taking a month off for the wedding, I ended up handing in my resignation. This was my opportunity to step away and try something different; something concrete that I had become kind of obsessed with.
Moving from accountancy to entrepreneurship – what was the learning curve like?
It's funny. Every time I tell someone I left my career as an accountant to start my own business they always assume I started my own accounting practice! In one regard, there's been no learning curve. The finance and bookkeeping side of things come naturally. I was lucky that I had worked with a lot of smaller businesses during my time as an accountant, so I was able to lean on those experiences for sure.
On the other hand, there's been lots of learning, but my work as a corporate accountant has been surprisingly helpful in lots of other ways. I had been part of lots of entrepreneurs' business journey, and I've been able to lean on their advice, as well as my friends and family. Having that community around me has been so helpful.
What kind of lessons have you learned in particular?
One of the most important lessons I've learned is don't be scared to ask for help. I've been blown away by how helpful people are when I've reached out with a curious question, or even a more specific question that requires thought. It's so heartwarming and positive how helpful people in the small business community are.
It's such an amazing time to start a business. We have so much information at our fingertips, and most of it is free. You just need to put in the time and do your research. For example, I built my online store using Shopify and they have so many helpful guides, resources, and how-to articles right there for you to look at.
Another thing to know is that running your own business is absolutely a marathon and not a sprint. You must pace yourself or you risk burnout. When you're doing your own thing it's so easy to get overwhelmed; there's always another task you can be working on. I'm the only person working on Nima Apparel, I don't have any employees. It's forced me to focus and really spend my limited time, energy, and resources on what is best for the business right now.
As an LGTBQ+ entrepreneur, what does Pride mean to you?
Pride Month to me is this combination of acknowledging the progress that has been made and taking a moment to celebrate it. It's also about raising awareness and remembering the fact we have so much work still to do.
Unfortunately, there are still so many places where people are afraid to be who they are, and love who they love, without fear or doubt. Pride is still so important for this reason and needs to be celebrated.
What advice would you give to any LGBTQ+ entrepreneurs who are starting out?
As an LGBTQ+ entrepreneur, you face a similar situation that many women entrepreneurs also face – being notoriously overlooked for investments. When this intersection comes together, it's unfortunate and can make things difficult.
Go into it knowing that it's going to be hard work. Nima Apparel is doing well but I've basically had a part-time job since 2018 that helps me to fund the business myself. Seeking investment as an LGBTQ+ or woman entrepreneur is almost like a full-time job on its own, so you'll need to decide where best to devote your time and energy.
Apart from that, you really need to be stuck on your idea – you need to believe in it fully. It can't just be you, either. Other people need to see the importance of it and get interested in it. Whatever product or service you're selling, there must be an audience for it.
Are there any LGBTQ+ businesses or organizations you'd like to give a shout-out to?
I would love to give a shout out to Vancouver Pride Society. They do such great work in general, and they really uplifted Nima Apparel from the start. They shared their platform with us, gave us a voice, and really helped us reach a bigger audience. I could really sense from the start that the community was there for us, and I was so glad of their support.