Pride Festivals offer a vital chance to celebrate the diversity and character of our communities. They display a clear sign that everyone is welcome and safe in a community, while raising awareness of the struggles many LGBTQ2S+ individuals still face on a daily basis.
Across Canada, Pride celebrations have traditionally taken place in big cities. In Vancouver, the iconic parade and weekend-long party occurs in the Davie Village each August long weekend, adding a splash of colour to the West End. In recent years, Pride festivals have moved into previously neglected parts of our province. We're excited to share the story of one such festival, occurring here in our beautiful Shuswap region.
Debuting in 2020, the Salmon Arm Pride Project aims to celebrate and showcase the diverse individuals that call the Shuswap home. With this year's festival occurring from October 18-24, we chatted with the Festival's Artistic Director, Kate Fagervik, to learn more about this exciting new platform for LGBTQ2S+ artists, makers and creatives to display their works and celebrate their individuality.
Whether you're a member of this community, or just a curious ally, learn how you can get involved and help the festival to grow.
Talk us through the creation of the Salmon Arm Pride Project
The Pride Project is run by the Shuswap District Arts Council and that's an organization that's been in existence for over 40 years here in the Shuswap. For the last ten years, we've run programs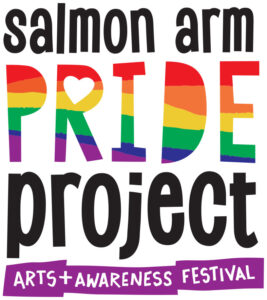 on three-year cycles, covering important topics like climate change and Indigenous relations. During these three-year runs, a lot of the content we put out there is guided by that theme, so it gives us a great opportunity to really explore these topics in detail.
In 2019, our Director Curator and the board decided to create a new three-year focus on inclusion, equity and diversity. We created a really diverse committee and we ended up calling ourselves the Salmon Arm Pride Project Committee. Through this committee, we launched the first annual Salmon Arm Pride Project Arts and Awareness Festival in October of 2020. Launching during a pandemic meant we started as a hybrid festival, and this year's festival in October will follow that same blueprint.
We felt like a project of this type has been needed in our community for many years. Pride hasn't had really bold representation in Salmon Arm, and it's been well known within the LGBTQ community that the Shuswap isn't traditionally a safe space for those different in any sort of way.
We had a lot of different types of evidence of this over the years to spur on the project. Our director is a mom of two LGBTQ+ youth and she's a really strong advocate in this space. Our Festival is led by allies and guided by those with lived experience.
How did you become involved in the Pride Project?
I'm the Artistic Director. As a staff member here at the Arts Centre, we often are guided by volunteer committees, but it's the staff who execute a lot of the ideas and facilitate the offerings. Last year, I took charge of the digital content you can find on our YouTube channel. I was also the manager of our Pride pop-up shop, which was a really great opportunity for small business owners, crafters and makers to get involved in the festival.
A lot of the ideas we have for the festival come from listening to our community. We speak with them; we do outreach and we use that research to create events and offerings our community wants to see. Art has such potential to be a force for good, and we want to use it to address the issues that come up in our area.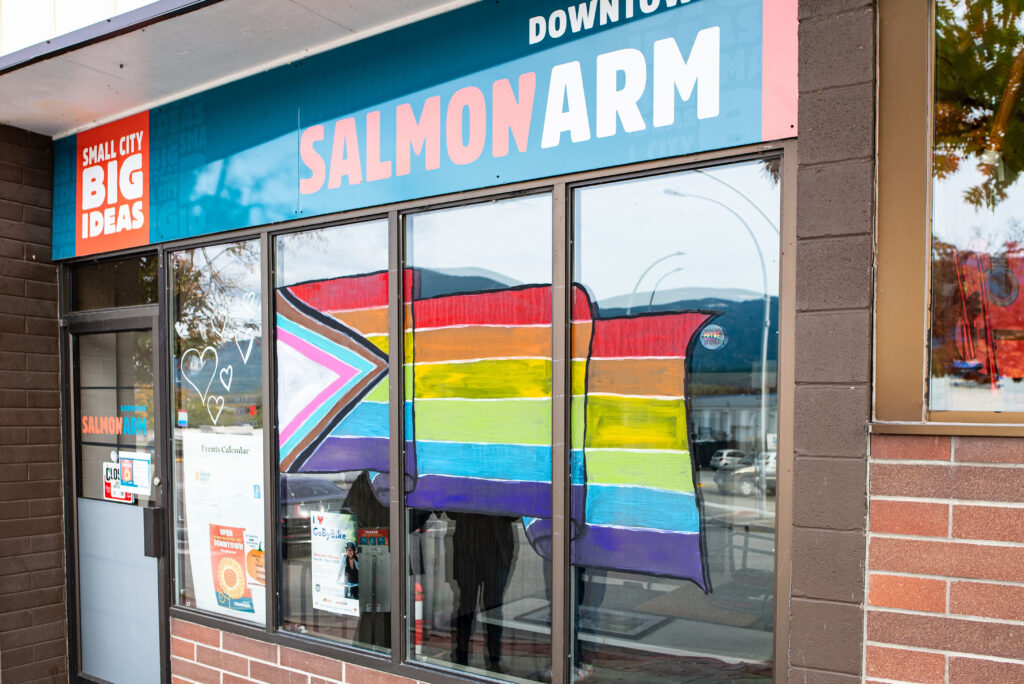 What is the goal of the Salmon Arm Pride Project?
The Project has a really specific goal. We want to increase visibility and awareness of the Shuswap's LGBTQ2S+ communities, specifically using the arts as our vehicle and binding force to achieve it.
How does the Pride Festival work?
We've been working behind the scenes here at the Arts Centre since last fall, and it's beginning to ramp up now ahead of the Festival in October. Our Pride Festival is run annually, with all of our events happening within a one-week period of Pride. We have our Salmon Arm Pride Project website where we continue running online features, promoting our artists through the blog, and really trying to keep the spirit going year-round.
We also have a web shop and pride pop-up shops. We continue to support our artists by selling their products online. There are also allies within the Shuswap community that have continued to sell products for us and are still giving back. With our pop-up shop, we do a 75-25% split with vendors. They keep 75% and we take 25% to help us pay for costs, overhead etc.
I can count on my hand four or five organizations that have continued doing that in-between festivals and they've set up their own pride pop-up shops, or made custom products that they're sending us a small share of the profits from to help with our costs.
Ultimately, the festival is an annual, week-long celebration that we've made a three-year commitment to and we're heading into our second year. We're already planning year three, and beyond that the festival could take any form or shape.
Do you have a vision for a future, COVID-free festival?
Oh, 100%! When we began planning the festival in 2019, the pandemic wasn't on our horizon. We had an initial plan for a festival that was very traditional. It involved lots of in-person events and the digital aspects were secondary. The pandemic really made all arts organizations and non-profits evaluate how they're delivering their content. For us, it forced us into a hybrid festival and I actually think it's been beneficial for us. If inclusion is part of our mandate, then having things be more accessible is an obvious move to make.
We quickly did a 180 last year and re-planned things. The provincial health orders kept changing and we took a fluid mindset to adjusting our plans. The Pride Pop-up Shop is an example of an idea that came to the committee two months before the festival and it ended up as one of the most successful things we did.
As a result of COVID, we offered digital content, and we had an in-person movie festival last year that allowed us to host people in a safe way that followed the provincial guidelines. We were lucky enough to be able to host an art exhibition in our art gallery while respecting the guidelines – it's just about adopting that flexible mindset and rolling with the punches. We've been operational throughout the pandemic adjusting when and where we nee to.
We've learned to be a really nimble organization here in Salmon Arm and I think that was reflected in our ability to still deliver a really energetic, engaging festival during COVID. I'm excited by the possibilities of what we could achieve in a future where restrictions aren't required.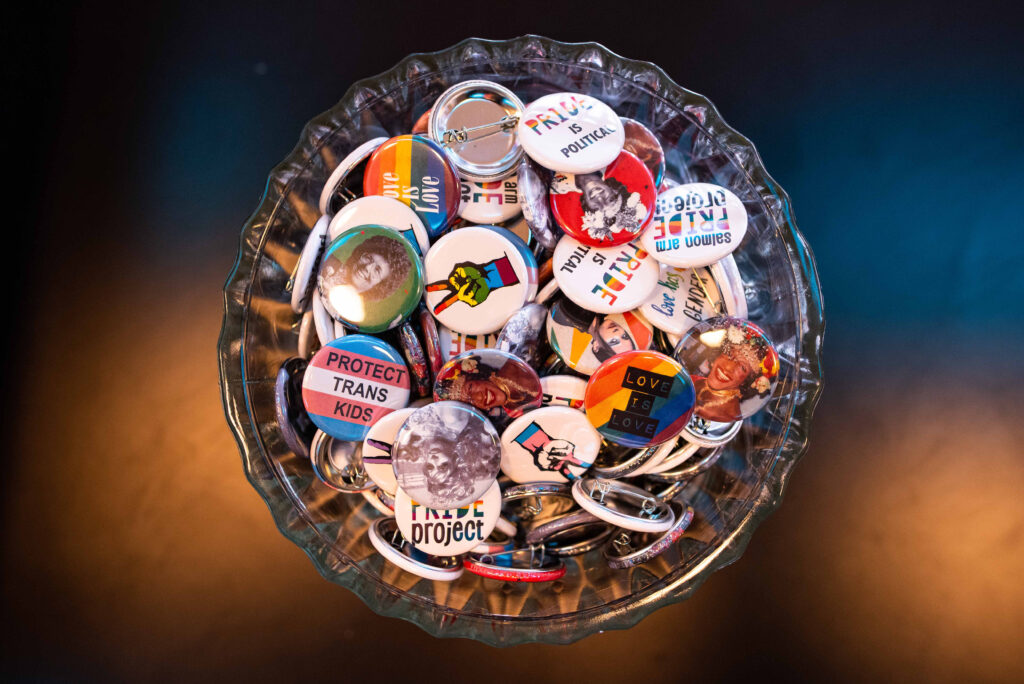 How can creatives and artists get involved in the Pride Festival?
There's lots of ways for people to get involved, whether it's for this year or next year depending on how long your creative process needs to bubble away. You can shoot us a message at the art gallery. We have an Instagram account that I manage daily, so you could message us there. You can email [email protected] and there's a contact form on our site.
If you want to plug into our pop-up shop, we're always open to new submissions. We provide the space and the staff, so makers just need to deliver their wares to us on a specific date. That opportunity is available to allies, as well as makers from the LGBTQ+ community.
A fun thing we're running at the festival this year are some Pride weddings. On the last day of the festival, we're turning the art gallery into a mini–Las Vegas and we're offering five short and sweet, "Here Comes the Pride" wedding packages for people looking to get hitched. If anyone out there is thinking about tying the knot, there's a fun way for them to get involved right there!
Our blog is ongoing year-round. If you're a writer, advocate or maker you can contact me about submitting some content, or maybe I could interview you for the blog. Then there's the exhibition itself. This year, we're displaying works with a theme of "Breaking the Binary." Artists are invited to work directly with our curator Tracey Kutschker on this theme. Obviously, this theme is Pride-based but it's really specifically about breaking the binary and that show will open during Pride Week but it'll run right to the end of December.
How can people get involved as an attendee this year?
That's a great question! There are a few ways that come to mind straight away. If you aren't local to the Shuswap, I'd recommend booking a hotel now and start planning your visit in advance as spaces fill up fast.
We'll have entertainment for people for the full week, between 18th and 24th of October. Come to Salmon Arm, check out our community and participate. That's the first way of supporting. We're also accepting festival sponsors and donations. If you're a business and you want to get some visibility you can sponsor parts of the festival. We can chat about the exact shape that takes. We're also happy to accept direct donations.
If you can't make it in-person, you can still help by learning how you can become a good ally for the LGBTQ2s+ community. Start doing the small things every day and try to create a pride festival in your own life. Try to use the correct pronouns and adjust your language so you're not addressing crowds as, you know, Mr. and Mrs. Just try to investigate what the world is like for people who aren't heteronormative, be more considerate and have an open mind. Those little steps make all the difference!