Visit Our COVID-19 Support Service
When it comes to COVID-19, we're all in this together. The efforts we make now can help speed up our return to normality down the road. As businesses across British Columbia begin to consider re-opening, employers should be taking all necessary precautions to minimize the risk of COVID-19 transmission and help to keep the curve as flat as possible.
Understanding COVID-19
One of the main issues surrounding COVID-19 is our lack of knowledge. As scientists race to understand this novel virus, it's vital to only take guidance from official channels. Make sure to bookmark the Office of the Provincial Health Officer and British Columbia Centre for Disease Control sites as they provide regular updates on the current public health situation surrounding COVID-19. The key points to note include:
Symptoms: COVID-19 shares a lot of similar symptoms with other respiratory illnesses including the flu and common cold. These include fever, coughing, sneezing, sore throat, difficulty breathing and loss of taste and smell. Learn more about COVID-19 symptoms.
How it Spreads: COVID-19 spreads in several ways including droplets when a person coughs or sneezes, or from touching a contaminated surface before touching the face. Learn more
What to do if you feel sick: If you have COVID-19, or think you have it, it's vital to stay home and minimize the spread. Do not go to work. Under British Columbia's current testing guidelines, anyone with cold or flu symptoms can now be tested for COVID-19. Call your doctor in advance to arrange testing. Learn more
Controlling the Risk of COVID-19 Exposure
While we are learning more about COVID-19 each day, we have already built a great understanding on how to minimize the risks of exposure. In accordance with the advice of Provincial Health Officer, Bonnie Henry, businesses should consider the following hierarchy of controls to reduce risk of exposure: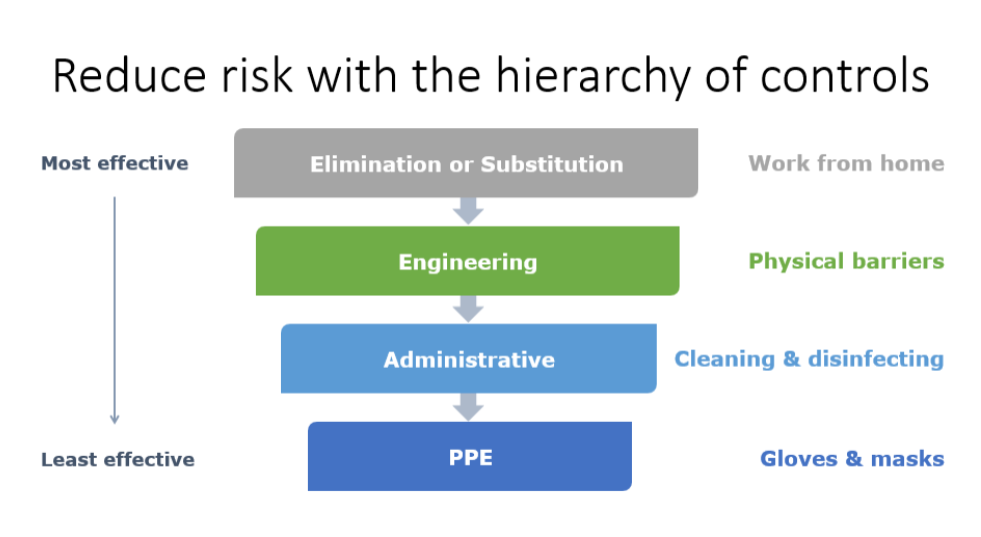 Who Should Come into the Workplace
Implement a policy requiring anyone with symptoms of COVID-19 such as sore throat, fever, sneezing, or coughing to self-isolate at home for 10 days from onset of symptoms, as well as anyone advised by public health to self-isolate.
Prioritize the work that needs to occur at the workplace to help your business operate.
Working from Home
The last six weeks have seen many businesses hastily implement work from home policies. Should this be applicable to your business, be aware that health and safety roles, rights, and responsibilities are just as applicable for at-home workers as they are for more traditional workplaces. Learn more about health and safety responsibilities when working from home.
Physical Distancing and Other Preventative Measures
When the economy reopens in the near future, it's likely elements of physical distancing will remain with us for the foreseeable future. Businesses can prepare themselves by implementing common sense solutions, such as the following:
If practicable, reconfigure the workplace to maintain appropriate distance between workers and customers.
Eliminate in-person team meetings or modify them to incorporate technology such as conference calling and online meetings.
Limit essential work travel, and eliminate all non-essential work travel.
Modify work processes and practices to encourage physical distancing, such as instructing workers to not greet one another or customers by shaking hands.
Cleaning and Hygiene
Ensure workers are provided with appropriate supplies, such as soap and water, hand sanitizer, disinfectant wipes, nitrile gloves and garbage bags, and sufficient washing facilities.
Remind staff of effective personal hygiene practices. Add signage about best practices for personal hygiene for customers who may interact with your workers.
Remove shared items where cross-contamination is possible (e.g., shared coffee and water stations and snack bins).
Enhance cleaning and disinfecting practices in high contact areas like door and cabinet handles, keyboards, and light switches.
Incorporate end-of-shift wipe downs for all shared spaces.
Documentation and Training
Train your staff on changes you've made to work policies, practices, and procedures due to the COVID-19 pandemic and keep records of that training.
Ensure that workers can raise safety concerns. This may be through a worker representative in workplaces of 9 to 20 employees, or through a joint health and safety committee for workplaces of more than 20 employees. Employers with fewer than 9 employees must also have a way for workers to raise health and safety concerns at the workplace.
Employment Status, Work Sharing and Temporary Work
No matter what status your employees hold, the Workers Compensation Act and Occupational Health and Safety Regulation still apply to your workplace. As an employer, it is your responsibility to ensure a healthy and safe workplace, including reducing your workers' risk of contracting and spreading the COVID-19 illness.
Before hiring temporary workers you should ensure they are not exhibiting signs of sickness and that they are not in violation of any mandatory self-isolation order either because they are waiting for COVID-19 related test results or because of travel activities. If you are hiring temporary foreign workers, review the Government of Canada's Guidance for Employers of Temporary Foreign Workers Regarding COVID-19.
In addition to your regular new employee orientation, employers need to ensure adequate training is provided with regards to COVID-19 exposure risks and the prevention policies that you have in place.
Consider what kind of work records you need to maintain, particularly if your temporary employees are also working elsewhere. You may want to record the details of their other employment to help you assess any possible impact on their work and any steps you may need to take to mitigate potential risk.
Protecting Mental Health
With focus devoted to the public health and economic side of COVID-19, the impacts on mental health have gone underreported in the media. COVID-19 has taken a toll on everyone's mental health. During this time, it's natural to feel anxiety, stress and uncertainty. It's important to take measures to support mental well-being and health. See resources that can assist with maintaining mental health in the workplace during this time. Be compassionate with staff members. Everyone copes in their own way and it's to be expected that productivity will drop in some cases.
Further Reading
Our partners at WorkSafeBC have created a dedicated resource page for updates and latest information on COVID-19. Click Here to find out more.
Workers and employers with questions or concerns about workplace exposure to COVID-19 can call WorkSafeBC's Prevention Information Line at 604.276.3100 in the Lower Mainland (toll-free within B.C. at 1.888.621.SAFE). You'll be able to speak to a prevention officer to get answers to your questions, and if required, a prevention officer will be assigned to assess the health and safety risk at your workplace.