The one thing I kept coming back to was: If I don't do this, somebody else will…
Julie Veres is the owner of Port Moody Refillery, a zero-waste store where customers can bring their own containers and refill products like shampoo, soaps, laundry detergents and much more. This popular and bustling shop is perched in the heart of Port Moody, servicing a growing community of sustainably minded consumers.
"The Refillery came about because people were asking 'where can I refill around here?' – a lot of people were moving from the city and were looking for this kind of service," Julie says.
"I was refilling myself and I had to go into Vancouver to do it. I couldn't wait for somebody else to open this kind of store. I kept thinking to myself, 'if I don't do this, somebody else will,' so I decided to fill that need in the community."
Leaning on a Community
British Columbia's zero waste movement is rapidly growing. Stores like Vancouver's Nada are striving to change consumer shopping habits, while evidence has demonstrably shown shoppers are willing to spend a little extra to lead sustainable lives. Julie has this wonderful and supportive community to turn to for advice, and it's been a tremendous asset in the Refillery's first few months.
"Before opening the store, we reached out to the Soap Dispensary and Nada in Vancouver. We aren't doing anything new here, we're just bringing this service to our neck of the woods. I think anyone who is genuinely into the zero-waste movement wants that movement to grow, so they were very helpful with their time and tips.
"It's a great industry to be a part of because you can sleep easy at night knowing you are doing your part for your community.
Ultimately, there should be a refill store in every neighbourhood. I encourage anyone thinking about starting to do it. It's a great industry to get into but it's not without challenges."
The Challenges of Brick and Mortar
Speaking of challenges, brick and mortar retail stores have been facing a well publicized struggle with rising rents. It's a challenging landscape to succeed in but one Port Moody Refillery has been successful in navigating so far.
"The expenses around real estate are pretty steep," Julie says.
"When you open a store there's a commitment you have to make. There are five-year leases we sign for personally and my home is on the line with that one. You have a lot to lose and it's challenging. Every month you know you must pay so much. It can be stressful but it's fuel in a way. You have to make it work. It's a motivator.
Taking a Step Back
With responsibilities like rent, staff and other overheads, the temptation is to always be "on," and it can be hard to stop thinking about your business. Striving to find a healthy work/life balance is something a lot of business owners can struggle with. When doubt or stress strikes Julie, she takes to the breathtaking scenery surrounding Port Moody.
"Owning a small business is solving problems on a daily basis. As an entrepreneur you want to go, go, go, every day, but you need to step back and take some time for yourself and look after your own mental health,"
"Sometimes I'll go for a hike in the woods with my dog. I go into nature and when I come back, I find I have a different perspective on whatever problem is on my mind. Just getting outside of your business occasionally is healthy."
Preparing for Success
With nearly a decade of entrepreneurship under her belt, Julie is well positioned to advice the next generation. In her view, preparation and flexibility are key.
Listening to customers and adapting to their needs is crucial!
"Do your research and prepare as much as you can before you start. You have to remain open and flexible to adjust your model in order to create a successful business."
—————————-
Take the Next Step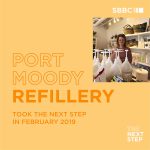 Ready to follow Julie's example and start your own business? Small Business BC's is here to help you at every stage of the process.