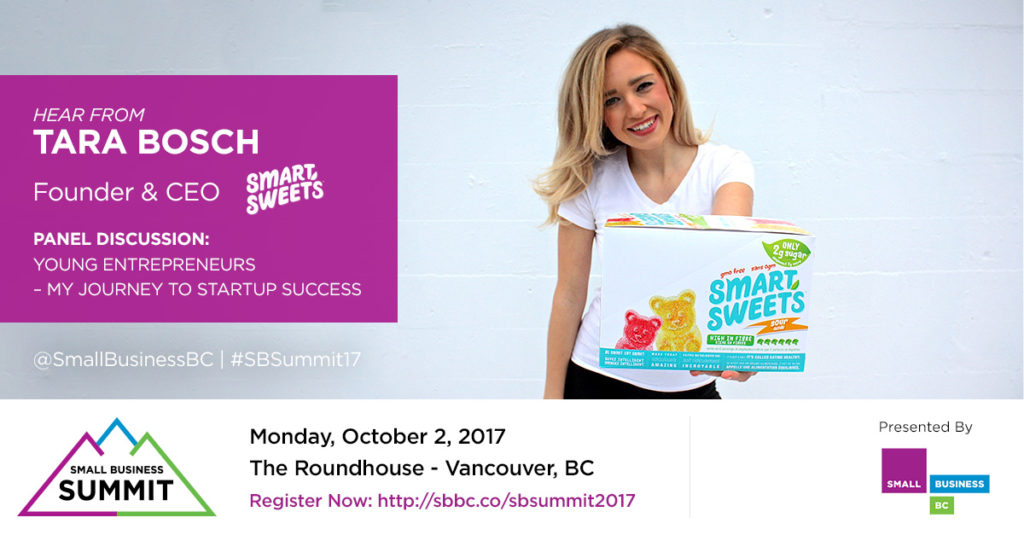 Tara Bosch is the 22-year-old founder of SmartSweets, a gummy bear brand aiming to offer a healthy alternative to traditional sugar-filled candy.
Tara is the winner of several entrepreneurial awards, including BCBusiness Magazine's Top 30 Under 30 2017, BMO Celebrating Women- Growth & Expansion Award 2017, SheEo's Cleanest Packaged Food Awards 2016, and Canadian Entrepreneur's Top 20 under 23, among others.
She is a Fellow for The Next Big Thing Foundation, a national charitable organization founded by serial entrepreneur Meredith Powell and Hootsuite CEO Ryan Holmes that empowers young entrepreneurs. She is also a Fellow of The Thiel Foundation, a non-profit that supports science and technology.
Tara will be part of the Young Entrepreneur Panel at the Small Business Summit in October 2017. Buy your tickets today.