9:00 AM – Tradeshow Opens
Whether you need help with marketing, social media, funding, financing, taxes, sales, hiring or anything else, we've got you covered. Visit our tradeshow and make contact with the experts you need to grow your business.
9:00 AM – 10:00 AM – Small Business Summit Pitch Competition Presented by TruShield Insurance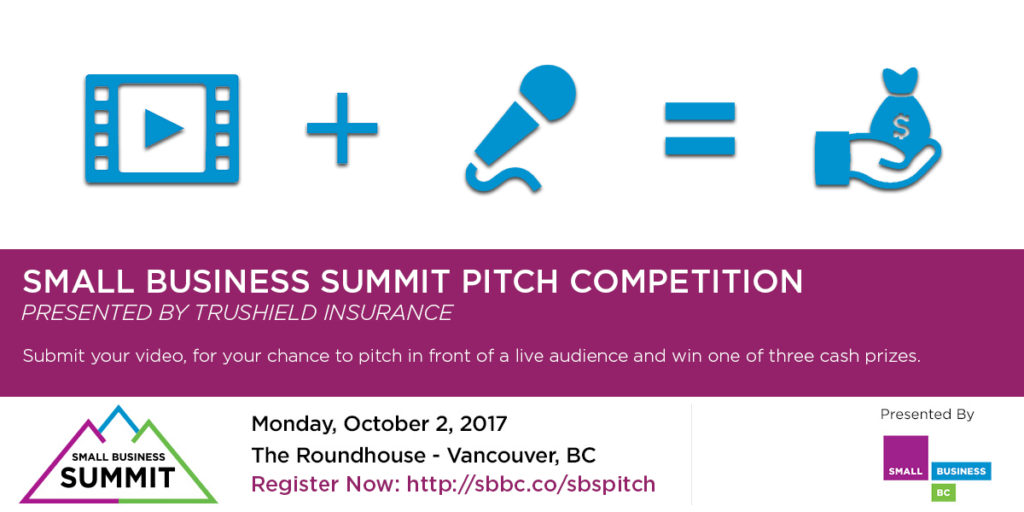 Small Business BC and TruShield Insurance have partnered to launch the Small Business Summit Pitch Competition. This fun and interactive event challenges aspiring entrepreneurs and small business owners alike to come up with a killer business idea and pitch it to a panel of expert judges, in front of a live audience.
10:10 AM – 10:40 AM – How to Build Meaningful Brands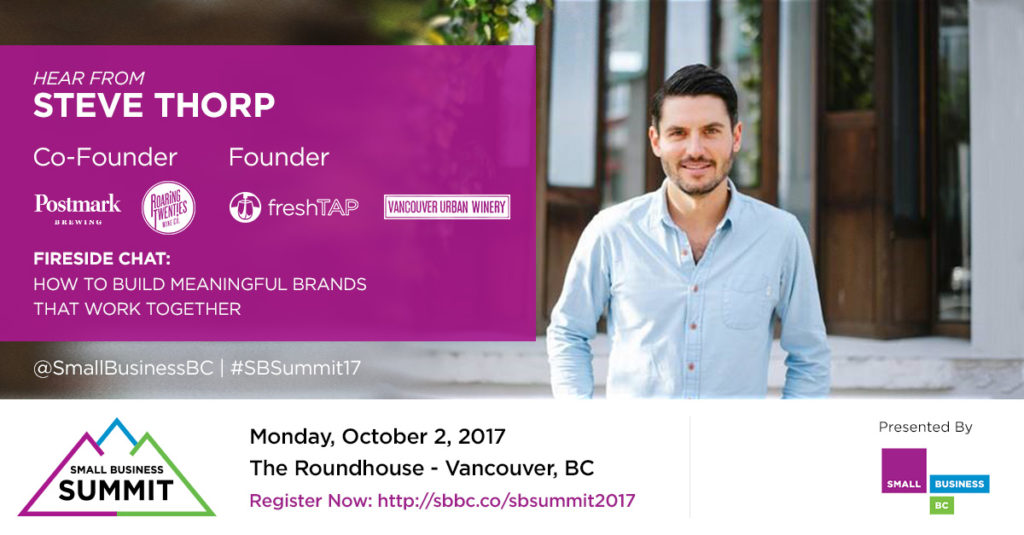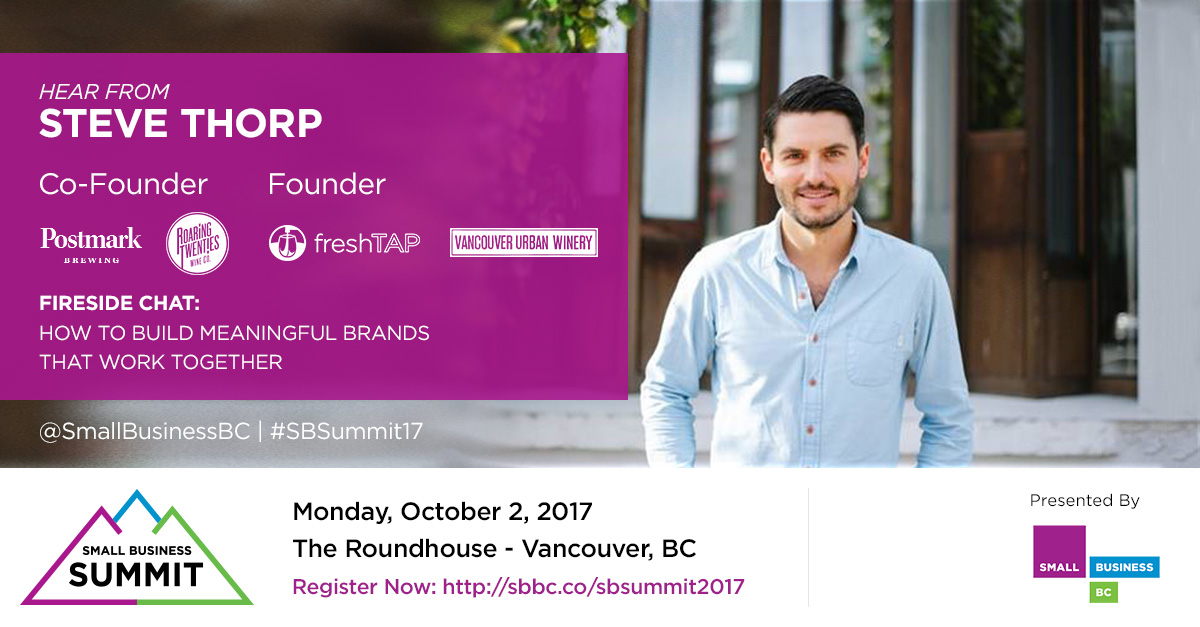 Developing cohesive brands – from service, to product, to marketing material
Identifying your target market and how to engage with them
How digital media can better help you connect with customers and new audiences
Best practices for launching a new product or service
How do you figure out what to bring on next?
With Steve Thorp, Co-Founder and Managing Partner, Postmark Brewing, Vancouver Urban Winery and Belgard Kitchen; Co-Founder, FreshTAP and Roaring Twenties Wine Co.
Moderated by: Nick Rockel, Editor-In-Chief, BCBusiness 
10:45 AM – 11:15 AM – Digital Marketing – The Right Channel for Your Brand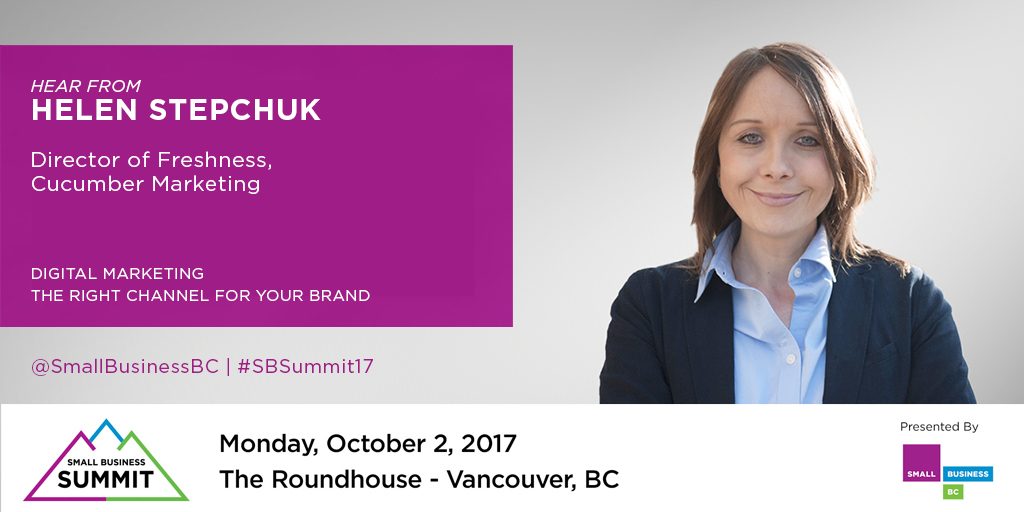 How to decide which channel is suitable for your business
How to connect with your audience
The importance of content
With Helen Stepchuk, Director of Freshness, Cucumber Marketing
11:20 AM – 12:00 PM – From Concept to International Brand: How Herschel Achieved Success
Giving products personality
Developing strong partner and supplier networks
Operational scaling: what works and what doesn't
Creating new product lines to increase profitability
With Mikey Scott, Global Marketing Director, Herschel Supply Co.
Moderated by: Farhan Mohamed, Editor-in-Chief and Partner, Daily Hive
12:00 PM – 1:00 PM – From Paris to Vancouver, Journey of a Serialpreneur (Breakout Session)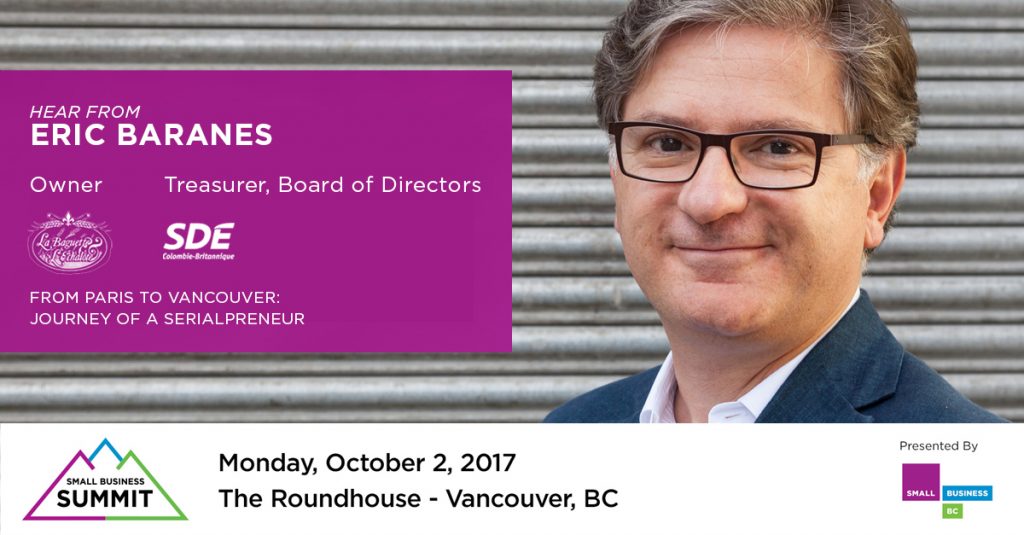 The profile of a serialpreneur
Identifying the right time to buy or sell a business according to its growth cycle
Lessons learned when buying a business
The cultural and managerial differences between France and Canada: How the country of origin of the entrepreneur influences the selection of the business
Presented in French by Eric Baranes, Owner, La Baguette & L'Echalote – Blé Bakery and Treasurer, Board of Directors, Société de développement économique de la C.-B. (SDE)
1:00 PM – 1:40 PM – Young Entrepreneurs: Their Journey to Startup Success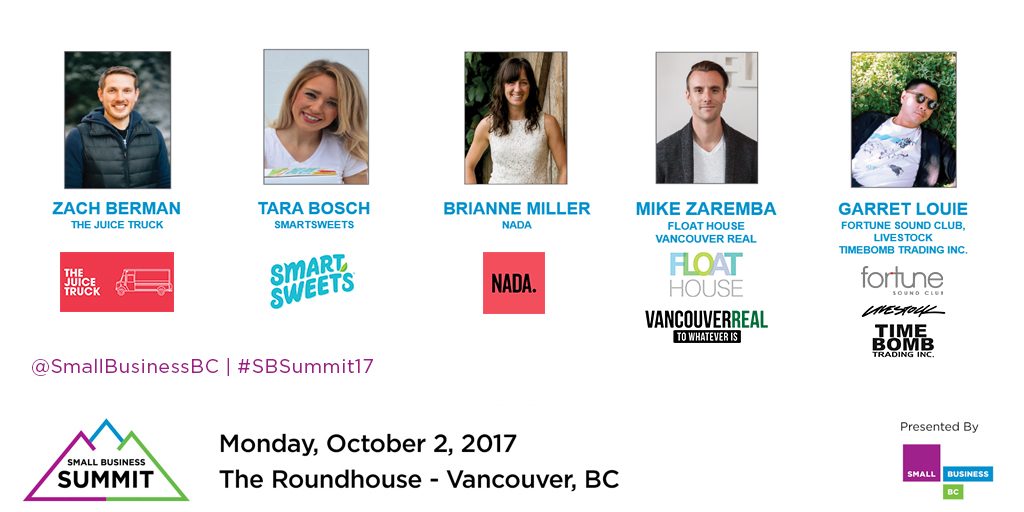 Which startup tools and resources are the most useful when starting out
Funding, financing, grants and loans. Your options
Growing pains: Lessons learned in the first year of business
The importance of developing goals and values
Social Media Marketing: What works
Aggressive Growth: How to achieve the next level of success.
Panel Discussion with:
Zach Berman, Co-Founder, The Juice Truck
Tara Bosch, Founder and CEO, SmartSweets
Garret Louie, Owner, Fortune Sound Club, Livestock and Timebomb Trading Inc
Brianne Miller, Founder and CEO, Nada
Mike Zaremba, Co-Founder, Float House; Co-Host, Vancouver Real
1:45 PM – 2:15 PM – Growing Your Business With Social Selling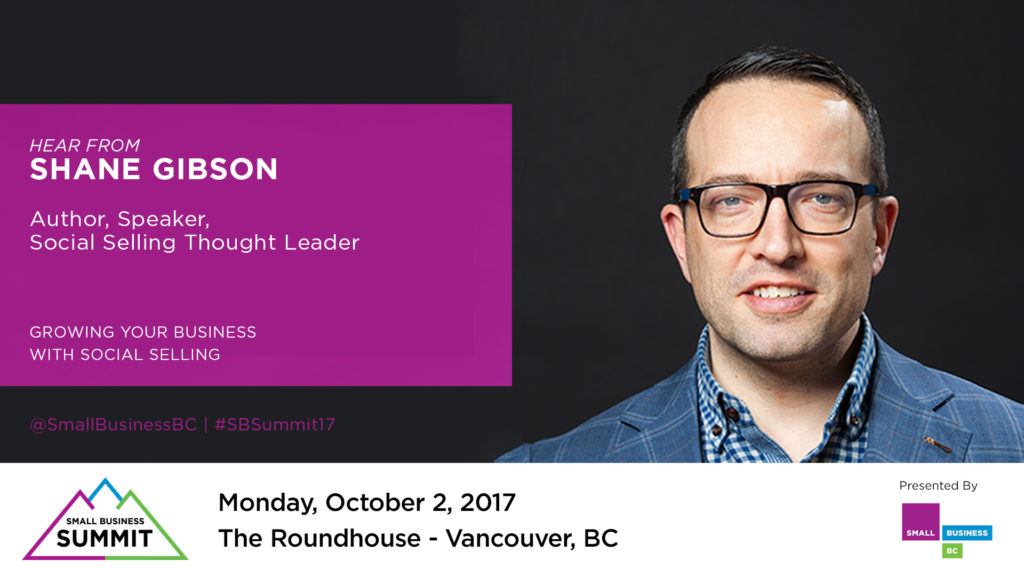 The 9 Immutable Rules of Engagement in social media and social selling
The 5 Key Steps of the Social Sales Funnel
How your social graph can help you close deals and generate leads
The 3 step process to establishing yourself as an online Thought Leader
Sales hacks for LinkedIn, and Facebook and Instagram that will fill your sales funnel
Key social search and social sales and monitoring tools to find opportunities, gather business intelligence and keep your sales process organized
With Shane Gibson, Co-Founder, Content Developer and On-line Facilitator, Salesacademy.ca
2:20 PM – 2:50 PM – Common HR Mistakes and How to Avoid Them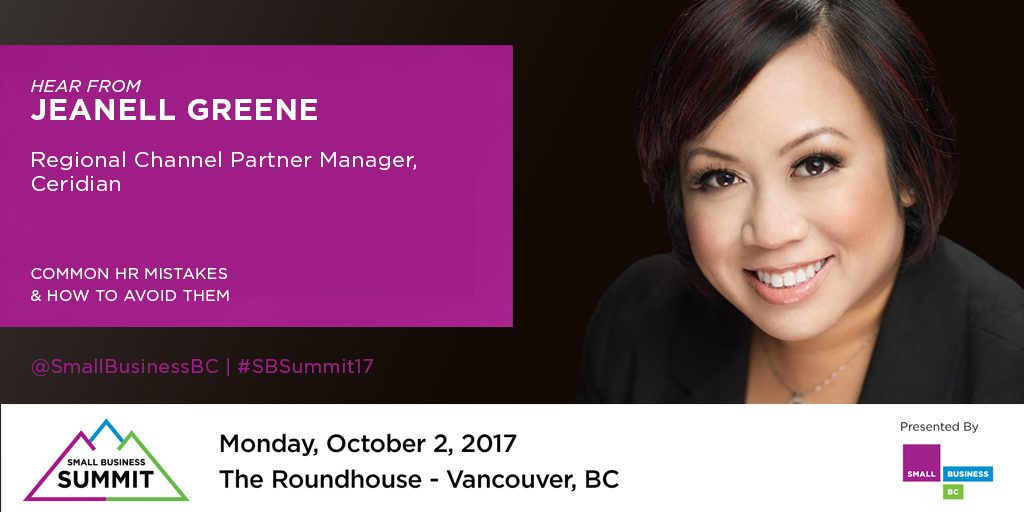 Understand your basic payroll requirements, including CPP, EI, stat holiday pay, overtime
Learn about tax remittance frequencies and risks of late penalties
Find out about payroll legislations and labour laws
Find out how to save thousands of dollars with the right employee agreements, and more.
With Jeanell Greene, Regional Channel Partner Manager, Ceridian
3:00 PM – 3:30 PM – Funding, Financing, Grants and Loans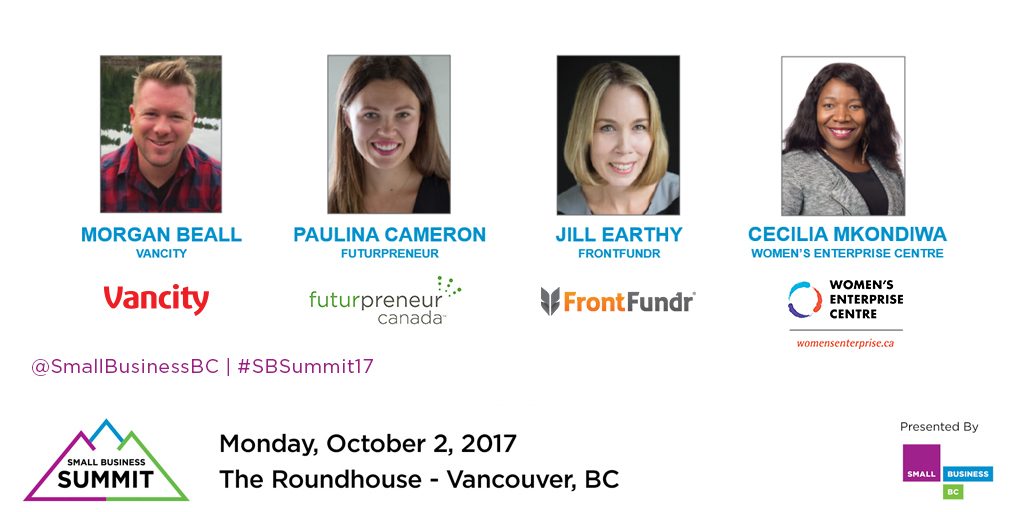 Finding capital for your small business
What investors and financial institutions are looking for in your business
Panel Discussion with:
Morgan Beall, Microfinance Program Manager, Vancity
Paulina Cameron, Director BC & Yukon, Futurpreneur
Jill Earthy, Chief Growth Officer, FrontFundr
Cecilia Mkondiwa, Senior Director Program Delivery, Women's Enterprise Center
3:35 PM – 4:05 PM – Introduction to TaxSense for your Business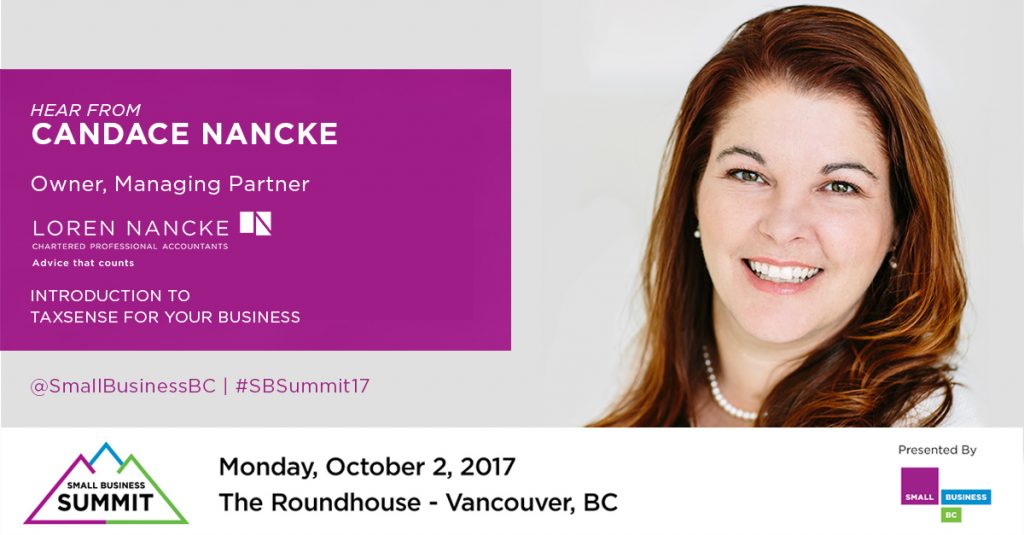 Allowable deductions every self-employed individual should know
Tax tips to save your business money
Tools needed to grow a financially stable company
Presented by Candace Nancke, Owner and Managing Partner, Loren Nancke Chartered Professional Accountants
4:10 PM – 4:45 PM – Keynote: The Journey from Employee to Entrepreneur to Franchise Mogul
Lessons learned in 40 years of enterprise
The importance of branding and advertising
Engaging with Millennials
Franchising: Assessing the benefits
Achieving success: How to grow your business the right way
With U. Gary Charlwood, Founder and Chairman, Century 21 Canada LP, The Charlwood Pacific Group, Centum Financial Group Inc, Real Property Management LP and UNIGLOBE Travel International LP
4:45 PM – 4:50 PM – Closing Remarks
5:00 PM – 7:30 PM – Networking and Celebration of Entrepreneurship
Looking to network? Join us for a night of networking, drinks, messages from government and a keynote with a BC industry influencer, as we celebrate all things entrepreneurship and launch the Small Business Awards.
This is an event you don't want to miss.