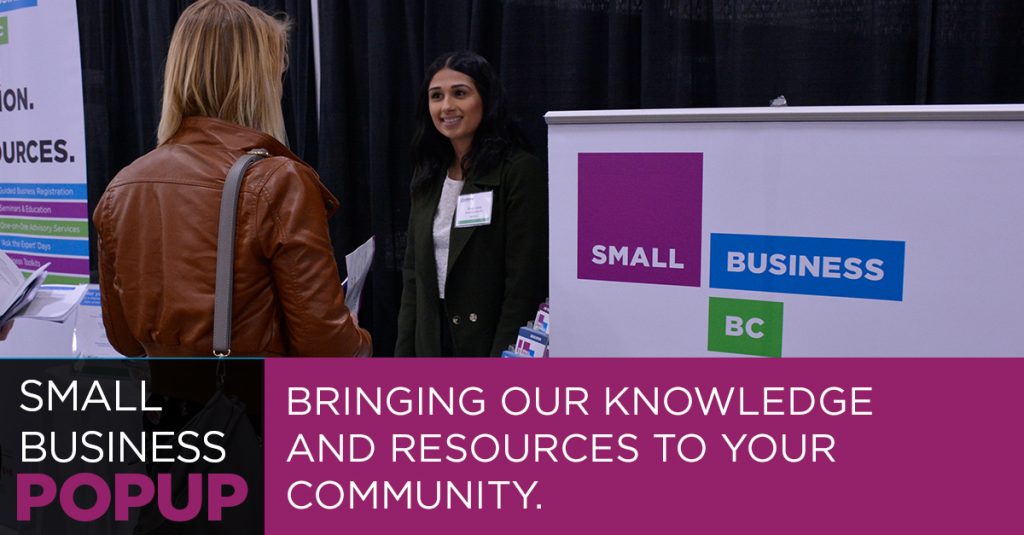 Your Community, Our Resources
Small Business BC is located in Vancouver's Waterfront Station but our focus extends far beyond the Lower Mainland. Entrepreneurs around the province have made use of our services by attending one of our Popups. British Columbia is a hub of entrepreneurship and we're always looking for opportunities to bring our educational resources and content to communities province-wide. Host Small Business BC in your area and local entrepreneurs can enjoy the following benefits:
Empower Small Business in Your Community
An educated small business is a resilient small business. We will share our content and resources with your community.
Provide Access to Expert Advisors
We will bring a small business advisor to you community, who will be available for one-on-one consultations. Have businesses with a special interest in import/export, market research or business planning? Let us know and we can bring the right expert.
Demonstrate Your Support of Small Business
Small business is the backbone of the BC economy, generating approximately 34% of provincial Gross Domestic Product. Hosting Small Business BC in your community will help show your support to these businesses.
What We Need
All we need from a host community is a space to hold the popup and help to spread the word. We'll do the rest! You will benefit from brand exposure in our digital marketing campaigns. We will gain a space to educate small business owners.
Find Out More
Interested in hosting a Small Business BC Popup in your community? Fill out the below form:
Testimonials
"I enjoyed the popup and got a lot of useful information that I plan to follow up with. Great idea to help small business on Vancouver Island. You should consider hosting them in more communities! – Tina Short, attendee of Nanaimo Popup.
"Great to meet the SBBC team today! Lots of awesome information shared" – Cyndi Knill, SBBC Popup attendee.
"Thanks for organizing the event. It was very helpful to speak to Gary. I'm especially thankful for information about June's free seminars. I don't think it was advertising beyond this Popup" – Alexander Blinnikov, SBBC Popup attendee
"This program is good for new small business owner, any information provided is always very helpful, I am glad there is a place where we can go to keep us track on what we need to do "checklist" provided by Gary is very helpful" – Nila Roxas, SBBC Popup attendee.
"Thank you for arranging the pop-up in New West. I found it very helpful and Gary was very resourceful" – Rachel Luu, SBBC Popup Attendee.
"Your staff were fantastic at the pop-up. Very organized and knowledgeable! We really enjoyed it!" – Aaron Hilgerdenaar, City of Coquitlam
"Hi Amy, Thank you very much for fitting me for a meeting with you at last minute. I greatly appreciate it! It was great meeting you and discussing my business pre-startup. That was very valuable information that at least shortened the time to find out what I need to do or consider doing." – Richard Biletski, SBBC Popup Attendee
"Good afternoon Amy and Dylan, Just wanted to thank you both for coming out to Ladner and hosting the Pop-Up last Thursday.  It is wonderful that you are able to come out to our smaller communities and allow business people to learn of all the amazing resources available to them through your office.  I hope that it was a successful Pop-Up for you. Thank you again for bringing Small Business BC to Ladner!" – Kathy Dance, Ladner Business Association.
"Jayme was very helpful.  A worthwhile program!" – Susan Nielsen, SBBC Popup Attendee.
"Thank you very much for coming out to the Township of Langley to host the Small Business BC Popup. It is such a great program and we appreciate having SBBC come out to the Township.
We did not know what to expect but the Popup was a great success.
Those who attended got some great information that will help them with their businesses. Everyone that we spoke with was very positive and appreciated the information that the received. We met some new people and got to learn about the kinds of businesses they have or hope to have in the Township. Overall it was a great experience for all those who took part and attended." – Nav Chattha, Economic Development Coordinator, Township of Langley.