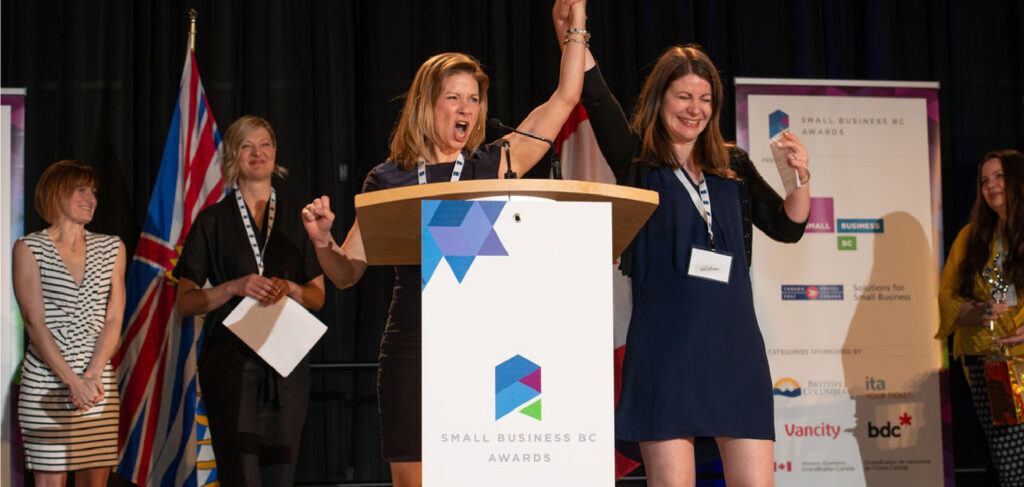 Nominations and Voting Open for 2021 Small Business BC Awards
New year, new awards…
Nominations and Voting for the 2021 Small Business BC Awards are now open!
Like everything else in these turbulent times of ours, the 2021 SBBC Awards will look a little different to what you're used to. For starters, we're going virtual this year!
Rather than our usual splashy gala event at Vancouver Convention Centre, our Awards will now take place virtually over three days, May 4th to 6th. Over the course of our three presentations, we hope to deliver a completely unique celebration of the hard-working entrepreneurs that help make our province so special. We'll be sharing details of how you can tune in and what to expect in the coming weeks.
Introducing Our Best Solopreneur Award
Elsewhere, there's been some changes to the award categories themselves. Say hello to our new category – Best Solopreneur Award. This category salutes those adaptable and hard-working business owners who work alone and run their business single-handedly. You'll find them equally adept at managing marketing campaigns and balancing spreadsheets, all while keeping an eye on the big picture.
Here's our lineup of categories for 2021:
Goodbye Top 10s, Hello Top 5s
As our awards program is a little more condensed than usual, we're foregoing our Top 10 announcements in 2021. Instead, we'll be taking the Top 20 vote getters and taking our judges to whittle them down to our five finalists. As a result, we'll be asking for a little more information up front with each nomination. The information nominees enter will be used by our judge's in their decision-making process. If you're completing a nomination, ensure you include any information you think our judges will find helpful.
Rules Changes for 2021
For simplicity's sake, most of our rules are carrying over from last year. Our headline rule remains that our contest is open to all new and existing businesses in BC with fewer than 50 employees. Businesses can be nominated in as many categories as they are eligible for. We encourage all nominees to also nominate themselves for our Premier's People's Choice Award as the winner is the business that receives the most votes following our normalization process.
Here are the changes to be aware of for 2021:
All nominations must be submitted online by 11:59pm on March 7th, 2021
Voting will run from January 18th until 11:59pm on March 7th, 2021
Top 5 Finalists will be requested to present a 10-minute pitch remotely to our judging panel via Zoom or Skype
Pitches will occur from April 6th to 8th, 2021
Winners will be selected on the day of the pitch but not announced publicly until May 4th to 6th, 2021
Awards Timeline 2021
January 18, 2021:Nominations and Voting open
March 7, 2021 (11:59pm):Nominations and Voting close
March 22, 2021:Top 5s announced
April 6-8, 2021:Judging Period (Top 5 pitches)
May 4-6, 2021:Small Business BC Awards presentations
---

Open for Business Awards
Please Note: The Open for Business Awards are taking a break in 2021. We'll keep you up to date regarding their return in future.
The Open for Business Awards recognize and celebrate communities that have cultivated a business-friendly culture that allows small business to flourish. These Awards provide an important platform for local government to learn and share Best Practices, while showcasing winning initiatives that have contributed to the success of local businesses. Managed and delivered by the Small Business Roundtable Secretariat, the Open for Business Awards encompass three categories:
Your 2020 Small Business BC Award Winners
At a glittering gala on Friday, February 21, the eight winners of the 2020 Small Business BC Awards were named. Click the link below to view our deserving winners!
Sponsorship Opportunities
Interested in sponsoring the 2021 Small Business BC Awards? View the sponsorship package,