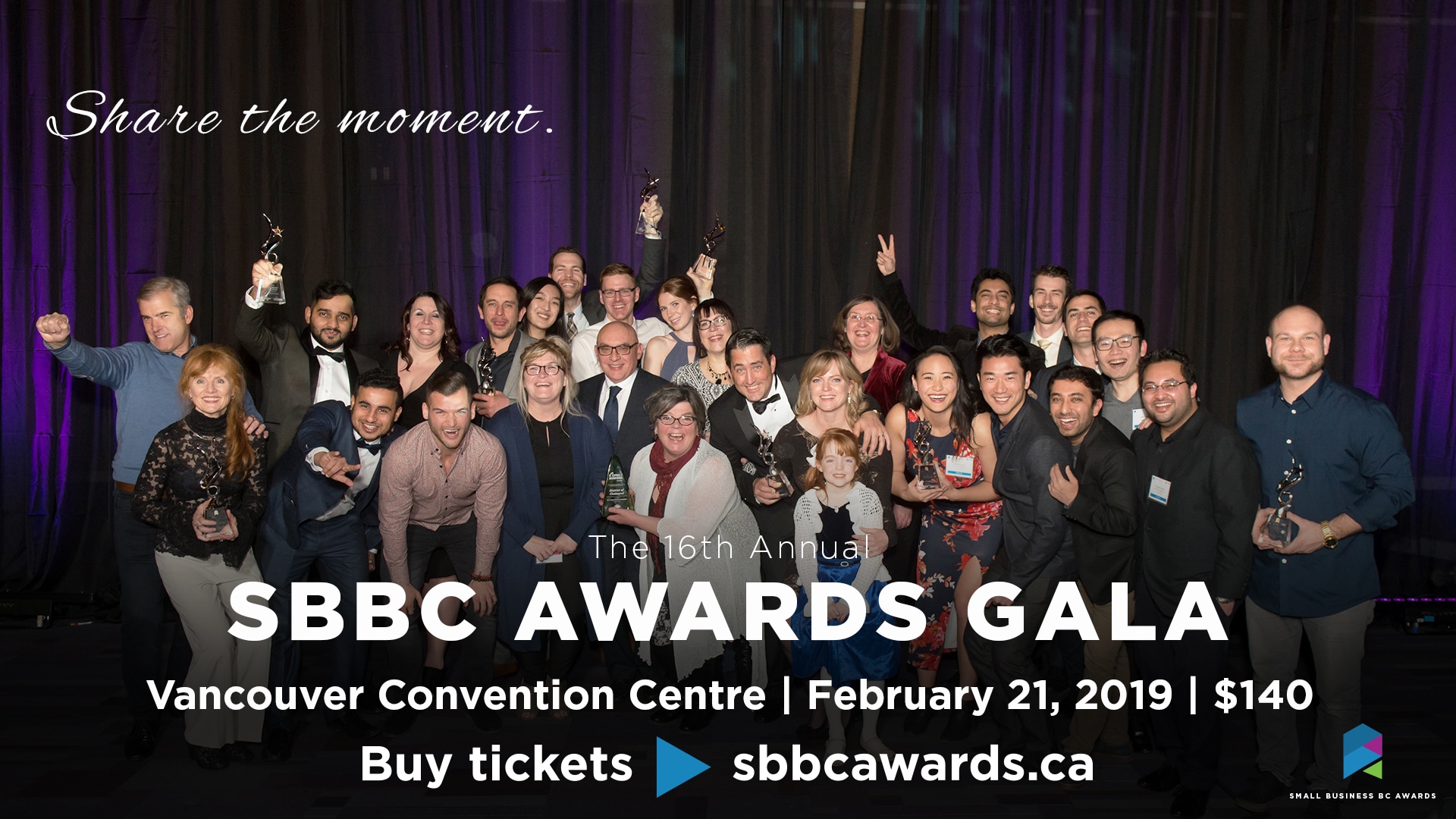 ENTREPRENEURS WORK 365 DAYS A YEAR. TAKE ONE DAY TO CELEBRATE AT THE SMALL BUSINESS BC AWARDS.
British Columbia's small business owners make our province the best place in the world to live, work and play. It's only fair they get a little recognition, right?
The Small Business BC Awards are the largest awards of their type in the province. They exist as a celebration of entrepreneurial achievement, and to give nominees a platform for further success.
Nominating your business, or a business you love, is easy and there are plenty of amazing benefits. Nominated businesses can leverage the amazing marketing and PR opportunities the Awards present. And, if they win, they'll receive a cash prize of $1,500 and an all-access pass to Small Business BC education and experts for one whole year.
Thank You
On February 21, 2019, 600 entrepreneurs, government officials and business leaders gathered at Vancouver Convention Centre for the 16th Annual Small Business BC Awards. During a glittering gala ceremony, we crowned the 10 businesses demonstrating leadership in their respective fields. Find out who won the 2019 Small Business BC Awards.
Small Business BC Awards Categories
Our 10 award categories cover the entire spectrum of the business world. Whether you've been operating for years, or are still in the planning stages, there's an awards category for you. The categories this year are as follows:
Premier's People's Choice Award – Sponsored by the Province of British Columbia
Best Apprentice Training
Best Community Impact – Sponsored by Vancity
Best Company
Best Concept
Best Employer – Sponsored by Trushield
Best Immigrant Entrepreneur – Sponsored by BDC
Best Innovation
Best International Trade
Best Marketer
Open for Business Awards
The Open for Business Awards recognize and celebrate communities that have cultivated a business-friendly culture that allows small business to flourish. These Awards provide an important platform for local government to learn and share Best Practices, while showcasing winning initiatives that have contributed to the success of local businesses. Managed and delivered by the Small Business Roundtable Secretariat, the Open for Business Awards encompass three categories:
Find out who won the 2019 Open for Business Awards.
Sponsorship Opportunities
Interested in sponsoring the 2020 Small Business BC Awards? View the sponsorship package,