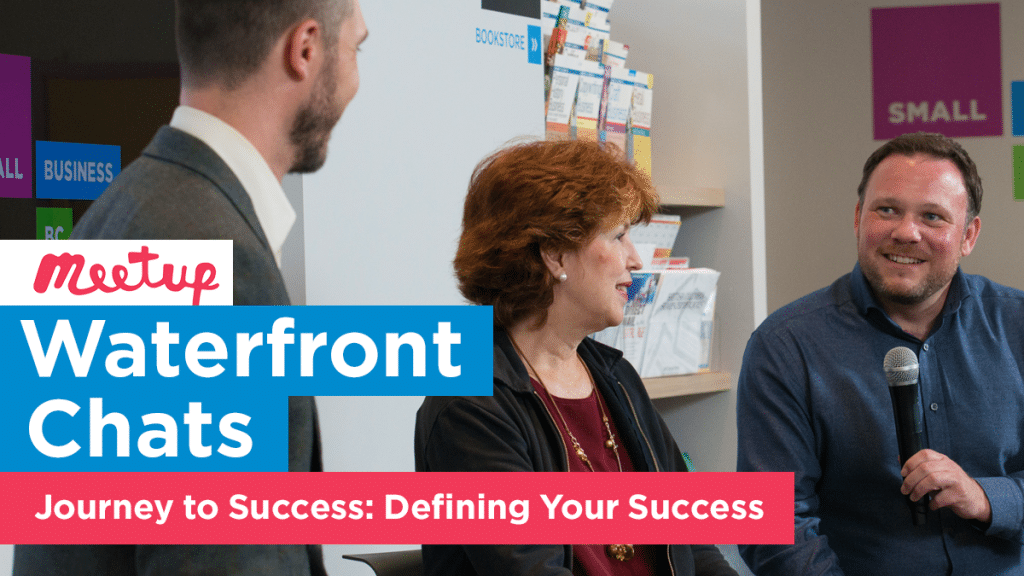 Waterfront Chats | Journey to Success: Defining Your Success
Tuesday, October 22nd, 2019, 5:00 PM to 7:00 PM 
Our Waterfront Chats meetup series is geared at start-up businesses and provides an opportunity to hear from and network with local entrepreneurs and experts. Learn about their successes, barriers and challenges to launching and growing a small business.
We hold Meetups almost every month, and each event will be unique. Small Business BC Meetups are open to entrepreneurs at any stage of business and from all industries. Follow the conversation using #SBBCMeetup.
Join our fireside chat as we hear from Cassy Vantriet, Founder of WOASH Wellness, Becky Brauer, Co-Founder of Fresh Prep on what constitutes success, and how they achieved it. They'll talk through their recommendations on the best way to get started, navigating the business landscape and how to grow.
Come to get inspired, share ideas, and meet new connections. As always, everyone will have an opportunity to introduce themselves and actively participate in the discussion.
Agenda:
5:00pm – 5:15pm – Networking
5:15pm – 5:20pm – Opening Remarks
5:20pm – 5:50pm – 30 Second Introductions from Attendees
5:50pm – 6:30pm – Panel Discussion
6:30pm – 6:35pm – Closing Remarks
6:35pm – 7:00pm – Networking
Snacks and refreshments will be provided. Registration is $10 online and $12 at the door (payable by cash, debit or credit).
Reserve your place now, as space is limited!
How It Works
Staying up-to-date and establishing yourself as a key player in your network are crucial to starting and growing a successful business. Take advantage of Small Business BC's brand new monthly meetups, so you can stay on top of business trends and mingle with your customers, clients, like-minded peers and local industry influencers.
Each month these casual events that address common opportunities and challenges that entrepreneurs and small business owners face today, and leverage networking sessions with valuable connections.
Small Business BC Meetups are located at Small Business BC's Lower Mainland location at Waterfront Station. Each month's event will have a different theme and will also feature guest speakers who will share their experiences and provide valuable insight into how you can achieve your goals. Topics will include starting up, growing your business, and international trade.
Get live updates by following the #SBBCMeetups hashtag on Twitter, Facebook and LinkedIn, and join the Small Business BC Meetup group now at www.meetup.com/SBBCMeetup
How to Register
Step 2: Find the latest SBBC Meetup.
Step 3: Sign up!