As the economy begins to re-open and we move into what will be the "new normal", entrepreneurs will need to plan out their strategies for restarting and adapting their business to changing times. To help with this process, we've gathered key resources and supports available to business owners.
General Resources
Small Business BC
Small Business BC provides a wide variety of resources and services to help entrepreneurs navigate the challenges from COVID-19
Government of BC
Government of Canada
Worksafe BC
Advice and Tips 
As businesses begin to reopen, there are simple steps they can take to preserve the health and safety of staff and customers. Here are some key considerations:
Whether your workplace is a store or an office, making an effort to rearrange the workplace can make a huge difference in the fight against COVID-19. Refer to this article for practical tips on how to maximize your efforts.
Personal Protective Equipment, whether it's facemasks, plexiglass, or gloves, has been proven to help stop COVID-19 from spreading. This article contains information on the type of PPE that may be suitable for your business, and guidelines for correct usage.
Prior to COVID-19, nobody had heard the term social distancing stickers. Now, they're ubiquitous in every store in our province. Discover the benefits of social distancing stickers, why they're important and where they can be purchased.
Learn more about how COVID-19 spreads, and other general advice for keeping your workplace safe from COVID-19.
Find Out More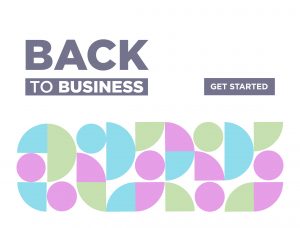 At Small Business BC, we're committed to helping business owners reopen in a safe and successful way. Our Back to Business campaign features specific advice and guidance in the following areas:
Operational Health & Safety
Restart Strategy
Marketing & Communications
Alternatively, visit our BC Business COVID-19 Support Service and connect with our Business Advisors to get answers to your specific questions on reopening.
Find Out More About Getting Back to Business