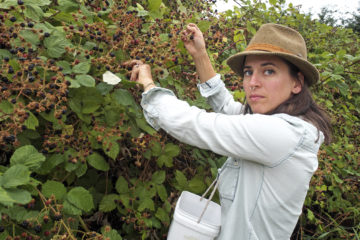 Owner and maker of East Van Jam, Natalie Ferrari-Morton is a foodie at heart.  Motivated by indulgent, yet healthy food, East Van Jam was born from a desire to share an alternative to the status quo while celebrating the beautiful produce BC has to offer.  Never known for taking herself too seriously, every character representing each flavour has a little silly make-believe back-story adding extra depth to the jam experience - and in turn, feeds her need for whimsy and humor.
A graduate of the school of life, Natalie has been hard at work since the age of 17 picking up skills and tricks to make her way boldly through life's challenges and joys.  With retail management experience, a pilot's licence, project management work in the corporate sector, parenting two strapping boys, earning the unequivocal title of 'Expert Canner' and self-taught business person, Natalie has a well-rounded wealth of knowledge on how to build a grass-roots business from the ground up.
When not changing the world through great-tasting food, Natalie can be found gardening with her husband, baking pies or chasing her boys around with the aim of embarrassing them somehow.
Follow along on Instagram under @eastvanjam
Follow @eastvanjam