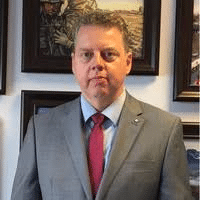 Originally from Quebec City, LCol Bedard joined the CAF as an RCEME Officer in 1983 and graduated from the Royal Military College of Kingston in 1988 with a Bachelor in Mechanical Engineering.
The first part of his career was focused on leading equipment maintenance organisations in Canada and abroad. Since 2010, most of his employment has been supporting in-service or acquisition program and integrated project management team at NDHQ Ottawa.
He has more than 8 years of experience working abroad with NATO nations. He is now embedded with the NATO Procurement and Support Organisation (NSPA) in Capellen, Luxembourg, which is the largest procurement agency within NATO. He is ready and motivated to assist Canadian industries getting the most of those NATO business opportunities.