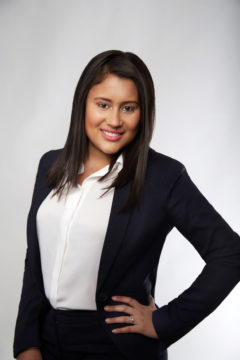 Leslye Sanguino is one of the International Trade Advisors at Small Business BC. She holds a Bachelor of Business Administration specializing in international business and economics. Similarly, she comes with the elite CITP®|FIBP® designation. Her background includes over five years of experience in the public and private sectors. Leslye started her career as a project manager for a start-up medical equipment that exported x-ray machinery to South America. Later, she worked for a truck transportation company as a fleet manager coordinating the transportation of imported produce from the US for grocery chains and the exportation of Canadian meat.
Her public experience includes working at the Canada Border Services Agency as a Senior Trade Officer, which helped her obtain valuable knowledge about the importation auditing process, and at Global Affairs as a Trade Commissioner Assistant. She also brings valuable experience from the compliance sector, as she managed reports and projects of Canadian and American companies submitting to the US Security Exchange Commission (SEC) and SEDAR System for Electronic Document Analysis and Retrieval.
With her experience, Leslye recognizes the challenges that small businesses face while exploring opportunities outside Canada and hopes to work with small business to help mitigate these challenges and convert them in opportunities.
Articles by Leslye Sanguino CITP®|FIBP®:
Blog posts by Leslye Sanguino CITP®|FIBP®: