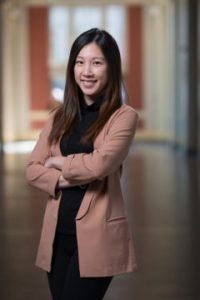 Biography
Connie Miao is an Education Coordinator at Small Business BC. Coming from a background involving university education programs and alumni relations, she applies her experience in the Education Centre to coordinate and develop new content relevant to small business communities across the province of BC. She holds a BCom with a specialization in Marketing Co-op from the Sauder School of Business and hopes to become an entrepreneur one day.
Testimonials
No reviews yet
Getting To Know You
Where did you grow up?
Born in Hong Kong, raised in Vancouver, BC
What's your favourite place in BC?
Pacific Spirit Trail with my dogs Toffee and Aero
What's your favourite small business in BC?
Supporter of all small businesses in the realms of food and dessert
What's your favourite pastime?
Volleyball at drops ins gyms or all sorts of leagues, and staying active with hikes and ultimate frisbee.
What's the best thing about working at SBBC?
Everyone here is passionate in helping entrepreneurs. We're like-minded and it's a great team to be in!
Articles by connie
No articles yet
Seminars
No seminars available at the moment
Services
No services available at the moment