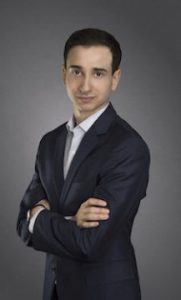 Ari Rush is the president and founder of Rush Ventures, a full service digital agency offering web development skills, paid marketing, and SEO services to businesses. Apart from its' elite team of professionals, and dozens of positive reviews, Rush Ventures can boast a successful history of lucrative business dealings.
Rush is the former owner of a successful social media marketing company that fostered over 1,000 clients, many of which rely on his expertise to this day. This entrepreneur has also founded and owned a marketing company that helped over 1,500 customers generate online traffic, all earned through verified white-hat methods.
In addition, Rush also founded an online telecommunications firm, which was ultimately sold at a profit to a larger company. Ari's passion and dedication to his work and clientele has become a landmark of Rush Venture's offerings, bringing clients from multiple continents looking to do business with this tech-savvy mogul.
Facebook - https://www.facebook.com/rushventuresmarketing
Twitter - https://twitter.com/rushventures
Linkedin - https://www.linkedin.com/company/rush-ventures
Google + - https://plus.google.com/u/0/114099573104641214920