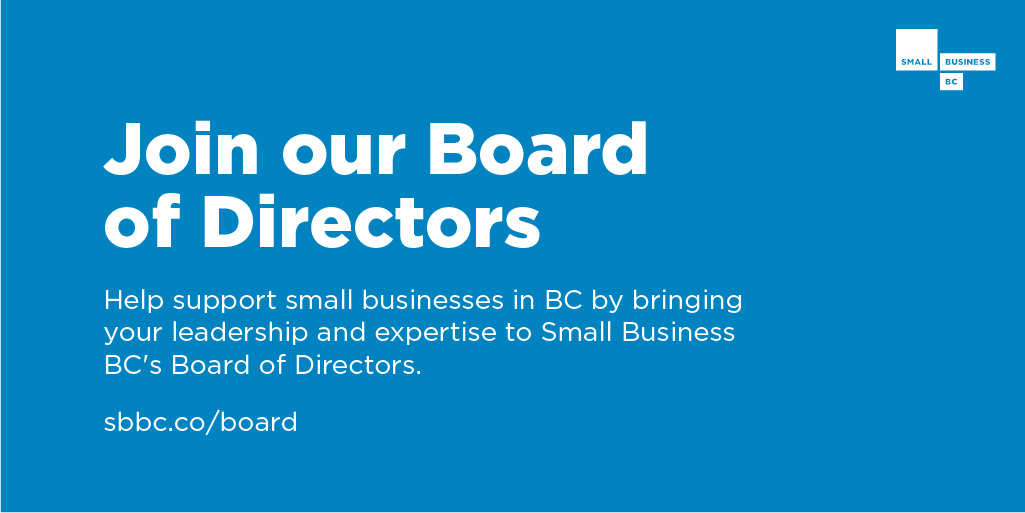 Bring your small business leadership and expertise to the Small Business BC Board of Directors!
Small Business BC is seeking applications from the small business community in British Columbia interested in assisting its Board of Directors to achieve its vision.
These positions are available as of November 2021 for a two-year term.
The application process is described in detail below.
Overview:
The Board of Directors of Small Business BC is comprised of a range of individuals who

Demonstrate leadership in a wide range of business sectors and sizes; and,
Represent various demographic and geographic areas with a regional balance.

Successful candidates will need to meet all requirements as stated in the BC Societies Act Section 44 Persons Qualified to be Directors. Societies Act (gov.bc.ca).
Candidates will be expected to stay for a minimum two-year term (longer if serving in leadership) plus the requisite orientation period.
Additionally, you are required to attend ¾ of regularly scheduled Board meetings during each 1-year term (normally, there are 4 quarterly meetings with a combination of in-person and virtual)
Potential candidates that meet the above criteria will be assessed on the following:
demonstrated ability to represent significant and emerging sectors of the economy coupled with a willingness and ability to think strategically and provide advice on behalf of the organization, beyond just the interests of their own organization, sector or region;
strong knowledge of current issues facing BC's economy and the small business sector;
demonstrated ability to work as part of a large group of diverse individuals;
demonstrated experience in supporting business growth;
commitment to working within the mandate of the Board;
preference will be given to candidates who are owners of a small business in BC (defined by 50 or less employees) or someone who has grown their small business into a medium or large business.
Candidate Instructions:
Please apply via email, including a cover letter and CV to board@smallbusinessbc.ca by 5 pm on Friday, April 30, 2021.

The information should highlight specific knowledge and breadth of experience you could contribute to the Board.
Please note: Finalists will be asked to provide the names and contact information (phone/email) for two community and/or sector-related references.

All nominations are confidential. Nominators may be contacted to clarify information provided but will not be updated on the status of the nomination. Interviews may be
conducted with nominees to determine interest in participating in the Board and alignment with Board objectives.
Unsuccessful candidates may be nominated in subsequent years; however, a new nomination form will be required each intake cycle. Nominations are not carried forward from year to year.
Review Process and Decision
All nominations received will be reviewed by the Board Development Committee. Selected candidates will be put forth to the Chair and full Board) for consideration.
The Chair is responsible for ensuring a properly selected group of candidates is put forward to the Board for decision and announcement.
Nominees will be required to attend the SBBC AGM on Friday, November 19, 2021 between 10:00 a.m. and 4:00 p.m.
Questions concerning the application package can be directed to board@smallbusinessbc.ca
Thank you again for your interest!