This article describes the use of data to prospect for potential clients using Statistics Canada data and information from a company directory called "Data Axle" for the Metro Vancouver area. The same type of information can be found for Metro Victoria (Capital) area and Metro Kelowna (Central Okanagan) on our website.
At Small Business BC, we are a non-profit resource centre that helps entrepreneurs start and grow their business. Part of that help includes providing prospects for business-to-business (B2B) sales.
A prospect list can be used by entrepreneurs as a lead generation tool to identify potential new customers. These lists can provide details on company staff of a potential client, the number of employees, the lines of their business, the number of years the company has been listed in the database, and their website. It encompasses much more than a simple Google search.
Accounting, law firms, bookkeeping, marketing, technology companies, and consultants of all types can benefit from using these lists because they are not restricted by their specialty. Every business needs accounting, legal, bookkeeping, and consulting. services. A limited sample below provides some of the types of information on environmental consulting companies.

Once entrepreneurs discover this resource, the first step is to filter out which business to focus on. There are hundreds of business types to choose from. Which ones should you select? The best place to start is with business groups that are growing. This is where Statistics Canada can help us focus on those groups through a dataset called the "Business Register" that tracks businesses over time by the number of employees they have, their type of business, and where their businesses are located.
In this article we will look at the top growth business groups in Metro Vancouver. If you want further information on the full list of business groups that are growing or shrinking, or you would like to analyze other parts of BC, contact me at [email protected] . This list will maximize your results for the time spent searching for new customers.
The time periods that you choose to determine the growth is also important, especially regarding the impact of Covid. The Business Register publishes data two times each year, once in December and once in June. The strategy that I will use for this article will be to use data from December 2019, the last published date pre-Covid, and June 2022, the latest data available as of the publication of this article. It is recognized that if a business is seasonal, there will be an impact on the populations of businesses. A tourism business may be active in June, but shut down for the winter. A souvenir store on the top of a ski mountain may be open in December, but closed in the summertime. For those that are not seasonal, computer systems design, gas stations, child day care, this time frame is acceptable.
With this in mind, let's have a look at the top businesses that grew in number from the pre-pandemic December 2019 to near the end of the end of the pandemic in June 2022.
For Metro Vancouver, the table below provides growth in the number of businesses that have employees at their location. The largest growth for this period came from the child day care services industry group with an increase of 444 businesses. Below are the types of business in the "child day care services" industry group:
child day-care services
head start centres (except formal schooling)
nursery or playschool
pre-kindergarten or pre-school (except when part of elementary school system)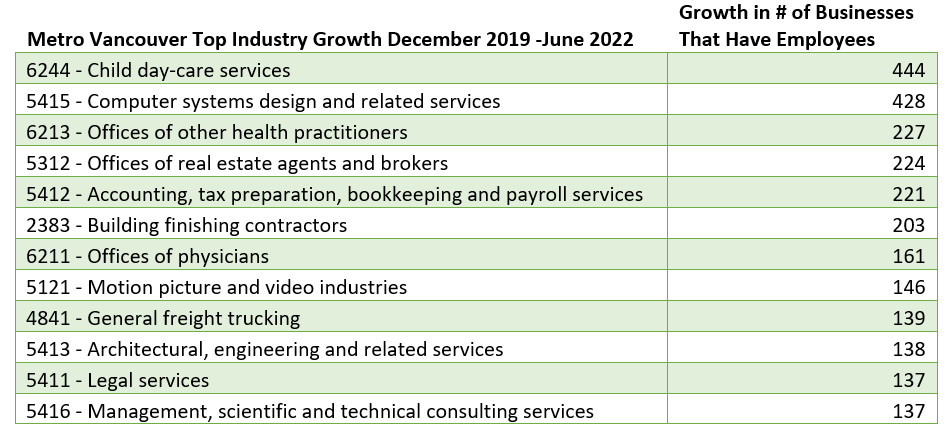 The next step in pursuing prospects is to obtain a list of companies in the "child day care services" industry group in Metro Vancouver. We turn to a business directory database called "Data Axle" that collects data on businesses that voluntarily provide information on their company. Unfortunately, not all businesses will volunteer their information so there are many businesses that are not in this database. With this in mind, there are 755 Metro Vancouver businesses in this industry group listed in this database with a limited sample of this search below. These lists include information on the number of employees, years in the database, phone number, website, estimated sales, and other lines of business. The data can then be sorted by these different fields. There is a fee for these lists. For the 755 child day-care service businesses the cost is $270, purchased through Small Business BC.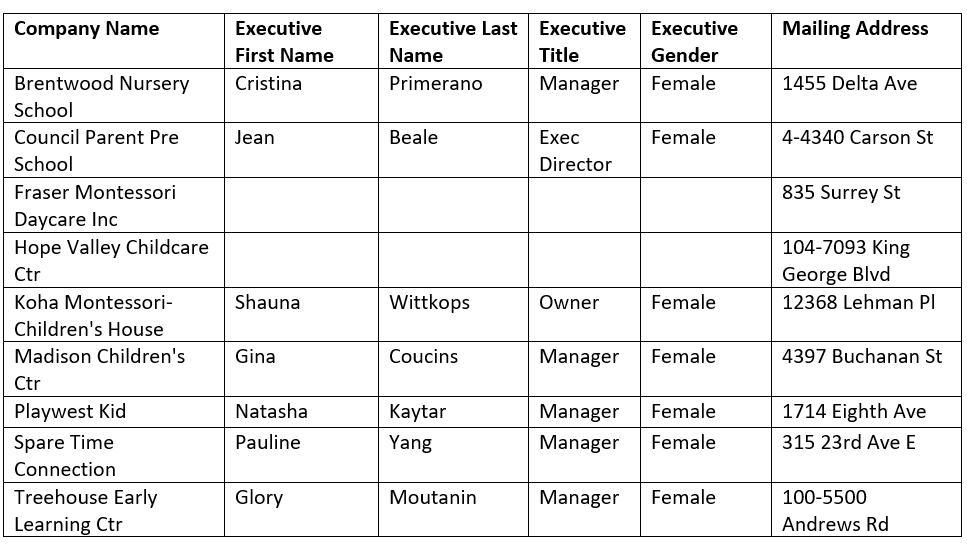 The next step in pursuing prospects is to Google the company and the person listed in the directory to get as much information as possible and also set a Google Alert on the company and person to gather information over time to prepare for a "cold contact", phone numbers are also included in this file.

These steps will help you increase returns on your time invested by targeting those companies that are in a growing industry group when searching for potential clients. If you have questions about this strategy or would like this type of information on other areas of BC, contact me at [email protected] or call me at 604 775 5699.