The Province of British Columbia has announced a new one-time relief grant of up to $10,000 for businesses impacted by recent public health restrictions. The COVID-19 Closure Relief Grant supplements federal support programs and provides funding to help businesses cover expenses such as rent, employee wages, insurance, maintenance and utilities.
Why is the Relief Grant Needed?
On December 22nd, a series of new public health restrictions were enacted to stem the tide of rising COVID-19 case numbers in British Columbia. As a result of these restrictions, the following types of businesses were ordered closed, or had their operations curtailed:
Gyms, fitness centres and adult dance centres
Bars, lounges and nightclubs
Event venues
"We're all exhausted by COVID-19, but unfortunately COVID-19 is not done with us," said Ravi Kahlon, Minister of Jobs, Economic Recovery and Innovation.
"As we have done since the beginning of the pandemic, we are coming together to ensure those hardest hit businesses will receive much needed support. The COVID-19 Closure Relief Grant will directly help businesses through these difficult times. I encourage everyone in B.C. to support impacted local businesses including businesses that have been forced to close by buying gift cards and memberships for future use."
How the Grant Works
Relief grants of between $1,000 and $10,000 will be provided to businesses that have fully closed as a result of the December 22, 2021 Provincial Health Officer orders. The amount of grant received is based on the number of employees or contractors who work at the business. The table below gives the breakdown: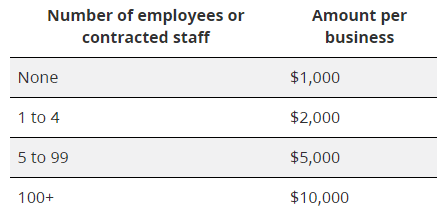 Eligibility Criteria
To be considered eligible for the COVID-19 Closure Relief Grant, businesses must satisfy the following criteria:
Confirm it has been fully closed by the Provincial Health Officer's recent orders;
Confirm it was registered as a BC business before Nov 1, 2021;
Confirm that the business was following all public health orders and guidelines;
Produce a business validation document such as a municipal business license, liquor license, notice of assessment or lease agreement; and
Confirm majority ownership and operations and payment of taxes in BC
Please Note: New applicants will need to provide direct-deposit information. This information is not needed if the business was approved for earlier programs such as the Circuit Breaker Business Relief, or the Small- and Medium-Sized Business Recovery Grants.
How to Apply for the COVID-19 Closure Relief Grant
Applications for the COVID-19 Closure Relief Grant are expected to open in January. Applications will remain open until the end of February. Businesses that receive grant funding may be contacted for information and documentation about their application and how they used the grant funding. For more information on this program, visit the Province of BC's COVID-19 Closure Relief Grant information hub.
---
Other Recent Announcements Relating to Support Programs
With COVID-19 cases rapidly increasing in many parts of Canada, new programs and supports have been created to help business owners navigate a challenging winter. We've gathered the latest information and links to these programs below.
Government of Canada Temporarily Expands Access to Lockdown Program and Worker Lockdown Benefit
Key Details:
Expand the Local Lockdown Program to include employers subject to capacity-limiting restrictions of 50 per cent or more; and reduce the current-month revenue decline threshold requirement to 25 per cent. Eligible employers will receive wage and rent subsidies from 25 per cent up to a maximum of 75 per cent, depending on their degree of revenue loss. The 12-month revenue decline test continues to not be required in order to access this support.
Expand the Canada Worker Lockdown Benefit to include workers in regions where provincial or territorial governments have introduced capacity-limiting restrictions of 50 per cent or more. As announced previously, this benefit will provide $300 a week in income support to eligible workers who are directly affected by a COVID-19-related public health lockdown, and who have lost 50 per cent or more of their income as a result.
These updated regulations will apply from December 19, 2021, to February 12, 2022, during which time it is expected that public health authorities will continue to implement "circuit-breaker" restrictions that limit the spread of the Omicron variant of COVID-19 across Canada.
Canada Recovery Hiring Program
Key Details:
The Government of Canada has announced an increase in the subsidy rate for the Canada Recovery Hiring Program from 20 per cent to 50 per cent. The increased rate will help organizations continue to hire back workers and create the additional jobs Canada needs for a full recovery. Applications for period 22 are now open, covering the period of 

October 24

 to 

November 20, 2021

.
Here to Help
If you have any questions relating to COVID-19 support programs, the team at Small Business BC is standing by to assist. Contact us by phone at 604-775-5525, or email us at [email protected].