Entrepreneurs know the power of networking with local industry influencers and likeminded individuals. Take advantage of Local Leaders Fraser Valley presented by Small Business BC and Township of Langley to gain inspiration from the top CEOs and business frontrunners in the community.
Enjoy a complimentary drink from Old Abbey Ales, Chaberton Estate Winery and Republica Coffee Roasters Inc., canapés sourced from local companies and the opportunity to mingle with 200 BC start-ups and business leaders. Hear first-hand about the ups and downs of accomplished entrepreneurs on their road to success, and get advice on how you can follow their lead.
Event Agenda:
5:30 PM to 6:15 PM , Networking
6:15 PM to 6:30 PM , Welcome and Opening Remarks
6:30 PM to 7:00 PM , Krause Berry Farms & Estate Winery – Langley
7:00 PM to 7:30 PM , Golden Ears Cheesecrafters – Maple Ridge
7:30 PM to 7:45 PM , Networking
7:45PM to 7:55 PM , Special Guest
7:55 PM to 8:25 PM , Mt. Waddington's Outdoors – Chilliwack 
8:25 PM to 8:55 PM , Wendel's True Foods – Fort Langley
Closing Remarks , 8:55 PM to 9:00 PM
Your Local Leaders
These business influencers located in the Fraser Valley will share their success stories and give advice on how to start or grow your business.
Township of Langley Mayor, Jack Froese, Founder of JD Farms
Jack has lived, worked and raised a family in Langley for nearly four decades. He is a successful business owner, farmer and champion of the community. He will share his story during the opening remarks.
Sandee Krause, Co-Founder of Krause Berry Farms & Estate Winery
Presents What Makes a Successful Agri-Tourism Business?
Sandy grew her passion for sustainable, ethical agriculture into an award-winning destination for wine and handcrafted goods recognized locally and across the province. Her presentation will be:
Examining 40 years of evolution at Krause Berry Farms & Estate Winery
Establishing and sustaining reputation in the community
Producing and marketing local products regionally and beyond
Developing new product lines to increase profitability
Adopting new agricultural/production and marketing technologies as they become available
Emma Jane Davison, Owner and Cheesemaker of Golden Ears Cheesecrafters
Presents Strategies for Marketing and Promoting a Local Artisan Products with Retailers
Emma is fast-emerging as one of Fraser Valley's leading craft cheesemakers. Her business' take on locally sourced, ethical and healthy artisanal food is impressing visiting chefs and visitors alike. She will share:
Giving local products a personality to sell the idea that you're a part of
Creating client engagement with social media and a digital marketing plan
Reaching Millennials with the buy local movement
Assessing three rules for winning product marketing:
Rule 1: Embrace your weirdness
Rule 2: Be honest and transparent
Rule 3: Don't slam completion
Sam Waddington, Founder of Mt. Waddington's Outdoors and Chilliwack City Councilor
Presents Stimulating Local Tourism and Making a Positive Impact on Your Community
Sam travelled the world looking for the perfect place to live – all routes led him back to Chilliwack. He used his experiences as an outdoor adventurer to create a BC-focused business. He will provide insight into:
Taking a love of mountain biking, hiking and climbing to the next level
Developing a business in the outdoor recreation sector in Chilliwack
Building a passion for the world that surrounds your business area
Utilizing the power of social media marketing and PR to communicate with customers
Diane Morrison, Founder and General Manager of Wendel's Bookstore & Café and Wendel's True Foods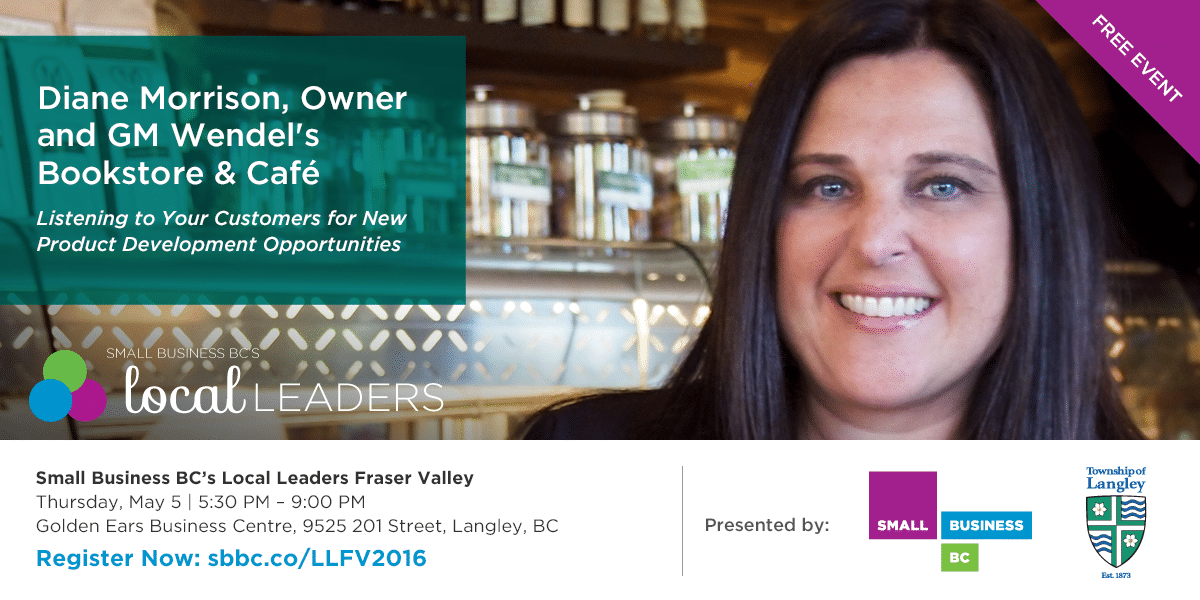 Presents Listening to Your Customers for New Product Development Opportunities
Diane will discuss how she turned her Fort Langley-based café's simple gluten-free products into a booming packaged product line distributed in stores across Canada and into the US. She will present on:
Exploring the journey from café and bakery to consumer packaged goods on retail shelves
Best techniques for developing a unique product and selling it to your target market
Creating and following a business plan to achieve market growth
Serving up unforgettable customer experiences
Register Today
Local Leaders Fraser Valley is happening in the Township of Langley at Golden Ears Business Centre (9525 201 Street, Langley, BC – Map) on Thursday, May 5, 2016 from 5:30 PM to 9:00 PM.
Register for free here
Space is limited, so register early to avoid disappointment. We look forward to seeing you there.