The swoosh. The arches. The apple. The world's most iconic logos have had the most simple and most timeless symbols to represent their businesses. Generation after generation, they continue to resonate with a universal audience and only require minimal revisions in keeping with contemporary requirements.
Yet, during my experience working in advertising agencies, I've found that there appears to be a misconception by entrepreneurs that such simplistic designs could be developed by anyone at a very basic cost. So before you build your own logo using the Comic Sans font and a low resolution emoticon, allow me to enlighten you on what is the most creatively strategic and vital phase of your brand development.
What makes a good logo?
A logo is a visual symbol that represents your business and offers your potential customers a first impression of your business. A logo must be:
䄏 dynamic and memorable;
䄏 effective and scalable (works when small or large);
䄏 captivating yet representational of your personality and the image you want your business to project.
And behind a good logo is a good designer who can convey your concept through selective colours, typography (font), spacing and composition. Creating the brand for my retail store, Ni'mama, was Heather Briggs; at the time a local graphic designer sensation who is now both brand strategist and integrated marketing specialist for her business Briggs Strategy & Design in Toronto. I recently contacted Heather to reminisce about her work with the Ni'mama brand and to ask for her key steps on how to prepare for the logo creative process: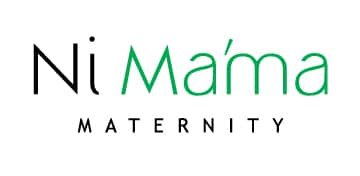 "It's so important for business owners to understand the impact a logo can have on their brand," says Heather. " A logo should be able to last a few years, if not a lot longer, so take it seriously and treat it as a long term business investment and not just a cost by following these crucial strategic steps:"
1. Know your Brand Personality – Are you modern, corporate, serious, or quirky? These descriptive words alone are a big help when communicating your vision to a creative person.
2. Know the Values of your Company – What values and beliefs do you want to represent? If you convey this accurately, it is helpful in creating a tone for your logo design that can successfully express such values to your audience.
3. Know your Target Market – Who are you talking to? For example, a kids' brand will and should have a different feel than a company that sells to adults.
4. Know your Competition – Look at your competition to identify ways to differentiate yourself. Do all your competitors use the same colours, fonts and/or symbolism? Be bold and create something that makes you different from the rest.
5. Know What you Like/Like What you Know – Study logos you love! Bringing a designer a group of logos that you like can be helpful in assessing the direction you are looking to create.
6. Know your Budget – It's been said before and is true: you will get what you pay for! Most times, a higher rate equates more experience, better customer services and a more in depth branding process that will extend beyond just how the logo looks. However, take the time to interview your designer to review their portfolio before agreeing to pay the price.
Generally, Junior Designers and crowd-sourcing platforms like 99designs.ca and Hire the World which will range between $250-$1000.  Professional freelancers with more experience and bigger portfolios will range between $1000-$3000; and if you're looking into smaller agencies that will take you through a more thorough and in-depth design or branding process you will looking at approximately $2000 and up."
How to select your graphic designer
Once you've devised your brand strategy, it's time to select the designer to create your logo:
Interview up to three designers
Review their design portfolios
Ask questions about the process that they take her clients through. Keep in mind that each designer may have a slightly different approach, which may be something that helps you make your decision.
Heather not only came highly recommended for her work with social entrepreneurs and organizations to develop their brands, but her designs and comprehension of my company's values and brand positioning solidified that she was the one to create my logo.
Heather understood that my business had a specialty niche market and suggests that, "If you are a niche business, you should focus on selecting a designer who has experience designing for that niche market or target group. A graphic designer that works with a lot of creative businesses will have a different aesthetic than a corporate graphic designer. Know there is a difference and try to find the easiest fit."
Also, important to note is that a designer may have a great portfolio, but that's not always enough. Look for someone who is also easy to work with, professional and has similar values when it comes to their approach and work. Once you've selected your graphic designer, it's important to define expectations early! This is to ensure that both you, as the client, and the designer, are clear about:
Logo concept
How to expand on the initial sketched or digital design versions presented
How many revisions to accept during a set timeline
The budget
The end result should be a creative collaboration that, in Heather's professional opinion, "Can achieve clarity around vision, values and brand positioning so that marketing and design objectives are in alignment with these driving principles."